ACU-RITE's tablet digital readout system to be introduced at IMTS 2022
Debuting what it terms Sensitive Cobotics, KUKA Robotics will show IMTS attendees the future of automation in the form of its new LBR iisy cobot. As ready-to-use automation, the LBR iisy quickly and easily integrates into any manufacturing application from pre-defined production processes to open, unstructured work environments with unpredictable conditions from one job to the next. For show attendees in the automotive, e-mobility, aerospace, electronics and related industries, the company will also demonstrate advanced automated friction stir welding (FSW), a process that fulfills the growing need for fast, clean, reliable and cost-effective joining for non-ferrous metals and mixed metal combinations frequently encountered in fabricating such components as electric vehicle (EV) battery housings and trays.
In booth demos and a conference session, New Scale applications specialists will help QC teams explore the benefits of using collaborative robots for gauging in high-mix manufacturing
The first step to optimizing manufacturing and job shop efficiency starts with a visit to the Controls & CAD-CAM Pavilion at IMTS 2022, where exhibitors such as Autodesk, ESPRIT, Dassault Systemes, HEIDENHAIN, Mastercam, and more will showcase new digital twin and virtual solutions.
The people and companies propelling AM forward will connect at IMTS 2022 - The International Manufacturing Technology Show, which is now considered a primary AM destination. IMTS 2022 will showcase AM solutions as part integrated manufacturing technology offerings in the Metal Removal, Quality Assurance, CAD/CAM, and other Technology Pavilions covering 1.1 million sq. ft. of exhibit space.
Records 16 to 20 of 20
Featured Product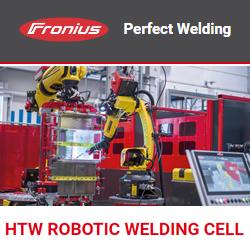 We aspire to produce more than just welding systems, which is why we are the innovation leader for arc welding and are constantly developing welding processes further. In addition to welding technology for robot applications, we offer solutions for manual gas shielded arc welding, for MIG/MAG, TIG, and MMA welding processes. We also implement automated, complete welding solutions tailored to customer requirements in the field of welding automation. After all, welding creates connections - between metals, between industries, and between people. Connected by the arc, by passion, by the beat of welding.