Robotics Articles from the Current eMagazine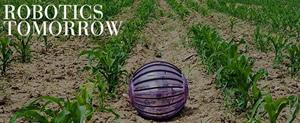 National Robotics Week And MATE ROV Competition
04/14/14, L Hetherington for, RoboticsTomorrow
The 2014 MATE competition highlights the role that ROVs play in exploring and documenting shipwrecks, studying sinkholes, and conserving our national maritime heritage sites.
Graphene – The New Magical Material
04/14/14, Len Calderone for, RoboticsTomorrow
Graphene may possibly be the future replacement for silicone. It's a two-dimensional material that measures just one atom thick and has a breaking strength 300 times greater than steel.
Cable Carriers for Rotary Applications
04/14/14, Contributed by, Igus
Here are three different types of rotary applications and the cable carrier system used for each.
How Trends in Electronics are Affecting Connectors
04/14/14, Bob Stanton, Omnetics
New smaller and more portable electronics in aerospace, defense, and other stressful environments, like those encountered in robotics and oil exploration, are resulting in changing demands and designs of electronic connector systems.
DRC SafeStop Case Study
04/14/14, Contributed by, Polaris Industries
For the Robotics Challenge, to demonstrate the robot's ability to operate a vehicle, DARPA chose to use the RANGER XP 900 EPS vehicles, which were all customized for the challenge with a TORC SafeStop Emergency System.
Robotics Stories of the Day
Submitted on: 04/14/14, 09:39 AM

Upverter has a hardware startup master list and world map. Currently contains around 150 robotics companies, 500+ consumer hardware startups and a list of incubators, venture firms and everything else... (cont'd)
Raspberry Pi Compute Module
Submitted on: 04/07/14, 10:55 AM
From Raspberry Pi Foundation: The compute module contains the guts of a Raspberry Pi (the BCM2835 processor and 512Mbyte of RAM)
$99 MinnowBoard MAX With Intel Bay Trail-I SoC
Submitted on: 04/03/14, 10:33 AM
From MinnowBoard: MinnowBoard MAX is another open hardware embedded board we've developed to serve the needs of both the professional devel
Evolving Soft Robots With Multiple Materials
Submitted on: 03/28/14, 05:39 PM
From Evolving AI Lab: Here we evolve the bodies of soft robots made of multiple materials (muscle, bone, & support tissue) to move quickly. Evolution produces a diverse array of fun, wacky, interesting, but ultimately
Flexible Muscle-Based Locomotion for Bipedal Creatures
Submitted on: 03/24/14, 08:03 AM
From John Goatstream's Vimeo Videos: We present a muscle-based control method for simulated bipeds in which both the muscle routing and control parameters are optimized. This yields a generic locomotion control method
Today's Robotics Headlines
Featured Robotics Product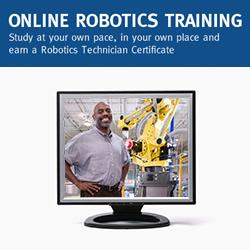 Study online at your own pace to earn your certificate as a Robotics Technician. This program prepares you to develop, install, maintain, and repair industrial robotic systems. The Robotics simulation software, RoboLogix, is designed to emulate real-world robotics applications. Users gain 'hands-on' programming experience though teach-pendant and 3D simulation environment. With RoboLogix, the user can run the simulator to test and visually examine the execution of robot programs and control algorithms, while plotting instantaneous joint accelerations, velocities and positions. Learn more.
Featured Robotics Company

(Princeton, NJ, United States of America)
Manufacturer of low cost bench top robot arms with a unique approach to robotics. We have a range of robot arms for routine testing, manufacturing, sample handling, education and many others. Our robots are not only affordable but are incredibly easy to use - anyone can apply and program an ST robot regardless of experience or lack of it thanks to our acclaimed manuals and tutorials and unlimited free technical support.
Upcoming Robotics Events and Conferences