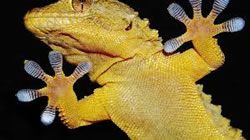 MIT researchers have designed a human-machine interface that allows an exoskeleton-wearing human operator to control the movements and balance of a bipedal robot.
The technology could allow robots to be deployed to a disaster site, where the robot would explore the area, guided by a human operator from a remote location.
"We'd eventually have someone wearing a full-body suit and goggles, so he can feel and see everything the robot does, and vice versa," said PhD student Joao Ramos of Massachusetts Institute of Technology's Department of Mechanical Engineering.
"We plan to have the robot walk as a quadruped, then stand up on two feet to do difficult manipulation tasks such as open a door or clear an obstacle," Ramos said. Cont'd...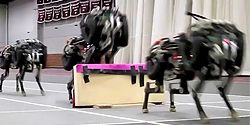 In a leap for robotic development, the MIT researchers who built a robotic cheetah have now trained it to see and jump over hurdles as it runs - making this the first four-legged robot to run and jump over obstacles autonomously...
Records 1 to 2 of 2
Featured Product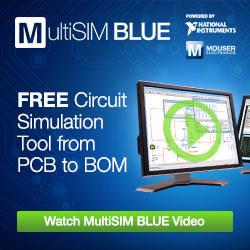 Powered by NI, MultiSIM BLUE Upgrade includes schematic capture, simulation, PCB layout, BOM-to-cart capabilities using only one tool. No more switching between different programs for circuit design. Perform MCU co-simulation. New voltage, current and power probes as well as faster active analysis mode are also available. Plus, it even comes with an expansive database of new components from industry-leading manufacturers. Discover why EDN named MultiSIM BLUE a HOT 100 Product of the Year.