Answering the call for smaller individual order volumes, greater product variety per order and significantly higher frequency in distribution, the RMT automated robotic layer and case picking system offers a robust alternative to manual or semi-automated case picking solutions. The additional benefits of automation as outlined above provide significant ROI, and a strong incentive for distribution centers to consider a scalable and fully automated no-fail gantry based case picking system as a viable option and the smart alternative to increasing manual and semi-automated operations to meet demand.

Derek Rickard | RMT Robotics
The case for automation in the distribution center (DC) environment shares many of the same ROI incentives as other parts of the supply chain – flexibility, speed, labor efficiency and allocation and increased throughput capacity. Additional drivers specific to the DC include increased accuracy, lower loss and damage rates, faster response to SKU velocity changes, and government regulated traceability requirements.
RMT Robotics, a pioneer in robotic DC automation, recently rolled out its newest robotic gantry case picking system, designed to effectively automate a high speed case picking operation. Developed for a large snack food supplier in the central USA, the system reflects the over 30 years of experience RMT brings to the table in robotic automation solutions. This case study provides some highlights of this system, and how proven technology and smart software combine to create a fast, reliable and flexible system.
The system at a glance:
• 320 SKU live at any time
• 8,000 cases per hour from picking going to multiple truck docks for loading in RTS
• The minimum pick quantity being 1 case with no upper limit
• 3 robots which depalletize in pallet quantity to feed the order pick robots
• 6 orders live at any time
• 11 order picking robots
• 2,300 meters of conveyor
• A 4 crane ASRS
• Up to six 18 wheelers being filled at any time in RTS
Within the DC, layer and random case picking and palletizing represents one of the last, and most challenging, areas to experience automation. Yet with the increased demand by retailers for more frequent delivery of mixed loads, the need for layer picking and palletizing and random case load picking and palletizing automation continues to grow. The ability to scale manual and semiautomated operations to meet this demand is simply no longer an option – leading many companies to seek out solutions for fully automating this part of their DC.
The RMT Solution: A System Overview
A combination of robotic gantries, case conveyor and innovative software were deployed in this specific automated case picking solution. The illustration below highlights the major system components:
1. Receiving and Depalletizing
A four crane ASRS accepts palletized loads directly from production. The pallets are put away as received and time stamped. When product is called for, the oldest pallet is removed and sent to one of the three depalletizing robots.
Pallet loads arrive at the depalletizer where pallet load height is verified as a rough check that the correct product is in queue. The robot then strips complete layers from the pallet onto a descrambling conveyor, where the cases are separated and turned to convey short side leading. As the cases are descrambled at an average rate of 44 cases per minute, case length, width and height is checked against correct case dimensions, and the case is rejected if dimension criteria is not met.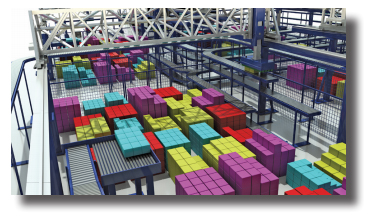 Working together, three robots provide an aggregate output of 120 cases per minute. When a pallet has been stripped, a robot places the empty pallet onto a stack for fork truck removal.
2. To the Pick Robots
Via a high-speed conveying and sortation system, any of the three depalletizing robots can feed cases to any of the 11 case picking robots. Cases are singulated and cued into rows for picking by the robot.
3. Active Inventory Zone
The case pick robots handle both inbound and outbound cases on demand. Cases arriving from the depalletizing robots, at 320 SKU per minute, are formed into layers via high speed layer forming tables at each cell. When there is a picking pause the pick robot lifts the entire layer, stacking the cases on the floor in rows, one stack per SKU in preparation for orders in the next 40 minutes or so.

Concurrently with the arrival of inbound cases, the pick cell robot is removing cases of previously stacked product to fill orders. The cell never picks product from inbound stacks, and it always picks aged product first, unless otherwise requested from the customer's WMS.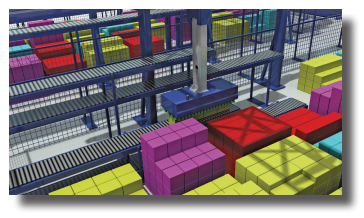 The system knows in advance that certain SKU's are high flow rate, and has the option of storing them in more than one pick cell for higher pick rates as needed. This results in 11 cells processing 8,000 cases per hour into the pick cells while also processing 8,000 cases per hour out of the pick cells.
4. To the Trucks
The pick robots gather cases from the stacks and queue them on spur conveyors that feed into the main conveyors to the truck docks.
The orders are picked in route truck sequence (RTS) and placed on the spurs, each group waiting to make the run to the trucks.
Once ready, cases are inducted from the spurs onto the main conveyors up to 34 per minute and make the run to the selected truck in the precise sequence that was requested
When a truck has been filled, the system automatically switches to the adjacent truck. There are 12 docks available and the system can service 6 of them concurrently.
System Benefits
Reduced traffic
• With the gantry storage, all product is conveyed directly into and out of storage, all associate fork truck traffic goes to zero.
Order Accuracy
• The fully automated system provides 100% pick accuracy.
• The available volume of the ASRS can also be used to reduce the amount of off site storage needed, with the consequent reduction in product damage and costs of trucking.
Reduced product loss
• Historically there are major losses ascribed to fork trucks, ranging from toppled loads to forks penetrating multiple cases of product. With the automated system, product is conveyed, not fork trucked, eliminating this waste scenario.
Space savings
• The removal of the pick lanes means tighter inventory storage which reduces the amount of floor space required to store product.
Labour savings
• This system eliminates all requirements for manual picking.
• Compensation claims are eliminated as the system does all the heavy lifting.
Traceability
• The system give precise information on the location of all products in the event of a problem, such as product recalls.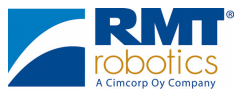 Founded in 1981 near Toronto, Canada, RMT Robotics has successfully designed and integrated over 200 systems in warehouses and distribution centres worldwide. Our specialty is the end-to-end integration of automated warehouse and distribution.
635 South Service Road,
Grimsby, Ontario L3M 4E8
CANADA
The content & opinions in this article are the author's and do not necessarily represent the views of RoboticsTomorrow
---
Comments (0)
This post does not have any comments. Be the first to leave a comment below.
---
Post A Comment
You must be logged in before you can post a comment. Login now.
Featured Product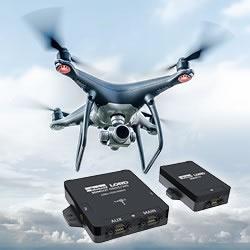 The new complete inertial navigation solution comes with GNSS/INS 3DMGQ7 sensor, 3DMRTK correction modem and real time SensorCloud RTK correction network. The sensor comes with Dual antenna GNSS, tactical grade IMU with centimeter-level accuracy with RTK. Low profile and light weight at 78 grams, this sensor is The sensor is optimized for size and weight in Unmanned Ground Vehicles, mobile robots and autonomous vehicles. The network interface 3DMRTK modem is seamlessly integrated into the 3DMGQ7 sensor supports industry-standard NMEA and RTCM 3.1 protocols. The network RTK support comes with cellular data plan. The SensorCloud RTK is a cloud-based RTK correction system with private encrypted data stream. Check out our G Series and C Series OEM products.