TX90 robots – Reliable staff for tough conditions in the food industry

Hendriks Engineering & Machinery is part of the Hendriks group; they are a leading company in design and construction of special-purpose machines for industrial automation, located in Veenendaal (Netherlands). More than 20 years of experience has resulted in a broad selection of cheese-processing machines. These machines can be used for debagging, removal of the rind and cutting cheese into blocks or portions. In addition, they can connect all the various Hendriks machines to complete automated systems with the other steps in the production process, e.g. buffering, weighing, transporting and placing them in the packaging machines. The various process steps are thus integrated to a fully automated system, incorporating all process steps from storage to slice or packaging.

FixLine: from 20 kg cheeses to 1 kg portions
Hendriks Engineering & Machinery developped and manufactered a fix weight cutting line; called the FixLine. The FixLine is made of different processing modules, such as : de-bagging machine, bar cutting machine, portion cutting machine, checkweigher, vision recognition and robot handling system to put the portions in the thermoforming machine. This concept makes the line completely automated and capable to have a "Hands-free cheese handling" process from a to z. The main difficulty is that cheese is a natural product and it is a relatively expense product. Through the European regulations in the food industry, everything is based on "E weight", which means that every portion has to have the same weight. This process is very complex through the variety of size and density of the different cheese that this production line can handle.
Fixed weight against give-away
Based on the demand of the consumer; the client wants more and more products with a fixed weight. Which means that the portion must have a certain minimum weight. Every gram that is delivered too much in the package by the manufacterer they give-away cheese and lose money. Therefore it is necessary to go over to a solution like the FixLine that can guarantee the same weight for every single portion of cheese.
Small footprint
The challenge in this project was that the new line has to replace an existing one with an extra debagging machine integrated. This implied that the proposed surface was limited and that we have to look for robots to install in compact environments. This solution has been found together with Stäubli Robotics. Due to the design of the robots they can be integrated in almost every configuration.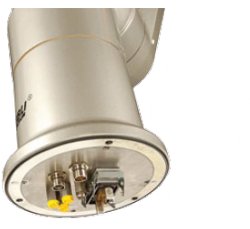 TX he robot series for Humid Environments: Interconnection cables located underneath the arm for improved connection protection.
Vision-Tracking
After the cutting line we use in combination with robots tracking and a vision system, to locate the cheese in different orientation on a tracking conveyor. At a speed of 80 cheeses/minute (4800kg/hour) together with an universal gripper we handle the portions (raw cheeses) of different sizes.
The robots used are TX90L he version robots. "he" stands for Humid Environment, that means that the robots are resistant to difficult cleaning environments. Stäubli has a leading position in this kind of solutions, thanks to the unique design of the robots. These robots match also with some requirements of Hendriks, they are precise, very fast and they are very easy to clean. Through these key factors Hendriks Engineering & Machinery has obtained an important position in the cheese-processing industry.

About Author
Stäubli is a mechatronics solution provider with three dedicated divisions: Textile machinery, Connectors and Robotics. With a workforce of over 4000, the company generates a yearly turnover surpassing 1 billion Swiss francs. Originally founded 1892 as a small workshop in Horgen / Zurich, Stäubli today is an international group with its head office in Pfäffikon, Switzerland.
The content & opinions in this article are the author's and do not necessarily represent the views of RoboticsTomorrow
---
Comments (0)
This post does not have any comments. Be the first to leave a comment below.
---
Post A Comment
You must be logged in before you can post a comment. Login now.
Featured Product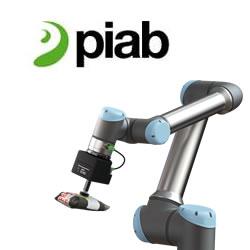 Piab's Kenos KCS gripper enables a collaborative robot to handle just about anything at any time. Combining Piab's proprietary air-driven COAX vacuum technology with an easily replaceable technical foam that molds itself around any surface or shape, the gripper can be used to safely grip, lift and handle any object. Standard interface (ISO) adapters enable the whole unit to be attached to any cobot type on the market with a body made in a lightweight 3D printed material. Approved by Universal Robots as a UR+ end effector.