Selling to the military is not easy, but if you are persistent and take one step at a time, asking questions along the way, military sales can add substantially to your bottom line.

Len Calderone
During the first Gulf War, I was managing an audio visual dealership not too far from the Pentagon. I received an urgent request for two 25" TV/monitors. As luck would have it, I had just two sets, which I had delivered to the Pentagon that day. About a week later, we were watching a briefing from the war zone and the officer that was speaking stood next to a TV that had the front panel missing. My entire staff broke out in laughter, as that was one of our units, which was a brand name, whose front panels had the tendency to fall off the first time that it was opened.
If your company is not close to the Pentagon, you can still sell to the military if you know how to find your way through the complicated maze of military purchasing. There are multiple "buckets" of money available to be spent. If money is not available from one source there are others that can be tapped. Of course, the prime consideration is the overall military budget, which has been reduced to almost nothing lately, so the competition is stronger than ever for the dollars that are accessible.
The military buyers must first check government inventories for their needs, then small businesses, including disadvantaged suppliers and minorities. They will look to government contract programs, such as GSA (General Services Administration) and DLA (Defense Logistics Agency).
Let's start with the local military installation, which includes the Army, Air Force, Navy and Marine Corps. The Army has over 1,000 installations of which 38 are large. The Navy has 500 locations of which 21 are large bases. The Air Force has nine major commands with 35 large bases, and the Marine Corps has three divisions with eight large bases.
The best place to start looking for business is with the base contracting office, which you will find at all major installations. The first appointment should be with both the Director of Contracting and the Small Business Administrator, if you are a small business. If your company is a large business, team up with a local small business, as a small business has many advantages since a majority of contracts are small business set-asides. Check with the Small Business Administration (SBA) to see if your company qualifies as a small business.
Note that each military installation has unique buying directives. Some buyers will send everything to contracting, while some will buy on their Government Procurement Card (GPC) or P-card, depending on the card's limit. Others might buy only through the "box." We'll discuss this method later.
During the first visit to the contracting office, present your company, its products and services. Check on how the installation goes out to bid. On some small bids, a contracting officer might call on three local companies and take phone bids. On larger bids, the bid will be posted on FedBizOpps (www.fbo.gov). In some cases the government will run a reverse auction on www.fedbid.com. Reverse auctions have one goal and that is to get the lowest possible bid for products or services. Unlike traditional auctions in which the price goes up, reverse auctions drive down the cost until a specified deadline is reached, and the award goes to the lowest bidder. Reverse bids are time consuming as they have to be monitored.
During the first visit, suggest a learning breakfast or lunch, where you bring in Egg McMuffins or donuts for breakfast, or pizza and sandwiches for lunch along with drinks. You then will have the undivided attention of all of the contracting officers, while you pitch your company. Most lunch times run an hour and a half, so you will have plenty of time to make your pitch and get to know some of the contracting people. Pass around a signup sheet to get phone numbers, as you will want to call these people every few months to see what bids are being posted.
In many cases, the Small Business Administrator can suggest what military units you should visit that could use your products or services. Ask if your company fits into any of the following classifications, which could give you an advantage: Small Disadvantaged Business Concern (SDB), Certified 8(a) Firm, Woman Owned Small Business (WOSB), HUBZone Empowerment Contracting Program, Service Disabled Veteran (SDVOSB), or Veteran-Owned Small Business (VOSB).
After you establish yourself with the Contracting Office, expand to the individual units on the installation. In the Army, you will want to contact the G-4 office, which manages the logistics for an entire division. Then go down to each of the Brigade S-4s (2-6 brigades per division), and each of the Battalion S-4s (2+ battalions per brigade). If you are really energetic, you can visit all of the company S-4's for smaller equipment requirements. I suggest not visiting below the Battalion level, unless they suggest visiting a particular company.
The Marine Corps is setup similar to the Army, except they usually have Regiments instead of Brigades. The S-4 is the logistics office. Where most Army and Marine Corps bases have divisions at a particular base, the naval bases support many different functions at one location, such as shipyards, depots, stations, bases and air stations. You'll have to check with the base contracting office to see what is located at a particular naval base. Some Naval bases will require a FBI background check, such as a base that docks nuclear subs.
At an air base, visit with the Group Resource Manager for the "host" wing. Under the host wing will be the Mission Support Group, Operations Group, Medical group and the maintenance Group. These people control the funds for the squadrons. Talk to the Resource Advisor or P-card (Visa) holders.
There are three types of purchases in the military. Micro purchases are those under $3,000 (this could vary), and are usually made with the P-card. Small purchases are those up to $25,000 and will require three quotes, usually through the contracting office. All purchases over $25,000 are considered large purchases and these requirements are posted on internet websites, or newspapers.
In addition to the main Host divisions or air wings, look for "Tenant" units, which can be from any other branch of the service. These are usually at the base in support of the Host's mission. While at a base, ask for a base directory and map. This will give you a list of all of the potential customers that would purchase your products or services. If you are going to make regular calls on any base, ask for a base decal for your vehicle and a contractors ID for your salespeople. If you get a service contract, you will need a contractor's ID for each person working on the project. Base security can direct you to the offices that issue decals and IDs.
Look for civilian run units that support the military mission, such as Directorate of Logistics (DOL), Directorate of Public Works (DPW), Directorate of Morale, Welfare and Recreation (MWR), Directorate of Human Resources (DHR), Directorate of Plans, Training, Mobilization, Security (DPTMS), Directorate of Emergency Services (DES), and the Directorate of Information Management (DOIM).
Many product manufacturers have a GSA contract. This contract makes selling to the military much easier, as the price for a product is already negotiated between the manufacturer and the government. Small purchases are usually handled with GSA pricing, but the larger requirements still go out to bid. GSA contract pricing is for small quantity purchases. The advantage of a GSA contract is that the buyer does not have to get three quotes before making a purchase. The main disadvantage is that the GSA price has to be the lowest price that you give a non-government customer for the same quantity. Getting a GSA contract is very time consuming, but essential if you plan to sell a lot to the military. By the way, even small dealers can get a GSA contract.
Another "bucket" or method of purchasing for the Army is through the "box,' which is the Army supply system. This is a very complicated purchasing method and only manufacturers can participate, unless a distributor or dealer "packages" multiple products or systems. The program is managed by the Defense Logistics Agency. A manufacturer contacts DLA and requests a NSN (national stock number) for its products. Once a manufacturer has a NSN, a buyer can order requirements through the SARSS system, commonly called the "box."
SARSS (Standard Army Retail Supply System) provides supply management and stock control through a computer ordering system. An Army unit can generate a request without going out to bid for any product in the system, using their DoDACC. The Department of Defense Activity Address Code (DoDAAC) is a six position code that uniquely identifies a unit, activity, or organization that has the authority to requisition and/or receive material. If a company is lucky enough to have a NSN, ordering is extremely easy. If you are a manufacturer, contact DLA for more information. Most large installations have a DLA representative, who can be a great help in taking the first step.
If your company has a GSA contract, it can be placed on GSA Advantage, which enables a buyer to find products by part number, keyword, manufacturer, contractor or contract number. A competing service is DOD E-mall. Both allow the electronic transfer of funds using a Milstrip or DoDACC, which is an accounting code for the buyer's group.
A Prime Vendor is another way to get military business; the idea is to use purchasing power and commercial purchasing practices to consistently get the Department of Defense the best prices on civilian items, delivering them quickly and with little overhead. DO NOT mention the term "Prime Vendor" to a contracting officer, as a prime vendor company competes with the contracting office on a base. Contact DLA and ask for the name of the prime contractor in your area, which handles your type of product. A prime contractor already has a contract with DLA, so that a unit does not have to go through contracting to make a large purchase.
If you have done business with the government, you know that they take the lowest bid, no matter how poor the quality is. With a prime vendor, a military unit gets exactly what they want by brand, model or description without worrying about the quality, or other issues. A prime vendor will not substitute a lesser quality item just because of price.
One frustrating problem dealing with the military is the movement of personnel. It seems that you no sooner get to know someone who can help you, when that person is moved to another base or deployed. This is a fact of doing business with the military.
If there is new construction or building rehabilitation about to happen on a base near you, contact the U.S. Army Corps of Engineers, which provides engineering and construction services, as well as stability operations and environmental management products and services for the Army, Air Force, other assigned government agencies and foreign governments. They can supply the name of the General Contractor for a specific job. The GC will be responsible for any subcontract work within the construction. If your company specializes in installations, you definitely want to get to know the area engineer for the Corps.
As you can see, selling to the military is not easy, but if you are persistent and take one step at a time, asking questions along the way, military sales can add substantially to your bottom line.
Len started in the audio visual industry in 1975 and has contributed articles to several publications. He also writes opinion editorials for a local newspaper. He is now retired.
This article contains statements of personal opinion and comments made in good faith in the interest of the public. You should confirm all statements with the manufacturer to verify the correctness of the statements.
The content & opinions in this article are the author's and do not necessarily represent the views of RoboticsTomorrow
---
Comments (0)
This post does not have any comments. Be the first to leave a comment below.
---
Post A Comment
You must be logged in before you can post a comment. Login now.
Featured Product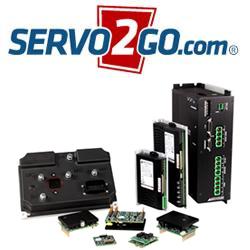 Engineered to drive brushless and brush servomotors in torque, velocity or position mode, Servo2Go.com offers a broad selection of servo drives in a wide range of input voltages and output power levels.