Today's ultra-thin solar cells require precise and gentle handling. And with the increasing demand on solar manufacturers for product, automation must deliver the highest throughput possible.

Contributed by | Adept
Adept robots are ideal for solar manufacturing.
Pressure on solar companies from growing demand and the need to drive down the costs per watt requires that their automation process delivers high yields, high volume, quick change in capacity, flexibility to adapt to part variations, and consistent product inspection throughout the process. Adept is the preferred partner for solar manufacturing, with the most advanced line of robotics in the marketplace. Integrated vision and inspection and an easy to use programming environment allow systems to be brought to market quickly. With the most compact controls and highest performance throughout the product line, Adept provides maximum throughput per square foot of floor space. Backed by our award-winning global service and support, Adept is the right choice for your solar manufacturing needs.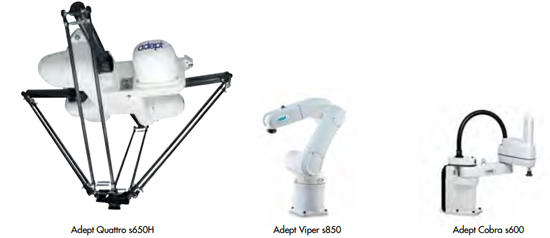 The Best in Flexible Automation.
Adept offers the broadest range of flexible automation solutions for solar applications. Laser scribing, stringing, assembly, testing, sorting, loading, unloading, and inspection can be performed using Adept robots and vision systems. And all are capable of adapting to the changing demands of an ever-changing solar manufacturing environment. Adept robots are designed to offer high performance, proven reliability and low maintenance. The simplicity of integration and programming minimizes the use of engineering resources, making the robots easy to add into your factory. The ability to select from Adept's comprehensive line of robots, controls and vision solutions ensures that you maximize your return on investment. When you partner with Adept, you get the best in flexible automation that can accommodate your changing needs. Our application experts help you to design and program the most efficient solution for solar manufacturing – from the very first design phase to the final installation of the production line.

Compact Controls, Vision & Software
With the expertise that comes from our 35,000 installed systems, Adept has set the standard for industrial robot control, vision guidance, and advanced software. Adept robots seamlessly integrate state-of-the-art motion control, vision guidance, inspection, and conveyor belt tracking, all within a common controls environment. This tight integration enables smoother motion, better repeatibility, and more reliable inspection, all leading to increased solar production yields. And with the industry's most compact controller, Adept eliminates the need for the costly control cabinets required by alternative robot solutions, freeing up valuable factory floor space.
Adept Solutions for Solar Manufacturing
Today's ultra-thin solar cells require precise and gentle handling. And with the increasing demand on solar manufacturers for product, automation must deliver the highest throughput possible. The Adept Quattro s650 is the ideal robot for high-speed solar cell handling. With the largest work envelope for an overhead- mount robot, it has the ability to sustain smooth motions throughout its entire workspace. Its patented four-arm design and advanced controls algorithms gently handle solar cells at high speeds while minimizing losses due to breakage. With speeds faster than any other robot of its kind, the Adept Quattro s650H robot maximizes throughput of your factory. The smooth movements and faster settling times minimize product breakage and are the key to optimal wafer handling. Adept's ultra-compact controls combined with the Adept Quattro robot's large work envelope create the most efficient footprint of a material-handling robot in the solar industry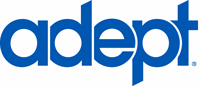 About Adept
Adept is a global, leading provider of intelligent robots and autonomous mobile solutions and services that enable customers to achieve precision, speed, quality and productivity in their assembly, handling, packaging, testing, and logistical processes. With a comprehensive portfolio of high-performance motion controllers, application development software, vision-guidance technology and high-reliability robot mechanisms with autonomous capabilities, Adept provides specialized, cost-effective robotics systems and services to high-growth markets including Packaging, Medical, Disk Drive/Electronics, and Solar; as well as to traditional industrial markets including machine tool automation and automotive components. More information is available at www.adept.com

Omron Automation
Omron is an industrial automation partner that creates, sells and services fully integrated automation solutions that include robotics, sensing, motion, logic, safety, and more for manufacturers in the automotive, semiconductor, food and beverage packaging and other industries. Established in 1933, Omron helps businesses solve problems with creativity worldwide, with more than 37,000 employees serving over 110 countries. Adept Technologies is now a valued part of the Omron family.
Other Articles
As the automation industry begins its reach into the cloud, manufacturing communities will not only improve productivity, they will begin to reclaim the prominence the industry once claimed in the economy.
A 'seeing' robot can flexibly pick up, recognize and measure wafers, solar cells and even whole modules and then place the gripped objects with great precision and speed.
---
Comments (0)
This post does not have any comments. Be the first to leave a comment below.
---
Post A Comment
You must be logged in before you can post a comment. Login now.
Featured Product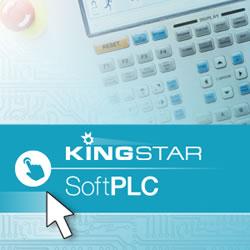 The top machine builders are switching from proprietary hardware-based PLCs, like Allen-Bradley, TwinCAT, Mitsubishi and KEYENCE, to open standards-based EtherCAT-enabled software PLCs on IPCs. KINGSTAR provides a fully-featured and integrated software PLC based on an open and accessible RTOS. KINGSTAR Soft PLC also includes add-on or third-party components for motion control and machine vision that are managed by a rich user interface for C++ programmers and non-developers alike.