We might never see warehouses that employ robots exclusively, but the ratio of robots to humans will continue to grow, as more jobs are automated. Robots are safer and they dont call in on Monday with a hangover.

Len Calderone
Moving goods in a manufacturing or distribution environment can be highly labor intensive, but we are starting to see more robotic equipment moving to the foreground in goods transportation.
These robotic vehicles are vision-guided, travel without a worker and do not require wires, tapes or lasers to work in your warehouse. Using a robotic forklift is easy, as a worker can position the forks under a pallet that needs to be moved, input the route on a keypad and the robotic forklift will travel without guides. The robotic forklift will move a pallet from one location to another without a person driving the vehicle. Thereby improving safety and lowering operating costs.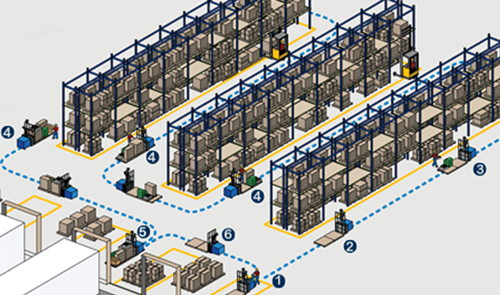 Seegrid Vision-Guided, Unmanned Robotic Industrial Trucks
Unmanned robotic trucks have a strong visual guidance system with safety sensors for safe operation. They learn multiple routes - up to 25 miles of information. By inputting pre-planned drop stops, selection stations, and return points, robotic trucks complete routes entirely without human guidance.
With all of these unmanned vehicles running around, there is a good chance of a collision. Danaher Motion and Sky-Trax Inc. jointly developed the world's first Indoor Collision Avoidance System (ICAS) for industrial vehicles. Automatic Guided Vehicles (AGV), forklift trucks, and other free-roaming or guided vehicles equipped with the Sky-Trax Indoor Positioning System™ determines each vehicle's precise position and immediately broadcasts it's position to other vehicles in order to warn drivers or AGVs of imminent collisions.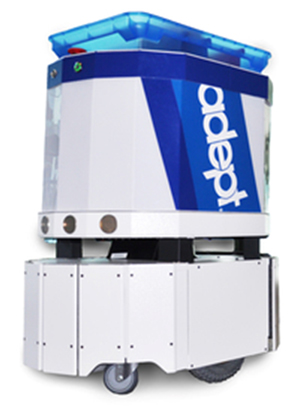 The Adept Courier reduces manual labor
The Adept Courier is a small high-payload autonomous vehicle that is 35" high with a tray on top that measures 20x12x12" and simplifies the everyday task of moving materials, samples, or parts around an office or production environment. Using self-navigation software, the Adept Courier can be requested from a wireless call box located at operator stations, and then is dispatched using pre-programmed destination buttons located on the vehicle, allowing the Courier to find its own way to destinations, while driving around obstacles in its path. Bringing subassemblies to the production line, represents a big growth area for robotics.
AGVs are becoming increasingly popular in hospitals as a mode of transport for efficiently moving goods around. These driverless vehicles typically move linen, refuse, medical waste, patient meals, soiled foot trays and even surgical instruments from one point to another. They can be programmed to open doors and use elevators automatically, granting them access to practically any area in a building.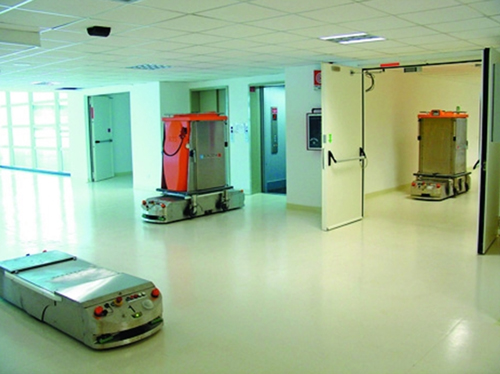 Motol University Hospital in Prague is supported by a network of autonomous vehicles. Between 900 and 1,000 containers are now transported every day by the AGV network at the Hospital.

The AGVs follow inductive wires in the floor, which is a technology, known as inductive guidance; and it involves a network of wires that carry alternating currents at different frequencies. The wires generate a magnetic field and each AGV has an antenna onboard to sense that field. The vehicles are programmed to detect and follow certain magnetic fields on their route to direct them to their destination.
Robots are moving into warehouses for supply chain distribution and getting products to market. Due to advances in software algorithms, a robot can now build a stable three-dimensional puzzle of dissimilar products of different sizes and shapes for shipment on a pallet. The robot places light-weight products on top of heavier ones to prevent crushing. Case sizes are arranged to ensure the robot is building a secure load on the pallet.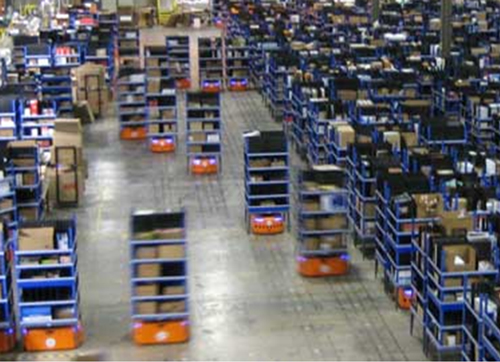 Traditionally, goods are moved around a distribution center using conveyors, or by human operators with tow racks or forklifts. There is a company, Kiva Systems, which has changed the way warehouses pick products. With Kiva's method, goods are kept on portable storage units. When an order for an item arrives, instead of a person going and picking the item, battery-powered robots are guided by a computerized control system to fetch the order.
The robot follows a grid system of 2D bar codes on the floor to navigate its way to the portable storage unit containing the desired inventory. When the drive unit (robot) reaches the correct location on the warehouse floor, it positions itself beneath the portable storage unit and lifts it from the ground in a corkscrew action. The portable storage unit is then guided to a human packer on the edge of the warehouse who removes the requested item from the portable storage unit. A laser points out which product on the shelving unit is required. The picker then reads the barcode to verify that the item is the correct article.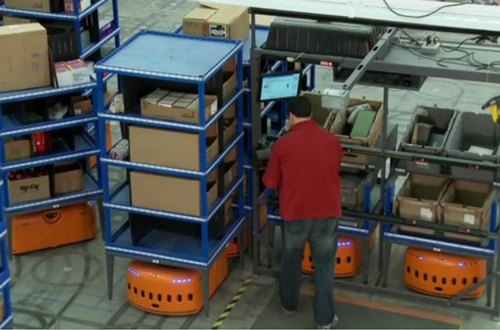 While the picker is selecting the needed item, the robot picks up another mobile shelf from a previous delivery, and takes it back to where it belongs, replacing it on the floor by reversing the corkscrew action. The robot is then available to perform another pick.
In the future as goods arrive at our sea terminals, such as the Port of Savannah, automated rail-mounted gantries will lift and stow containers from automated guided vehicles that shuttle containers between the berth and rail terminal and will load and unload containers on truck chassis. Terminals are being designed to serve the ships of the future.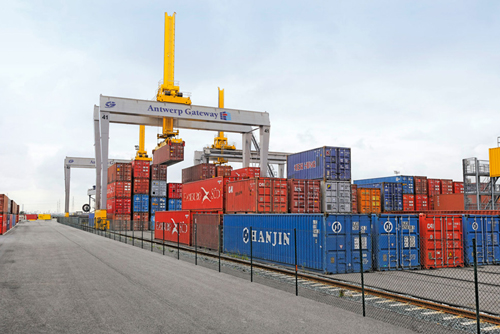 Fully-automated stacking cranes ensure optimum use of storage capacities in the Port of Antwerp, Belgium. As with the AGVs, the hardware and software are supplied from a single source. By supplying both products, Demag Cranes is able to provide system solutions for fully-automated large-scale container terminals.
Truck drivers at the terminal will park their truck in a designated spot, exit their cab and wait in a secure area away from the automatic loading and unloading process. When the terminal is quiet, the automated system will restack containers in the best spot for early morning truck appointments.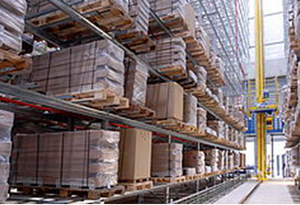 Automated Storage/Retrieval System at the IKEA Distribution Center in Savannah, Georgia.
IKEA operates an 800,000-square-foot facility in Savannah, which supplies 10 of IKEA's 38 U.S. stores, as well as a store in the Dominican Republic, handling an average of 50 container loads a day. There, an innovative automated storage and retrieval system takes each incoming pallet, scans its label, weighs it, squares it on the conveyer belt and then moves it — via automated shuttle and crane — to its proper place among the long lines of boxes stacked 18 levels high.
When it's time to ship, the system remembers where that particular pallet is, retrieves it and brings it down for loading. The warehouse holds up to 82,000 pallets, with each of the 13 automated cranes capable of moving 37- 40 pallets an hour.
Many devices used in our everyday life are developed first by the military. The Marine Corps Warfighting Laboratory is pushing forward with development of at least two unmanned ground vehicles, including a 7-ton truck that would cut down on the number of Marines outside the wire during resupply convoys.

Marines in one command-and-control vehicle would control up to two other trucks via a laptop computer, with sensors, cameras and a computer in the unmanned vehicles providing direction at speeds of up to 45 mph. Can you imagine a 40 foot tractor-trailer driving down I-95 without a driver?
We might never see warehouses that employ robots exclusively, but the ratio of robots to humans will continue to grow, as more jobs are automated. Robots are safer and they don't call in on Monday with a hangover.
For further information:
The content & opinions in this article are the author's and do not necessarily represent the views of RoboticsTomorrow
---
Comments (0)
This post does not have any comments. Be the first to leave a comment below.
---
Post A Comment
You must be logged in before you can post a comment. Login now.
Featured Product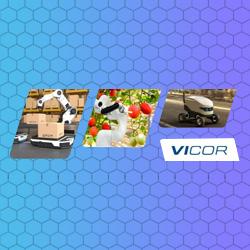 Amphenol Industrial Micro-B Connectors are designed to replace high-cost connectors used in a variety of industrial markets requiring high signal counts in a very small package. The Micro-B components utilize a robust triple bayonet coupling that provides quick and positive locking, along with an internal EMI ground spring for excellent shell-to-shell conductivity.