A 'seeing' robot can flexibly pick up, recognize and measure wafers, solar cells and even whole modules and then place the gripped objects with great precision and speed.

Contributed by | Adept
As in many other sectors, the trend towards automation in the photovoltaic industry is inexorable. The only way for the industry to be successful along a wide front is by permanently lowering its production costs.
The photovoltaic industry already has a potential that not only warrants but encourages the use of automation technology. Using industrial robots brings shorter processing times, lower wage costs, less fracture and therefore higher cost effectiveness. In recent years most manufacturers who have invested in this technology have done so with great success.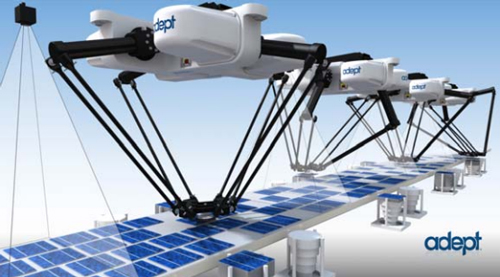 An AdeptSight image processing system controls several AdeptQuattro S650 robots handling solar cells
But many of the robotics systems still in use today lack the most important of the five human senses and work 'blind.' The number of tasks that a 'blind' robot is precluded from performing is obvious. A 'seeing' robot can flexibly pick up, recognize and measure wafers, solar cells and even whole modules and then place the gripped objects with great precision and speed.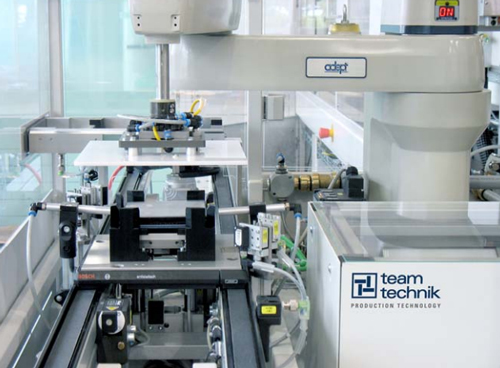 Using SCARA robots in the photovoltaic industry makes sense when speed and extremely accurate positioning of wafers and cells are required.
Back in the 1980s the food industry was already reaping the benefits of integrated image processing by using robots for its packaging and sorting activities. Even then pastries, chocolates and rolls were being picked and sorted by conveyor belt. This requires object and position recognition functions as well as synchronizing the robot with the moving object. The essential factor has been the integration of image processing and robot control into one logical unit. Each function can access all the data it needs from other functions at any time and in the space of a few milliseconds. The camera focus of the image processing is calibrated to the robot's coordinate system internally. The complex and inflexible communication protocols required by most external systems are virtually eliminated.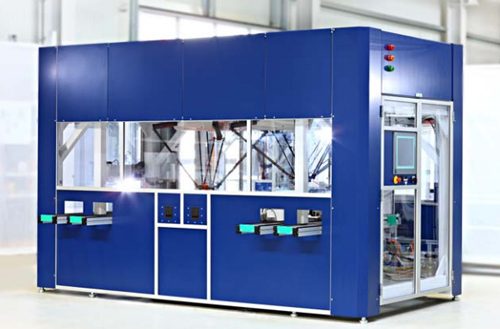 Two Adept Quattro s650 robotics systems in a cell handling solar wafers
There is hardly another sector in which change and innovation take place at shorter intervals than in the photovoltaic industry. The dimensions of cells and modules are constantly changing. Wafers are being made ever thinner to save on precious silicon. The necessary processing steps are continually evolving and manufacturers now have to build flexibility into the design of their production plants to be sure of a guaranteed future. This more or less forces them to use robotics systems. The fact that product commitment in the use of robotics lies purely in the software does have advantages. It means short response times for making changes and introducing new variants. The software for new variants can be thoroughly tested in the laboratory, well away from the production line. That usually means the production of new variants can start quickly and easily. Set-up times for product upgrades are eliminated anyway with software variants and plants are easily duplicated, since once the software has been created it can easily be copied to different production lines.
If a company decides that it wants to use robotics across the board, it will need to set standards within the framework of a management decision. Some of the important questions that the robotics suppliers of the future will have to consider in their decisions are:
Does the manufacturer have different types of kinematics (parallel kinematics, SCARA robots, 6-axis, linear axes) to meet all future requirements?
Does the manufacturer offer effective support with programming its systems?
Does the manufacturer also supply a powerful image processing system that has been developed for use with its robots and is this easily configured?
How quickly can I get hold of spare parts?
Does the manufacturer offer special training for programmers and operators?
Is the documentation available in different languages?
"The use of robotics in the solar industry is becoming increasingly important as manufacturerers strive to lower their costs by creating solutions for the efficient production of solar cells and modules. As they adopt automation it is vital for manufacturers to choose reliable partners and efficient products right from the start," said Ruediger Winter, director sales Europe at Adept Technology, Inc.
Today around 35% of all the robotics systems Adept Technology Inc. supplies have integrated image processing and around 20% of all robotics systems are supplied to the photovoltaic industry. Be it high-speed parallel kinematics, linear axis combinations, SCARA robots or elbow robots – all gain a high degree of flexibility with image processing.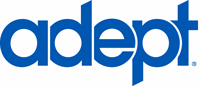 About Adept
Adept is a global, leading provider of intelligent robots and autonomous mobile solutions and services that enable customers to achieve precision, speed, quality and productivity in their assembly, handling, packaging, testing, and logistical processes. With a comprehensive portfolio of high-performance motion controllers, application development software, vision-guidance technology and high-reliability robot mechanisms with autonomous capabilities, Adept provides specialized, cost-effective robotics systems and services to high-growth markets including Packaging, Medical, Disk Drive/Electronics, and Solar; as well as to traditional industrial markets including machine tool automation and automotive components. More information is available at www.adept.com
The content & opinions in this article are the author's and do not necessarily represent the views of RoboticsTomorrow

Omron Automation
Omron is an industrial automation partner that creates, sells and services fully integrated automation solutions that include robotics, sensing, motion, logic, safety, and more for manufacturers in the automotive, semiconductor, food and beverage packaging and other industries. Established in 1933, Omron helps businesses solve problems with creativity worldwide, with more than 37,000 employees serving over 110 countries. Adept Technologies is now a valued part of the Omron family.
Other Articles
End users are looking to machine builders to provide innovative solutions that improve upon the speed and accuracy of manual-based applications while maintaining the same level of flexibility.
Can you be assured that each AMR in your fleet will position itself consistently to reliably pick up or deliver goods from your conveyor systems, exchange a pallet, or perform any number of automation tasks?
When implementing mobile robotics solutions in a facility, it's important to consider strategies for ensuring stability, seamless interaction with people, accurate detection of obstacles, and set up a successful emergency evacuation plan.
---
Comments (0)
This post does not have any comments. Be the first to leave a comment below.
---
Post A Comment
You must be logged in before you can post a comment. Login now.
Featured Product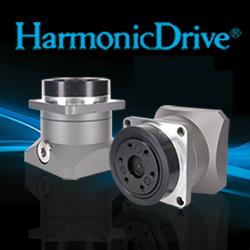 The SHA-IDT Series is a family of compact actuators that deliver high torque with exceptional accuracy and repeatability. These hollow shaft servo actuators feature Harmonic Drive® precision strain wave gears combined with a brushless servomotor, a brake, two magnetic absolute encoders and an integrated servo drive with CANopen® communication. This revolutionary product eliminates the need for an external drive and greatly simplifies wiring yet delivers high-positional accuracy and torsional stiffness in a compact housing.