No software expertise needed. The robot comes with a touch screen teach pendant as the main method of programming. In teach mode, the robot can be manually moved about its workspace to be taught positions for the program.

Joe Schaubach & Jane Burbach | Aspect Automation
Aspect Automation designs and builds custom automation machinery, and has done so for many years. Why take on a standard product and why robotics?
We saw this venture as an opportunity and an excellent fit for our clients and our business growth. Aspect Automation was one of the very few equipment manufacturers that did not offer any type of standard equipment.
We routinely integrate robots in the equipment we build and many of our customers specify the robots they want with their equipment. By offering those clients that have not specified a robot brand the Universal Robots product line as a standard product, we have the opportunity to sell one (or more) of our robots if it fits the client's applications.
In addition, the Universal Robots product line will allow us to extend our application range and attract new customers with affordable automation solutions. Aspect Automation excels in the medical industry with our knowledge and support of the validation process, but we have a tremendous amount of experience with industrial and consumer applications over the years as well. We see our robots as a good in those industries and can be sold as a standalone unit.
Aspect Automation has been a distributor for a short time, less than 6 months. What industries have shown the greatest interest and why?
We introduced the Universal in the US in late May at the ATX Show in Philadelphia, PA, which is co-sponsored by 4 or 5 organizations, one being the medical device and diagnostic community. Although, there is a great deal of interest from the medical industry, the sales cycle is long due to the FDA process, clinical trials, etc. Actual sales results can range anywhere from 18 – 36 months in this particular medical segment.
Our robot business really took off when the parent company [Denmark] exhibited at IMTS (International Manufacturing Technology Show) held in Chicago on September 10 – 15. This show draws a wide variety of industries – auto, aerospace, tooling and machining shops, contract packagers, power generation, and medical.
In the 6 weeks or so, since IMTS, we sold our first robots to universities with strong robotics programs. Since the robot is easily mounted to a stand and light weight for mobility, students have the flexibility to use the Universal Robot in a wide range of applications for their studies.
We have also shipped our demo robots out for numerous hands-on demonstrations at client facilities and continue to have several more clients come to our facility for a demonstration. The interest level lies in the following industries: tooling and machining shops, plastic injection molding, assembly, packaging, auto, and automation.
Clients are most interested in saving labor costs by using robotics to replace repetitive motion tasks currently done by a human, especially in tooling and machining of parts. In this type of environment, as an example, a blank is loading in a CNC machine and the human machinist waits for several minutes or longer as the machine mills the part before he or she can remove the part and place the next blank. In this type of work environment, the Universal Robot has an average payback of 195 days – a little over 6 months. In this scenario the human employee can be allocated to tasks which utilize their skills of thought and reasoning.
Can you give us a brief description of what your robot can do and what makes it different from others in the marketplace?
Universal Robots can complete almost any task normally assigned to an industrial robot. The robot is quiet, lightweight, and the programming is simple so you don't need a dedicated robot programmer to get up and running. The UR5 has a reach of 850mm (33.5 inches) with a payload capacity of 5 kg (11 lbs) and the UR10 has a reach of 1300mm (51.2 inches) and payload of 10 kg (22 lbs). The robot also has a built in feature where it stops if one of its joints where to exceed 150N of force, which can prevent damage if it runs into unexpected objects in the workspace.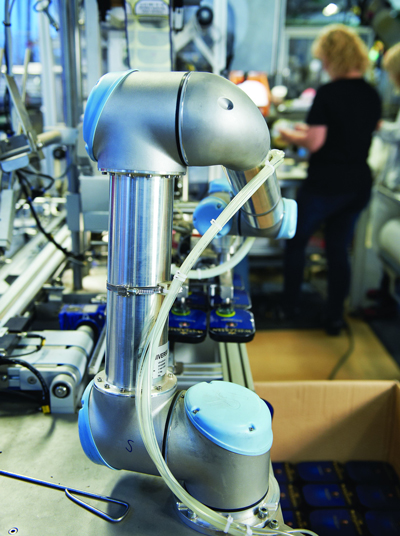 Universal Robots are described as flexible, what exactly does that mean?
It's flexible in the sense that it is a 6-axis robot, which gives the robot a great amount of freedom to operate in its workspace. It's also flexible in the sense that the robot can easily be moved around and reprogrammed. The robot arm is lightweight (the UR5 weighs 40lbs), the power supply can accept 100-240V, and the programming is user-friendly and intuitive.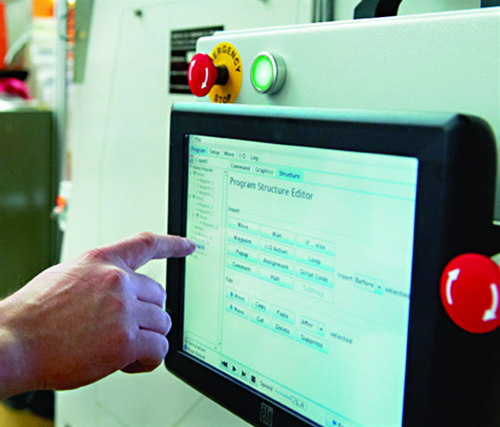 If I know nothing about robots, would this product still work for me?
The robot still does require some technical skills. It helps if you understand programming basics and some mechanical aptitude is required to mount the robot properly and to create any end of arm tooling. If you have doubts, come see us at a trade show and get some hands on time programming the robot.
What typical tasks are best assigned to the robot?
The robot would best be suited to automating monotonous tasks, such as picking a part from one location and moving it to another, as in packaging applications or injection molding/CNC machine tending.
Can the operator program your robot or does it require a software expert to do so?
Absolutely! No software expertise needed. The robot comes with a touch screen teach pendant as the main method of programming. In teach mode, the robot can be manually moved about its workspace to be taught positions for the program. The programming screens on the pendant always show instructions, so programming is very user friendly. There is also a simulation mode that allows the programmer to watch a simulation of the program on the pendant before the robot executes it in the real workspace.
What is driving the market for robotics now and where do you see it going in the future?
The main driver is for robotics in manufacturing is the need to be cost competitive in the marketplace. Another driver, which goes hand-in-hand with competitiveness, is the lack of suitable labor, which sounds ridiculous given the last four years of unemployment rates. Many manufactures find it difficult to keep long term labor. The issues range from employees showing up late, calling in sick if they call in at all, or struggle with a negative attitude affecting the rest of the employee base. Some manufacturers resort to temporary labor, which slows the production process due to the time it takes to training in new employees. The installation of robots eliminates tardiness, sick days, repeat training time, and bad attitudes! The company's overall labor cost is reduced; total benefits program cost is lower, and your HR manager will have a smiling face again.
As far as the future of robots in manufacturing, I don't envision a plant floor with a sea of robots and no humans present. Over the past 20 years, robots have been built smaller to fit in less space and conduct smaller scale or more delicate tasks, programming has become much more user-friendly, integration into a production line is now commonplace, and price is more reasonable, or at least not "sticker shock." I see the above points to continue because the marketplace will continue to be highly competitive. Smaller manufactures are embracing robotics and finding highly skilled human counterparts to program and monitor or supervise the robots. In the future, I think robots will be built to be smarter – equipped with more sensing capability to "see, feel, remember, and repeat" – as means to teach or train it's self.
Regarding robotics for the consumer, over the next 5 – 10 years I anticipate a great deal of research & development taking place in the university labs to really push the envelope as to what they can get robotics to do, practical or not. From there, more practical uses for robots will be further developed into a marketable product or service, such as the iRobot vacuum cleaner available now. Consumers are into saving time or choose to use their non-employee hours for enjoyment, so they tend to purchase product that will take care of those laborious, boring or repetitive tasks. And I'm no different. I, personally, would love a large scale iRobot that goes about my yard to vacuum up all the leaves that fall this time of year and another robot to take laundry out of the dryer and fold it for me!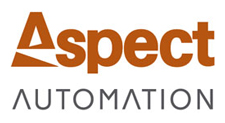 About Aspect Automation
Aspect Automation supplies automated manufacturing machinery primarily for the medical industry, focusing on drug delivery, in vitro diagnostics, and medical device assembly. Core competencies include concept development, web processing, vision systems, complex control systems and data collect management.
The company provides process development, machine and software design, system integration, and support for FDA validation. We excel in industrial and consumer markets, especially with product that are web-based and need a coating material.
Visit www.aspectautomation.com for more details.
The content & opinions in this article are the author's and do not necessarily represent the views of RoboticsTomorrow
---
Comments (0)
This post does not have any comments. Be the first to leave a comment below.
---
Post A Comment
You must be logged in before you can post a comment. Login now.
Featured Product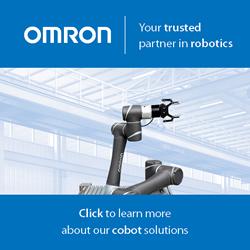 Humans and robots can now share tasks - and this new partnership is on the verge of revolutionizing the production line. Today's drivers like data-driven services, decreasing product lifetimes and the need for product differentiation are putting flexibility paramount, and no technology is better suited to meet these needs than the Omron TM Series Collaborative Robot. With force feedback, collision detection technology and an intuitive, hand-guided teaching mechanism, the TM Series cobot is designed to work in immediate proximity to a human worker and is easier than ever to train on new tasks.