Smart phones and new apps will dramatically improve the way unmanned systems distribute and deliver situational awareness to our troops while at the same time significantly reducing the command and control costs of unmanned systems.

Bob Quinn | Applied Research Associates, Inc
How do you foresee DoD successfully establishing an integrated manned/unmanned force on our frontline? How long do you think it will take to make that happen?
Unmanned Air Vehicles like Global Hawk, Predator and Shadow have a proven track record in Iraq and Afghanistan providing theatre and battalion level persistent situational awareness and precision strike capabilities while operating from remote locations often far removed from the battlespace. The future will see the addition of smaller UAVs operated by ground forces to provide "airborne binoculars" for squads who must find the enemy, fix their precise location and then finish the enemy while remaining as much as possible out of the enemy's observation and reach. Unmanned air, ground and unattended sensors operated by squad will help our ground forces find and fix the enemy's position while maintaining optimal concealment but for the most part will leave the finishing of the enemy to our warfighters themselves. Unmanned systems will continue to be a flexible tool in the hands of skilled operators but will never replace them.
There's been talk of further investments being placed in new warfighter technologies, like robots and unmanned vehicles. In a time of budget crunch, do you think this vision is attainable? Why? How?
Further investments in unmanned systems technology will unquestionably continue despite the budget crunch because this technology saves lives of friendly forces and greatly reduces civilian casualties by providing unprecedented capabilities finding and fixing the precise location of the enemy. They are a force multiplier allowing smaller forces to control larger geographical areas while suffering few casualties. Since manpower costs are the largest single budgetary item, technologies that multiply the capabilities of ground forces will actually save money and will therefore continue to proliferate on the modern battlefield.
What are some of the technologies that, to you, really set the stage for these emerging trends in military and law enforcement use of robotics and unmanned vehicles? How do you foresee them having an impact on our frontlines?
Smart phones and new apps will dramatically improve the way unmanned systems distribute and deliver situational awareness to our troops while at the same time significantly reducing the command and control costs of unmanned systems. The cost savings associated with tying smart phones to robots will likely open new commercial markets for unmanned systems beyond the military.
What role does ARA play in this scenario?
ARA is populated by highly educated engineers and scientists who are genuinely passionate about providing technological advances that in our own small way help bring our fighting forces home alive. ARA's unmanned systems capabilities are specifically designed for military squads and civilian SWAT teams who are dealing with life threatening situations. Providing easy to use, robust, reliable tools is enormously satisfying to all of us at ARA.
We recently published this press release from ARA. It details an incident where your Pointman tactical robot sustained 4 shotgun blasts while in use during a SWAT operation in Nebraska. Tell us a bit more about the Pointman and why it is so effective.
Pointman is perhaps the ONLY small robot specifically designed for use by tactical SWAT teams needing real time reconnaissance in hazardous situations. It is by far the easiest to use small robot in the marketplace and is 1/3rd the cost of a bomb squad (explosive ordnance disposal) robot yet is as durable and reliable as the much more expensive EOD robots. We are continuing to develop Pointman improvements that are specifically geared for SWAT teams while understanding the intense cost pressures municipalities are facing in order to make cost/performance trade-offs that SWAT teams would consider beneficial.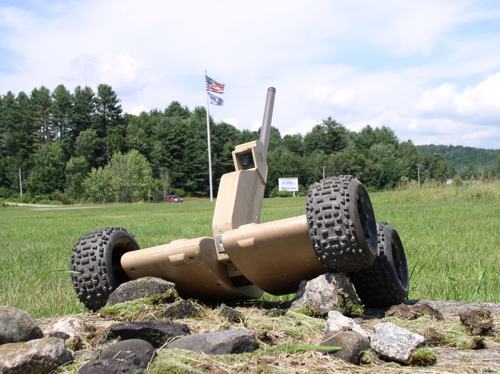 Pointman Tactical Robot (SUGV)
How would these developments and the expenditure of these resources help other industries involved in robotics?
When smart phones and robots fully interconnect the cost savings and sheer volume of smart phones in user hands will likely exponentially expand the availability, applications and missions that smart, inexpensive mobile robots can undertake in our society. Within ten to twenty years robots operated by smart phones will likely be ubiquitous in our society just like computers are today.
Do you envision a day where man and robot fight side by side on our frontlines?
Robots will clearly continue to aid the warfighter with two out of three missions to help find and fix the enemy's precise location while keeping our warfighters out of sight. However, finishing the enemy through active engagement will always be left to the warfighter to determine how best to carry out that task. Robots on the battlefield will be an increasingly important tool but never a replacement for our highly trained, passionate, caring and intelligent warfighters.

About Applied Research Associates, Inc.
Applied Research Associates, Inc. (ARA) is an international research and engineering company recognized for providing technically excellent solutions to complex and challenging problems in the physical sciences. Our mission is to provide in-depth and diversified research, engineering, and technical support services. We have a broad range of technical expertise in defense technologies, civil engineering, computer software and simulation, systems analysis, environmental technologies, and blast testing and measurement. We also provide sophisticated technical products for environmental site characterization, pavement evaluation, and specialized robotic vehicles.
About Bob Quinn
Bob Quinn holds a Bachelor's Degree from Tufts University and an MBA from Babson College. In addition to his work at ARA he has previously been a Vice President of Unmanned Systems at QinetiQ.
The content & opinions in this article are the author's and do not necessarily represent the views of RoboticsTomorrow
---
Comments (0)
This post does not have any comments. Be the first to leave a comment below.
---
Post A Comment
You must be logged in before you can post a comment. Login now.
Featured Product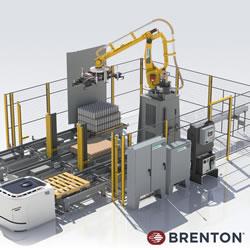 Brenton is a leader in robotic solutions with standard product offerings including palletizing and depalletizing for efficient an option for carrying hard-to-handle products, as well as larger scale systems with an optimized footprint; and case and carton loading solutions for numerous industries. In addition, Brenton works with customers on integrated solutions, offering robotics in a broad spectrum of robotics to fully integrate end of line systems. Brenton helps packaging customers protect their reputation and grow the trust of their consumers.