The acquisition cost for the entire system including imaging will have paid itself off in only 10 months with single shifts. If the robot is used for 2 shifts, it will actually have paid itself off in only seven months.

Contributed by | Universal Robots
The tool production company Thiele is situated in the German state of Bavaria and utilises a lightweight robot from Denmark for the company's production of small series. Universal Robots has gained a foothold within a classic small tool production company.
Pay-back period: 300 days
Automation of small companies? So far unthinkable. Automation has been considered too expensive, robots too clumsy, programmable only by specialists, and too difficult to integrate in production. This is why small industrial companies with typically less financial means have so far been reluctant to introduce industrial robots in their production.
The company TS Metallbearbeitung GmbH & Co. KG (Thiele) is such a company. Thiele was looking to extend its production of small series without employing additional workers or purchasing new machinery. The automation solution had to be affordable and easy to operate for employees with no programming experience.
As Thiele's production consisted of primarily milled products in small series, the robot solution had to be mobile in order to move quickly between the various machines. Safety was also of top priority as the robot would be running extra unmanned shifts during the night. The Danish producer of light weight robots, Universal Robots, tailored a solution for Thiele and made all this possible.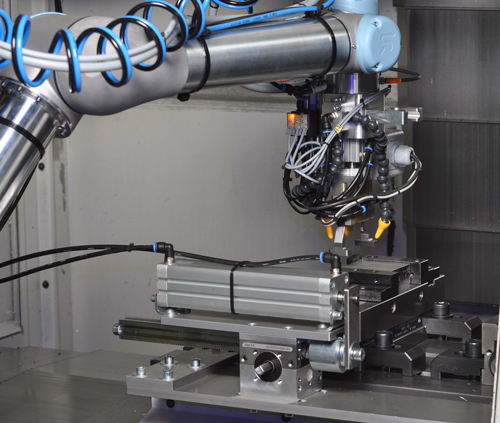 Thiele is a classic small tool production company. The company is situated in the Bavarian city of Herrenberg, has around 10 employees and primarily manufactures individual parts and small series. Thiele develops individual solutions for the construction of processing, testing, measuring and leakage testing equipment, manufacturing the parts on CNC controlled machining centres. Thiele has a very short chain of command and is therefore able to react quickly and flexibly in response to specific industrial inquiries and orders. Primary customers are within the automobile industry, aeronautics, space technology and plastic production.
The robot takes over at night
Employing the UR robot means that Thiele can now run extra unmanned productions shift to supplement the existing machine fleet.
The integration of the UR robots was performed by systems integrator Faude offering Thiele an individually adjusted industrial robot system that features the lightweight robot UR 5 as base module. Faude has subsequently equipped this module with special catchers. The robot weighs only 18 kilos and is easily moved around between various machines ensuring an extremely flexible production.
The robot does not require a particular programming language and uses an intuitive graphical user interface that employees without any previous experience can operate with ease. The solution has turned out to be a great success for Thiele: Once the manual single production is ended by the day shift, the robot is placed at a milling centre and runs during the night in an unmanned production of small series. It relieves employees from monotonous handling work and frees hands to carry out far more challenging tasks. Today, the tasks relating to milling of small series at night no longer require human interaction: The robot opens both gates, feeds the raw material, fixes it in the machine vice, removes it following milling, and puts it aside.
No need for safety guarding
The robot also carries out quality assurance by means of an imaging system that Faude has developed and integrated in the solution from Universal Robots. As Thiele employs a machine fleet of an earlier date without today's standard interfaces, Faude also developed a universal interface to secure the entire electronic and pneumatic supply for the robot. The machine vice that had so far been handled manuall, is now automated by means of a pneumatic cylinder that is also connected to the system. Thiele did not need to make any constructional changes in order to implement the automated solution: The industrial robot from Universal Robots has been certified to work directly next to human beings without the need for additional safely shielding. This is in particular important to small businesses as the production working area is often limited and employees sometimes have to work at the same machine as the robot.
Costs a third of the competitors' solutions
"Small businesses can't just buy a robot with standard tools. They need an individual solution suitable for the company's environment and special working requirements. Until recently, the price for robot systems has been too high for them and systems were technically far too complex," explains Dieter Faude.
The lightweight robots from Universal Robots cost only a third of similar solutions, giving smaller companies a whole new perspective with regard to industrial robots.
Ready in just 4 weeks
Thiele's investment in automation has really paid off: The robot solution was developed and integrated in just four weeks in January 2010. Since then, the system has run without any problems. The acquisition cost for the entire system including imaging will have paid itself off in only 10 months with single shifts. If the robot is used for 2 shifts, it will actually have paid itself off in only seven months.
This positive experience has already made Thiele consider a future expansion of the production of small series. For this purpose an automatic storage system is currently being setup to store more raw materials enabling the robot to run for longer periods and subsequently produce larger series.

About Universal Robots
Universal Robots produces a robotic arm which is characterised by being extremely flexible and easy to use in the day-to-day production.
It differs from anything else in the market in the sense that it is lightweight, very easy to re-programme for any non-robot expert and can be easily moved around in the production facilities.
This enables the possibilities for small and medium sized companies to implement robots into the production, even though they do not posses the robot expertise inside the company. They can do everything themselves. And at low costs.
The content & opinions in this article are the author's and do not necessarily represent the views of RoboticsTomorrow
---
Comments (0)
This post does not have any comments. Be the first to leave a comment below.
---
Post A Comment
You must be logged in before you can post a comment. Login now.
Featured Product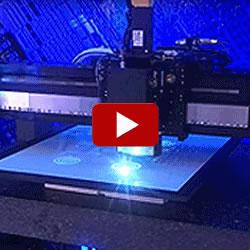 Hexapod micro-motion robots are based on a very flexible concept that can easily solve complex motion and alignment problems in fields including Optics, Photonics, Precision Automation, Automotive, and Medical Engineering.