Rising wages and the intricate management of the labour force have created a challenging work environment for a Singapore-based company, Sky Engineering. For a long time, this precision engineering company tried to reduce their production costs. They finally succeeded with the implementation of Universal Robots in one of their CNC machines. The UR robot was easy to integrate and the company now has the luxury of having one man tending to two CNC machines at any one time — something previously impossible to achieve when all tasks relied heavily on manual labour.

Contributed by | Universal Robots
Sky Engineering is a precision engineering company established in 1972 specializing in aerospace components, batch production, jigs and fixtures and semi-conductor tooling. Even though the company has CNC machines, manual labour is still necessary to do a lot of the repetitive tasks in their production facility — the commissioning of Universal Robots is one of their very first steps towards automating the repetitive tasks carried out in production.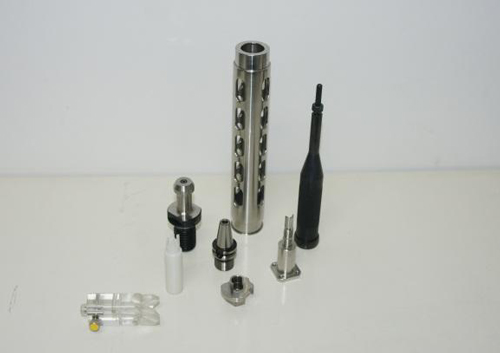 "The precision and repeatability in our applications are some very important factors as they contribute to better quality products," explained George Kyaw, the Senior Operations Engineer who did the installation, integration and programming of the robot with the CNC machine all by himself without any prior knowledge or experience in commissioning industrial robots.
Why employ a robot?
When faced with rising wages and the intricate management of their workforce, William Kuek, the Operations Manager of Sky Engineering was on the lookout for industrial robots to help alleviate these challenges. William came across Universal Robots and received a demonstration by an official distributor in Singapore, Zacobria Pte Ltd to learn about the Universal Robots' technologies and unique features.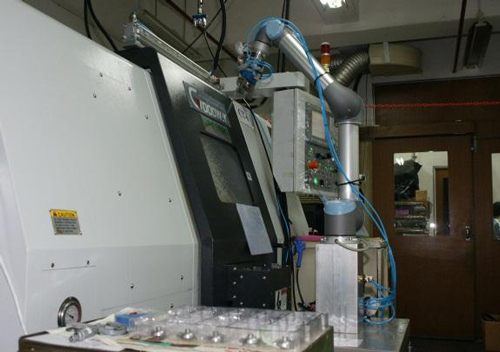 "Our facility operates 24/6. Finding the right skilled labour is becoming more and more challenging in Singapore and the cost of labour has also been steadily rising. Thus it is imperative that the company automates mundane repetitive tasks in order to keep cost low," explains William Kuek, who decided to try out by integrating and testing a robot with one of Sky Engineering's CNC machines.
Safe and easy to program
In testing the robot, Sky Engineering had several demands of their new "colleague":
"Apart from the robot's ability to perform and repeat precision tasks, it is imperative that it's safe for our employees to work in close proximity with the robot and the CNC machines. Space constraint is a factor of consideration as real estate is expensive in Singapore. Safety is also an important factor as workers may be in close proximity of the robot during the process cycle. Implementation and programming should pretty much be plug and play," says William Kuek and explains that Sky Engineering has very limited workspace in the production facility and the force sensor with load detection of the UR robot ensures that the employees' safety is not compromised when they are working in close proximity to it. Employees also do not have prior knowledge or experience in commissioning industrial robots with CNC machines.
"Having our own employees being able to implement and program the robot will bring about significant cost savings," says George Kyaw while also highlighting the ROI:
"Obviously, the robot pricing and the payback period are some of the greatest considerations in the decision making process of automating some of the manual tasks in our production. Universal Robots give a good payback period of about 15 months, are user friendly and flexible in the overall sense. This is why we chose a robot from this company."
CNC jobs carried out by the robot
The Universal Robot, model UR5, at Sky Engineering is currently programmed to perform CNC tending comprising of cleaning the parts and jaw in between the process cycle. The main task is to automatically remove finished work pieces from the CNC chuck and onto the holding tray in sequence after the CNC machine has completed the turning process.
Having done this, the UR5 also prepares the CNC machine for the next cycle by performing various cleaning tasks such as blowing leftover scraps of metal chips away from the clamping jaw and the CNC tool. In addition, the UR5 opens and closes the CNC door automatically via the in- and outputs found on the controller box of the robot.
About the robots
Universal Robots is a result of many years of intensive research in robotics. The six-axis robot arms can easily be implemented in many industries; from a small CNC lathe production to large automobile assembly lines. The product portfolio currently includes the UR5 and UR10 models that handle payloads of up to 5 and 10 kilos and weigh a mere 18 and 28 kilos respectively.
Due to their weight, size, safety and ease of programming, the UR robots can easily be moved around and installed in different parts of the production facility. A significant benefit is the robot's capability to operate with no safety shielding — as soon as an employee comes into contact with the robot arm and a force of at least 150 Newton is exerted, the robot arm will automatically stop operating.
Universal Robots' intuitive graphical user interface, (GUI) allows the user to set up and program the UR robot in as little as half an hour. The user does not need to be a skilled programmer to do this, programming can be done by dragging and dropping standard routines into an on-screen "script" for the robot, or by simply grabbing the robot arm, showing it the desired movements.
Universal Robots developed the GUI, called Polyscope, which runs on top of a Linux OS platform enabling easy customization for specific tasks and tools. The Polyscope programming developer facility needed for this customization is supplied with the robot.
The robot is also equipped with digital and analog inputs and outputs I/O ports and Ethernet interfaces for communication with external equipment and other control systems such as PLC and SCADA systems through the I/O or Ethernet socket. The robot and controller can control a small cell as well as sensors, vision systems, activation of conveyors and other external equipment.
The UR robots have very low energy consumption and make less noise in comparison with bigger and more expensive robots.

About Universal Robots
Universal Robots is an innovative and globally successful Danish manufacturer of industrial robots. Since the first UR robot entered the market in 2009, the company has seen substantial growth and is now in global distribution through more than 100 partners spanning nearly 40 countries. European portfolio customers include companies such as Lear, Oticon, Bosch, BMW, Scandinavian Tobacco Group, LG, Samsung, LUK and GN Resound. In Asia, UR robots are used extensively by the Bajaj Company in the yearly production of 4 million vehicles, motorcycles and auto rickshaws.
Universal Robots is a "first mover" within a new segment for industrial robots enabling automation not just in large enterprises but also in small and medium size companies that thought employing a robot would be too costly and difficult.
The content & opinions in this article are the author's and do not necessarily represent the views of RoboticsTomorrow
---
Comments (0)
This post does not have any comments. Be the first to leave a comment below.
---
Post A Comment
You must be logged in before you can post a comment. Login now.
Featured Product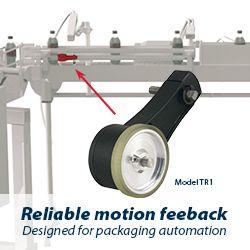 EPC is excited to announce our NEW online 3D Configurator. This new tool makes it even easier to configure EPC's products exactly how you need them for your application. The 3D Configurator interface is intuitive and works in any web browser for both desktop and mobile. It'll only take you a moment to learn your way around the program. Careful, though: it's so fun to play with, you may spend a whole afternoon on it!