Romo is an adorable miniature robot that harnesses the powerful processor in your smartphone, making him an affordable personal robot youll want to take home to your family.

Keller Rinaudo | Romotive
Tell us about the company Romotive.
We're Romotive, a team of nerds obsessed with building an affordable, fun personal robot named Romo. By combining smartphones with a mobile base, we create robots who do awesome things (like telepresence, autonomous navigation, and machine vision). Romo is an iDevice-powered robot who is both intuitively simple to use and also highly programmable. With Romo, we're building the world's first affordable personal robot for everyone. Our mission is simple: build awesome robots that make normal peoples' lives better.
You recently introduced Romo. This is not your "average robot." Tell us a bit about what makes him unique?
Romo is an adorable miniature robot that harnesses the powerful processor in your smartphone, making him an affordable personal robot you'll want to take home to your family. Romo is friendly and cute with a spunky personality. He has controllable facial expressions, and he'll smile at you or jump back if you make a sudden movement. With facial recognition, Romo responds to his environment in the same ways any other creature would. Our "Romote control" feature lets you control him from another iOS device or a computer while streaming two way audio and video. He's a personal robot who is distinctively wallet-friendly and backpack-sized.
We see that Romo is powered by your smartphone. How does this work and why did you decide to go down this road?
Romo is insanely simple to use. By leveraging the power of a smartphone's processor we created a robot that is Wi-Fi enabled and computer vision capable for $150. And you can control him easily with the iPhone already in your pocket. Docking your device automatically launches the Romo app or pulls up the Romo download page in the App Store. It's that easy.
How did you dream up the idea of Romo?
We grew up watching Star Wars and Star Trek, and personal robots are one of the great unfulfilled promises of science fiction. We've seen youtube videos of robots doing incredible things in academic labs, but why aren't these kinds of robots available to everyone? That's what led us to build Romo. He has much of the same functionality of advanced research robots, but costs less than 1% as much.
Is there a female version of Romo?
Our robot-for-everyone dream began with our male pal Romo, and next we're planning a female version, code name "Julia."
You recently demoed Romo on the TED2013 stage. How was this received?
We're clearly not the only geeks who grew up wishing that we would have robots in our lives. Romo has struck a chord with a large group of people who think that the time for personal robotics is now, and each new user has their own specific ideas about what they want Romo to learn to do next.
You introduced a program in alpha that challenges developers to write their own programs for Romotive robots. Where do you envision this program will take Romo and future Romotive robots?
We are constantly inspired as we hear about the cool ideas people have for Romo. Because of them—our awesome community of robot hackers —we are focused on our API and simplified drag-and-drop programming language. In short, people with any programming ability can create cool behaviors and personalities for the robot and share them with friends.
Do you see it having commercial or industrial uses?
For the time being we're focused on building the world's first robot for everyone in every household. Romo is an affordable and accessible robot companion with an infectious personality, and he has the potential to make people's lives better.
Look into your crystal ball for us. Where do you see Romotive and Romo 5 years down the road?
Over the last 20 years, robotics has been an extremely inaccessible field. Hackers who want to build consumer applications for robots have had to build and manufacture robots from scratch, which is hugely expensive and complicated. We want to change that by providing a simple and hackable robotic platform that is robust enough to actually do useful things. We want 15 year-olds to be able to hack on robots in their garages and then sell their robotic behaviors on an App Store to a million other robot owners. We think building that ecosystem is the real key to sparking a robotics revolution.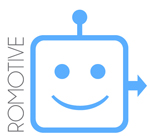 About Keller Rinaudo, Romotive CEO & Co-Founder
Keller Rinaudo is CEO and co-founder of Romotive, which is working to build the world's first affordable personal robots. Prior to Romotive, Keller rock climbed professionally. A graduate of Harvard, Keller is a published author in Nature Biotech and built computers out of RNA and DNA that can operate in human cells. Find him on Twitter @kellerrinaudo.
Title Photo - Keller Rinaudo, robotics entrepreneur, at TED2013: The Young, The Wise, The Undiscovered. Tuesday, February 26, 2013, Long Beach, CA. Photo: James Duncan Davidson
The content & opinions in this article are the author's and do not necessarily represent the views of RoboticsTomorrow
---
Comments (0)
This post does not have any comments. Be the first to leave a comment below.
---
Post A Comment
You must be logged in before you can post a comment. Login now.
Featured Product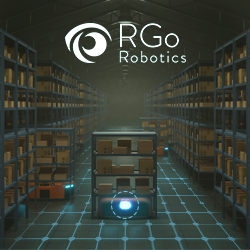 RGo's intelligent vision and AI system, Perception Engine™, provides mobile robots with 3D perception capabilities, enabling them to understand complex surroundings and operate autonomously just like humans. Its camera-based system operates is able to localize, map, and perceive in even the most robust environments including indoor/outdoor and dynamic or unstructured environments.