The Roxtec system is based on a rubber-sealing module that consists of two halves, a center core, and removable black and blue layers. This construction ensures adaptability to different sizes of cables and pipes.
Flexible Seals for Robotics Systems
Contributed by | Roxtec
Robotics is an established manufacturing technology, given its ability to serve a variety of applications in large, small and, medium companies. For instance: advantages of robotics have been widely adopted by automobile manufacturers. Robotic technology is now being integrated into other industrial sectors such as, plastics and rubber; food and beverage handling; and diverse processing markets.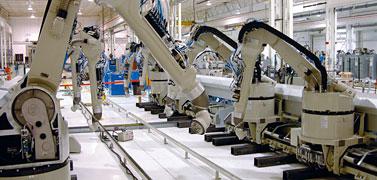 Due to the growth of robotics, many manufacturers of robotic process systems are moving towards standardized and more cost effective solutions for system updates and usability. Functional solutions are a must as these systems can provide a competitive edge to the user in terms of higher quality, better productivity and better processing. One area many robotic manufacturers have been able to easily update and improve upon is the pipe and cable component of the system.
Many robotic systems are now using the Roxtec sealing system because it is simple for everyone involved, from designers and installers, to any future users who might want to continue to make changes to their system. Roxtec's sealing systems have saved its customers critical time by allowing the project to leave the factory more quickly.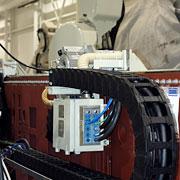 Roxtec CF 32 entry seals allow cables and pneumatic plastic pipes to be routed in the same unit.
According to Roberta L. Zald, P.E., Director of engineering at Robotic Production (RPT): "With Roxtec we have a much better chance of engineering only once, followed in a very timely manner by installation. With other products for cables and pipes, we would have to design first, then route and adjust the engineering. This requires time and cost that we have been able to reduce or eliminate by using Roxtec flexible seals. "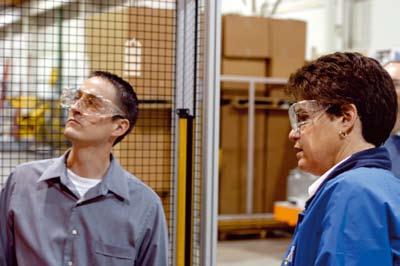 Roberta L. Zald of RPT, a robotic systems solutions provider to the plastics industry for 20 years, is appreciative of Roxtec's capacity to fit into a wide range of engineering solutions.
The Roxtec system is based on a rubber-sealing module that consists of two halves, a center core, and removable black and blue layers. This construction ensures adaptability to different sizes of cables and pipes. Just peel off layers to achieve a tight installation. A single module can seal a cable or pipe over a span of several different diameters simply by removing layers from the module halves. In fact, most cables can be effectively sealed with just six basic sizes of Roxtec sealing modules. Easily installed Roxtec modules are used together with a frame and a compression unit, resulting in an optimum sealing solution suitable for wide-ranging applications.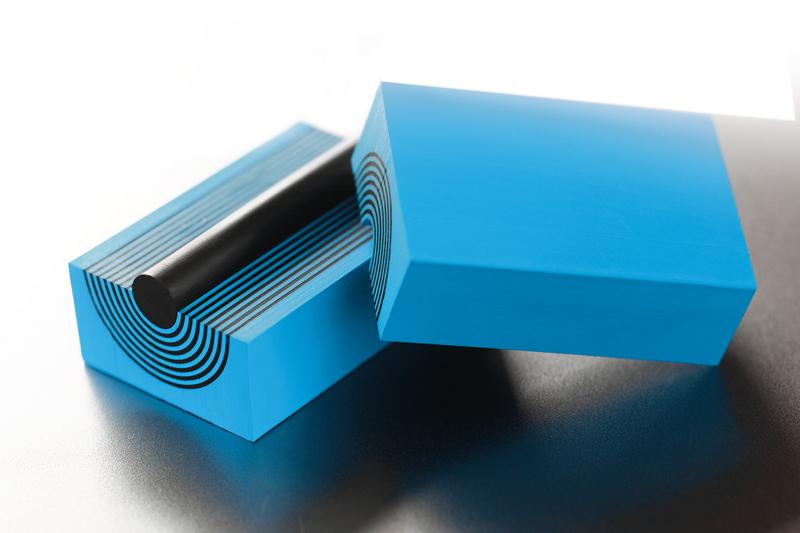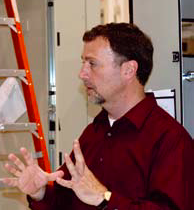 Michael Riley at Durr Systems Inc. in Michigan expresses his experience: "Cables and hoses are changing all the time in a project. Roxtec systems accommodate all such changes, which greatly simplifies everything."
Thousands of users around the world are already making savings because of Roxtec. Flexibility to cope with a wide array of challenges is important in today's high paced industry and should not be underestimated. "Roxtec is awesome!" concludes Rock Haasat, Engineering Design Services in Michigan. "You know it is going to fit!"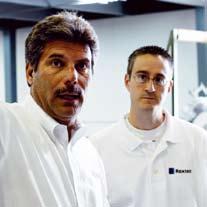 Rock Haas (left), Engineering Design Services, uses Roxtec CF 32 and RG M63 to secure monitor cameras in Robotic sealing systems. Shown (right) is Jason Hood from Roxtec Inc.
Facts about Roxtec Sealing Systems:
Project types:
Robotic systems for the automotive industry:
Mass-production Robotic Paint Shops
Robotic Routing and Waterjet Systems
Punching/Sawing Automated Robotic
Fabrication Systems
Customers:
Durr Systems Inc. Application Technology,

Auburn Hills, MI

Robotic Production Technology, Auburn Hills, MI
Eagle Manufacturing Corporation, Shelby

Township, MI

EDSI, Engineering Design Services Inc, Auburn

Hills, MI
Applications:
For cables:
Cable sealing between cabinets and process equipment. Sometimes through booth walls.
For pipes:
Pipe sealing from cabinets to robotic equipment, including sealing of pneumatic hoses.
Requirements:
Include IP 66, 67
Water tight, gas tight, dust proof
Explosion protection
Roxtec suggested products for robotics:
Roxtec CF 8, CF 32 and custom-made CF 56 entry seals, Roxtec RG M63 entry seal. RoxtecS frame transits, R frame transits, and RS seals.
Pre-delivery tests:
Roxtec allows the customer choosing Roxtec to test equipment before it leaves the factory. Once it arrives on site, it is easy to run cables through the Roxtec sealing system and make all the connections.
About Roxtec and Multidiameter™
Swedish Roxtec Group is the world-leading provider of flexible modular-based cable and pipe seals. The company's invention for adaptability to cables and pipes of different sizes is called Multidiameter™. The solution is based on sealing modules with removable rubber layers, which allows for a perfect sealing, regardless of the outside dimension of the cable or pipe. The technology simplifies design and engineering, speeds up the installation process and reduces the need for stock, material and logistics. It also provides built-in spare capacity for easy retrofit and future upgrades. Roxtec serves and supports customers in more than 70 markets through 18 subsidiaries and a network of distributors.
The content & opinions in this article are the author's and do not necessarily represent the views of RoboticsTomorrow
---
Comments (0)
This post does not have any comments. Be the first to leave a comment below.
---
Post A Comment
You must be logged in before you can post a comment. Login now.
Featured Product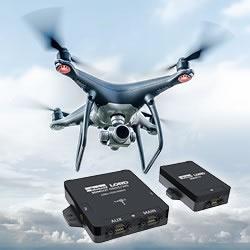 The new complete inertial navigation solution comes with GNSS/INS 3DMGQ7 sensor, 3DMRTK correction modem and real time SensorCloud RTK correction network. The sensor comes with Dual antenna GNSS, tactical grade IMU with centimeter-level accuracy with RTK. Low profile and light weight at 78 grams, this sensor is The sensor is optimized for size and weight in Unmanned Ground Vehicles, mobile robots and autonomous vehicles. The network interface 3DMRTK modem is seamlessly integrated into the 3DMGQ7 sensor supports industry-standard NMEA and RTCM 3.1 protocols. The network RTK support comes with cellular data plan. The SensorCloud RTK is a cloud-based RTK correction system with private encrypted data stream. Check out our G Series and C Series OEM products.