Six axis robots provide all the advantages of the simple Cartesian systems (high speed, slim forearm and simple programming) but have none of the limiting features that restrict the incorporation of additional tasks. The 6 degrees of freedom in movement provides an extremely large work envelope within a small footprint.

Contributed by | Stäubli Robotics
Plastic injection moulders are increasingly adding value to their activities by incorporating additional operations such as in mould decoration, insert loading and finishing/assembly activities into the basic demolding cycle. These extra tasks are changing the traditional approach that the sector has taken to automation and in particular to the selection of industrial robots capable of satisfying these requirements.

Automation solutions for injection moulding typically have been built around x, y, z, Cartesian gantry systems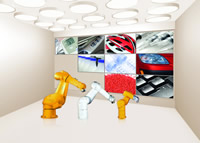 offering high speed demolding using a slim forearm with simple programming requirements. The major disadvantages of this type of automation was that only top loading moulding machines could be accommodated, the systems had a fairly large footprint and flexibility in movement was limited. Additional operations could not easily be incorporated into the demolding cycle. The automation tended to be installed when the moulding machine was purchased and stay with the machine through its working life, retrofit was difficult.

These constraints, coupled with the growing demand to develop the moulding operation into a central process at the heart of a component manufacturing cell, have lead manufactures to evaluate alternative, more adaptable, methods of automation. The result has been that many injection moulders are switching to integrating 6 axis industrial robots into their existing production cells and on new installations the 6 axis robot is now regarded as the first choice.

Six axis robots provide all the advantages of the simple Cartesian systems (high speed, slim forearm and simple programming) but have none of the limiting features that restrict the incorporation of additional tasks. The 6 degrees of freedom in movement provides an extremely large work envelope within a small footprint. The robot can be floor, wall or ceiling mounted and is able to accommodate both top and side loading moulding machines. Up to now, there has not been a 6 axis robot produced specifically for the plastics sector, Staubli's RXplastics range is the first. It has been developed following detailed consultation and evaluation by both injection moulding companies and system integrators operating in the plastics sector.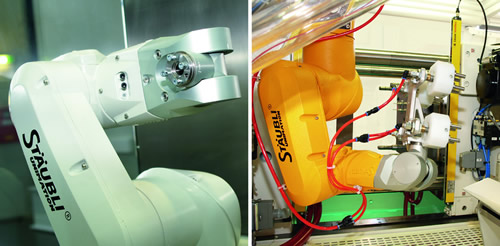 The accuracy and inherent rigidity of the 6 axis robot, typified by Staubli's RXplastics range, brings additional benefits on speed of demolding. The small forearm minimises the mould opening time and the high positional accuracy means that the robot arm can be moved to precisely the demolding position required without unnecessary and unplanned movement to the gripper assembly attached to the robot arm. Stäubli claim to have the fastest industrial robot around, die interrupt times of just 0.59 seconds have been consistently achieved on specific demolding applications.

A typical example is the unloading of a Fanuc roboshot injection molding machine with a Stäubli RX90plastics, 6 axis robot. The gain in the cycle is about 40% at 0.61 seconds compared to 1.0 second with a competing 6 axis robot. Even at high speed the robot's trajectory performance assures a perfect unloading motion through only a 125 mm opening of the molding machine.

On longer molding cycles the robot can often service two adjacent machines. The Stäubli V_CELLplastics programming software can readily accommodate four different programs for four different components.

However, it is in the ability to incorporate additional tasks into the demolding cycle that 6 axis robots really come into their own. The moulded part can be trimmed, de-sprued, reoriented if necessary and loaded directly into the output container by the robot, all sequences usually completed within the operating cycle of the injection moulding machine.

Labels for in mould decoration can be placed into the moulds by the robot with a precision of <0.5mm by using specifically designed double sided gripping mechanisms on the robot arm. Moulds featuring 4 or even 8 cavities can be filled each with a different decorative label if required. This decoration technique has been widely used in the mobile phone sector where a bewildering array of coloured, patterned, plastic bezels and flip covers have been produced by the million.

The ability to easily re-programme the robot is a benefit particularly in the electronics sector where new models rarely last for more than 6 months and production volumes can easily double, treble or half during this short period. Repositioning of the robot is also simple, the robot being equally as portable as the mould tools.

RXplastics robots are available in three models (RX60plastics, RX90plastics and RX130plastics) with load capacity up to 25kg and a maximum reach at the wrist of 2185mm. The robot controller comes pre-loaded with Euromap 12 (Europe) or SPI (USA) interface software, widely used across the plastics sector to co-ordinate robot movements with the operating cycle of the moulding machine. Robot compliance ensures that the arm follows the ejector motion of the mould.

RXplastics robots are pre-wired, ready for direct connection to the injection moulding machine and safety door systems. Signal handling software is installed and fully integrated with Stäubli's V_CELLplastics user programming software for immediate input/output communication with the injection molding machine. Frequently occurring movement sequences and scenarios are already held in the robot controllers' software, predefined macros and modules are provided to allow these standard sequences to be easily modified to suit any specific parameters, as required. A simple graphical user interface, using plastics industry terminology, makes the V_CELLplastics software easy to use by operators.

Rxplastics robots also provide all of the well-known and accepted benefits of the established Stäubli RX range. They are ideal for accurate and meticulous types of tasks, including operation in clean environments (The RXplastics is approved to class 100). They feature high speed and acceleration with the precision control to follow complex trajectories at joint speed ranges up to 1125degrees per second. At the heart of each RX robot is the patented, unique, JCS gearbox providing zero backlash, smoothness in movement and consistent, reliable performance.

RXplastics robots are currently operating on the following applications in the plastics sector:
Insert loading
High speed demolding
De-sprueing
In mould decoration
Glue laying
Powder coating
Painting
Assembly
Inspection
Packaging
The economic benefits of automation by using 6 axis robots have never been clearer. While UK labour rates continue to rise and availability of skills provides ongoing difficulties, the actual cost of robots in the UK has been decreasing. Price decreases approaching 25% have taken place since 1993. An investment decision for an industrial robot can now often be of a value similar to that for a company car. Payback times of 18 months and less are achievable through increased productivity and reduced wastage of materials, in addition to the benefits on operator safety, which are realised immediately.

Over 14,000 Stäubli robots have been installed worldwide. Many plastics companies are standardising on Stäubli for all their multi-axis automation requirements. They are realising the benefits that flow from a comprehensive understanding and appreciation of the wide-ranging capabilities of these highly developed machines.

About Stäubli
Stäubli is a mechatronics solution provider with three dedicated divisions: textile machinery, connectors and robotics. With a workforce of over 3000, the company generates a yearly turnover surpassing 1 billion Swiss francs. Originally founded 1892 as a small workshop in Horgen / Zurich, Stäubli today is an international group with its head office in Pfäffikon, Switzerland.
The content & opinions in this article are the author's and do not necessarily represent the views of RoboticsTomorrow
---
Comments (0)
This post does not have any comments. Be the first to leave a comment below.
---
Post A Comment
You must be logged in before you can post a comment. Login now.
Featured Product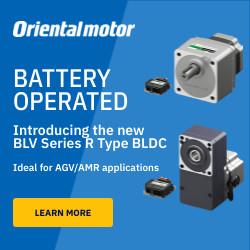 The BLE2 Series replaces our popular BLE Series and continues our brushless motor advantages by featuring an all new compact, high-power and high-efficiency brushless DC motor combined with a Driver that can be digitally set and controlled via external DC voltage or by the front panel. The BLE2 Series can easily compete with larger 3-phase inverter driven motors in many more applications, with built-in simple holding torque function, saving space and increasing performance thanks to the advantages of a brushless motor design. The BLE2 Series has a maximum speed of 4000 r/min, achieving a speed ratio of 1:50 (80 to 4000 r/min). The new motor structure is small than previous models and enables high power and high efficiency while incorporating easy setting, installation and wiring. The new motor connector offers IP66 degree of protection and allows for easy and direct connection between motor and driver with two available orientation of cable outlet direction. Standardized use of stain