"I've worked a long time to make this happen and am very pleased with the results. It enables investors everywhere to capitalize on the accelerating growth and promising future of robotics." Frank Tobe, Co-founder, Robo-stox LLC and Editor/Publisher, The Robot Report.

Frank Tobe, Editor and Publisher | The Robot Report
What is this new ROBO ETF?
After I sold my computer services business and went into semi-retirement, my mind was still alert to the next big thing which I came to believe to be the robotics industry. I asked my brokers for a basket of robotics-related stocks that I could invest in for the long term but they only offered two. Even Bloomberg didn't have a long list of robotics-related stocks. As a consequence I began the research process to compile a list of all robotics companies and determine whether they were privately held or public. As the list grew I knew it had some value as did others who offered to buy or rent the list. I held out until a couple of enterprising young financial types, Rob Wilson and Chris Lightbound, approached me about setting up a fund using my data. Together my new partners and I developed criteria and an algorithm to select and categorize the companies into "bellwethers" (deriving a significant share of revenue from robotics) and "up-and-coming" companies.
The new company, Robo-stox LLC, produced an index, the ROBO-STOX Global Robotics & Automation Index. I am a co-founder and partner in Robo-stox LLC. Our job is to compile and sift through all robotics-related companies worldwide and analyze those which have the following characteristics:
the company is publicly-owned,
the company has a market value of $200 million or more,
the company has a daily trading volume of $1 million or more,
the company is included in the Standard & Poor's BMI Index (a global compendium of about 10,500 stocks) and
the company derives a portion of it's operating profits from robotics and automation-related products or services.
Each quarter a committee of partners and analysts (of which I am one) review the complete worldwide list of publicly-traded robotics-related stocks to see which qualify and fit our criteria. Then we notify the ETF manager of the changes to the index. Any adjustments or additions will be made the following day. Our Strategic Advisory Board of eight includes two well known roboticists: Henrik Christensen and Raffaello D'Andrea.
Our index has been licensed to a company that established an ETF (Exchange Traded Fund) - a fund which trades like a stock but is based on an index. That new stock, ROBO, which trades on the NASDAQ Exchange, was launched on October 22, 2013. The company, and all its licensees and advisors participated in the NASDAQ closing bell ceremonies on November 12th. We even used a robot to push the button that rang the bell!
What does it do and why do you say it is "Powering the Robotics Revolution"?
At present there are 77 stocks - a truly global list of robotics-related companies with 36% in the US and the rest in Japan, Korea, Germany, Israel and the EU. 18 are bellwether companies; the remaining 59 are up and coming.
As investors, banks, funds and agencies invest in ROBO that money is used to purchase shares of the 77 stocks making up the index. Consequently, as of the time of writing, there was over $28 million invested in those 77 companies weighted 40% to bellwether stocks and 60% to the rest. As an example, ROBO has purchased over $564,000 of ABB (a bellwether company), and $280,000 in each of the these Swiss robotics-related companies: Kardex, Swisslog and the Tecan Group.
Performance details and a full listing and fact sheet for the 77 stocks are available on the Robo-Stox website.
One investor commented: "Investors (let alone the people that set up the ETF) are rarely credited as major contributors to a field. But with $28M, you've definitely already passed Grishin (Dmitry Grishin, a young Russian Internet mogul who last year set up a $25 million fund to invest in robotic companies), and the lifetime contribution of nearly all robotics researchers."
Why aren't some of my favorite companies included?
Companies in the news are often not in our index or the ETF ROBO for a variety of reasons. Some have a period of bad times and their market value is less then $200M; other companies haven't gone public yet; others don't have a high enough percent of robotics-related revenue.
Any final thoughts:
I've worked a long time to make this happen and am very pleased with the results. It enables investors everywhere to capitalize on the accelerating growth and promising future of robotics. And it lets me do what I originally wanted: invest in what I believe to be an exciting and profitable industry. As a friend told me, "Asimo, who rang the New York Stock Exchange bell in 2002, would be proud!" I hope so.
Frank Tobe is the editor and publisher of The Robot Report.
The content & opinions in this article are the author's and do not necessarily represent the views of RoboticsTomorrow
---
Comments (0)
This post does not have any comments. Be the first to leave a comment below.
---
Post A Comment
You must be logged in before you can post a comment. Login now.
Featured Product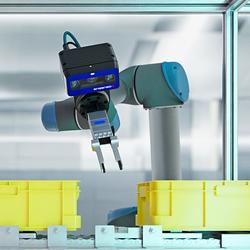 App Your Sensor®! What would smartphones be without apps? They would be mobile phones that can't do much more than make phone calls and sending SMS. Apps turn smartphones into intelligent assistants with any number of different tasks. Transferred into the world of image processing, this app-based approach transforms cameras and sensors into customised, smart vision sensors.