A robot system, fully deployed is going to give two to three-hundred percent return on investment per year.

Erica DeMott
This is the first of a 4-part series by KC Robotics about the automated arc welding industry. As a leader in robotic arc welding, we are pleased to have been able to interview welding veteran and KUKA Robotics Senior Key Technology Manager of Metals Tim Nacey about the industry and the possible growth manufacturers can see just by integrating a welding cell on their assembly line.
Manufacturers on the hunt for skilled welders have paid dearly in lost production and time. Endless job fairs, interviews, phone calls and monster.com ads later, many HR managers have come up with very few leads, if any. Studies have shown that there is a consistent decrease in skilled welders and the trend will continue as interest in the trade wears thin. According to a study done by Business Consultants Clark Schaefer Hackett 53% of manufacturers surveyed in the Ohio region identified skilled labor shortages as one of their top issues in 2013.
There is, however, an answer to this problem. Advances in technology, namely industrial robotics, can potentially end welding woes. In fact, automated welding has advanced so much in recent years that most of the time, as long as a man can weld a part, so can a robot.
But chained to the answer is the stigma that robotic welding is only for the automotive industry and those with output greater than 1,000 a day.
Tim Nacey, Senior Key Technology Manager of Metals at KUKA Robotics and 40 year veteran in the welding industry believes robotic welding isn't just for the automotive industry.
"There are a thousand different kinds of businesses in the United States that are doing some kind of metal manufacturing," says Nacey. "Everyone who is in the general industry doing metal fabrication and welding on their parts is a possible candidate." He also believes that there are signs that other industries that don't have high production levels are dipping their toes into robotic welding.
According to Nacey, even structural steel fabricators are finding their place in robotic welding. Advances in offline programming and intelligence between robot and vision systems have allowed for more responsive welding solutions the robotics industry calls adaptive welding.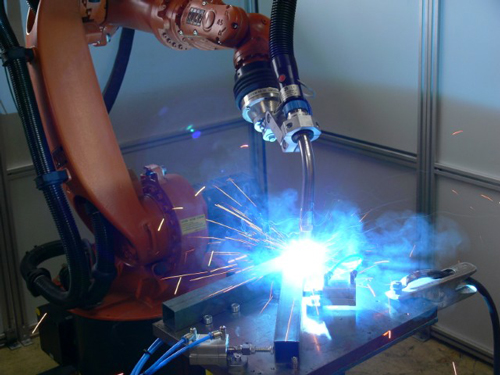 With a high ROI, welding cells like this one from KUKA Robotics are a good option for manufacturers looking to increase quality and reduce production costs.
Photo courtesy of Kuka Robotics
A key solution for manufacturers who cannot guarantee their parts will be perfect, which no manufacturer can, adaptive welding has opened several doors for robotic welding. In the early days, robot integration was seen as impossible due to unavoidable discrepancies in parts. In response, OEMs such as KUKA Robotics teamed up with vision integrators to develop a system that can inspect the parts and adapt to any differences in the part.
It is true that vision systems do add cost to a robotic welder but it also adds security and peace of mind. In short, the vision system stays one inch ahead of the welder and tells the robot how to compensate for any deviations. For post inspection, the system can measure the part for shrinkage and validate part quality. For most applications, vision systems can eliminate the need for touch sensing software entirely. From part quality improvement to reduction in waste, vision systems have a fast ROI in robotic welding.
Another benefit of robotic welding is the introduction of tandem welding. For parts that need to be welded in multiple locations or if the welding is of varying types, robotic welders can be programmed to work in tandem with each other at very close ranges. This decreases production time while still maintaining great quality.
In the survey done by Clark Schaefer Hackett, last year 58% of manufacturers saw no growth in revenue making investments in production hard to justify. Financial barriers are the last big hurdle manufacturers face in order to integrate robotic welders; however automated welding carries a high ROI. A robot welder can typically do the work of three men and with only one needed to operate the robot; labor cost savings alone, if you can acquire the skilled employees, can total somewhere over $100,000.
"A robot system, fully deployed," Nacey says, "is going to give two to three-hundred percent return on investment per year." He also stressed that using a robotic welding system just one to two days a week can give a fifty percent return on investment per year which is not bad in terms of investments.
At a base cost of around $100,000, robotic welding solutions are a great way to remove the stress of finding a skilled welder who can do the job right. Finding a great robotic integrator to work with can bring even more benefits to the table.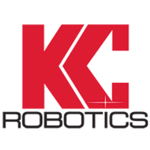 About KC Robotics
KC Robotics offers a full line of robots from top name manufacturers. They are certified strategic partners with KUKA Robotics and Yaskawa Motoman who offer discounted prices that they are able to pass along to you.
A full service robotics integrator for more than 20 years, KC offers a complete solution when it comes to industrial automation. Their 20,000 square-foot facility, centrally located off the I-75 corridor in Fairfield, Ohio, is equipped with a large inventory of robots and parts, a training area, repair area, and showroom.
If you are looking into purchasing a robotic welding solution or you would like more information on robotic welding cells, call KC Robotics at 1-800-7ROBOTS (1-800-776-2687) or email us at info@kcrobotics.com.
The content & opinions in this article are the author's and do not necessarily represent the views of RoboticsTomorrow
---
Comments (1)
I agree with Tim Nacey that adding sensors can increase the capability of a welding robot, but it can also add cost and complexity. One of the biggest hurdles for high mix, low volume job shops is the set-up time and skill level required to program welding robots. A new Kinetiq Teaching system (http://www.motoman.com/products/peripherals/kinetiq-teaching.php) was introduced at FabTech 2013. It simplifies and speeds robot programming by allowing operators to manually position the robot and program in a an environment similar to a smart phone application. I also agree that robotic welding is economical with simpler workcells about $100,000. If you look at lease payments and consider 1-2 shifts of operation, it is similar to paying $8-12/hr. The cell still has residual value and robots routinely stay in production 15-20 years. So, not using a welding robot today is actually costing you money a few years from now.
Post A Comment
You must be logged in before you can post a comment. Login now.
Featured Product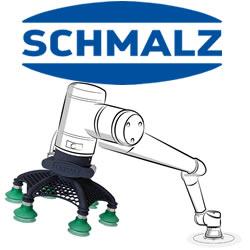 In order to interact with their environment and perform the tasks, lightweight robots, like all industrial robots, depend on tools - and in many cases these are vacuum grippers. These form the interface to the workpiece and are therefore a decisive part of the overall system. With their help, the robots can pick up, move, position, process, sort, stack and deposit a wide variety of goods and components. Vacuum gripping systems allow particularly gentle handling of workpieces, a compact and space-saving system design and gripping from above. Precisely because the object does not have to be gripped, the vacuum suction cupenables gapless positioning next to each other.