Essentially, were creating drones for water that produce mapping capabilities; its somewhat similar to air drones (i.e.: fixed wing UAVs) that map from the sky, but were mapping from the water.

Matt Rendall
We last spoke with Clearpath Robotics in June of 2013 to learn about their hardcore Grizzly RUV (here). Since then, they've made a splash in the water market with their revamped robot called Kingfisher, and we got the first look at what they're doing with it.
You have another product designed for the water called Kingfisher. Can you tell us about Kingfisher?
Kingfisher Unmanned Surface Vessel (USV) is a waterproof, battery operated, autonomous robot boat. Fully equipped with a sensor station, electric thrusters, GPS, and semi-planing hulls, Kingfisher serves as a marine research platform as well as a remote survey system for bathymetric and hydrometric data collection. Kingfisher includes advanced payload capabilities, easy stow and portability, and can be customized to meet customer requirements.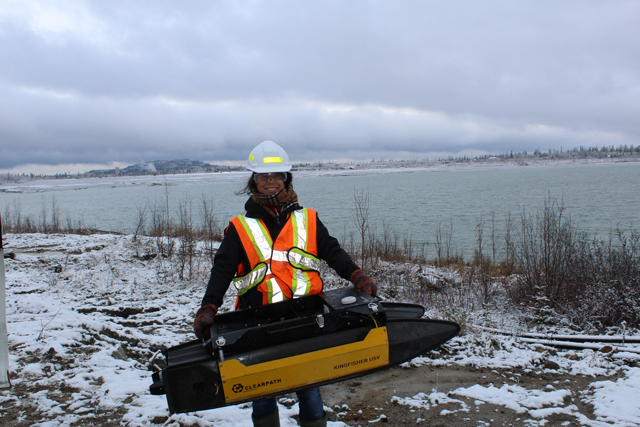 The easy-to-use robust design has made it a favorite among researchers and industry specialists alike.
What was Kingfisher initially designed for?
The story of Kingfisher is a bit of an interesting one. In Clearpath's early stages, an environmental engineering professor requested a robotic boat that could be used for shallow water bathymetric surveying to help his research at a Canadian university; a request which led to the birth of Kingfisher Unmanned Surface Vessel (USV). The team completed the project in 2009, and then worked to integrate Kingfisher into the R&D sector with the rest of their products. Universities began to use (and continue to use) Kingfisher for marine research.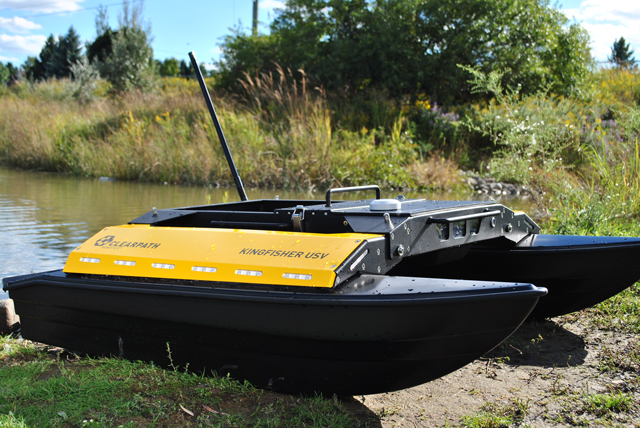 In the meantime, word of mouth spread in the water management industry, and demand for Kingfisher encouraged the team to look at the project with an environmental perspective. Customer feedback, focus groups and a newly-formed steering committee identified areas for improvement and new market applications. The project was awarded the Market Readiness grant from Ontario Centres of Excellence, which funded further iterations and pilot projects for the Kingfisher design. The project was re-opened, re-iterated and launched for autonomous bathymetry.
You have just launched a new business unit called Echostream, tell us about that.
It didn't take long before environmental consultants heard about the robotic boat and wanted to adapt it for bathymetric surveys (to measure the depths of shallow bodies of waters such as tailings ponds). To respond to the increasing interest in this field, Clearpath recently launched a subsidiary called Echostream. Echostream provides automated bathymetry tools for water resource professionals. These tools can manage water bodies spanning tailings ponds, storm water management ponds, dams, reservoirs and more.
How has Echostream commercialized Kingfisher?
Essentially, we're creating drones for water that produce mapping capabilities; it's somewhat similar to air drones (i.e.: fixed wing UAVs) that map from the sky, but we're mapping from the water.
To fully commercialize Kingfisher, we're currently building a network of partners throughout North America that are interested in supporting this unique survey tool. The system will enable them to collect data on important inland bodies of water.
What types of services does Echostream offer?
Echostream uses Kingfisher to provide underwater mapping. The data collection is a fusion of spatial sensors and data processing analysis with geo-spacial software so customers can receive reports that are easily integrated into their existing digital terrain models or digital elevation models.
What areas is Echostream currently serving?
Currently, Echostream is serving North America's private and public sectors. We work with federal, provincial/state and municipal markets for different applications. At the federal level, we tend to focus on flood plane mapping, and for provincial agencies, there are many opportunities with reservoir mapping, and lastly, we do a lot of work with sediment modeling for urban storm water management assets for municipalities. On the private side, we work with mining companies, port harbor authorities as well as energy utility companies for their own water data collection and processing needs.
Where do you envision Kingfisher & Echostream to be in 3 years?
We envision Kingfisher to be used as a standard collection platform for many quality water needs. We plan to commercialize a lot of research that's being done by academics around the world to provide the industry with the safest, environmental data collection solution on the market.
What major trends are you seeing in the Robotics industry at this time?
There's a definite trend in using robotics to collect environmental data in ways that are faster, cheaper and safer. Robotics enables people to make better and more informed decisions with their assets and recognize the impact that human development has on the natural ecosystem.

Clearpath Robotics specializes in the design and manufacture of unmanned vehicles, as well as software and system integration for a variety of academic, industrial, governmental, military and research applications. We offer turnkey solutions tailored to our customers' needs as well as a standard line of unmanned vehicle platforms.
The content & opinions in this article are the author's and do not necessarily represent the views of RoboticsTomorrow
---
Comments (0)
This post does not have any comments. Be the first to leave a comment below.
---
Post A Comment
You must be logged in before you can post a comment. Login now.
Featured Product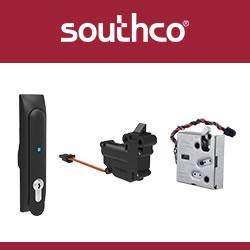 Many robotics engineers need to securely mount and latch sensitive electronic components in their robotics applications; Southco is able to help reduce theft and vandalism with our proven and reliable access technologies. Learn how Southco can help secure your robotics, or other smart city application, from theft and vandalism.