There are obviously many outstanding issues to be dealt with, but given the momentum of progress in this area, and the number of vehicles being added to the highways every day, the future might just link us all with intelligent highways.

Len Calderone for | RoboticsTomorrow
What is an intelligent highway? Technically, it is a highway where cars don't crash, and congestion does not occur. It's a world where cars automatically detect a problem ahead and avoid it through either slowing down or taking another route.
Hopefully, in about ten years, intelligent highways will appreciably reduce the number of deaths on the road, while making travel efficient and faster. In a way, an intelligent highway will be a source of alternative energy, as less energy will be used by stalled traffic. Today, by driving fast with sudden stops, or stop and go traffic, we use a lot of fuel unnecessarily.
The U.S. Department of Transportation sponsored a prototype automated highway system, which was tested in San Diego County, CA in 1997 along Interstate 15. The program was a success, but researchers are moving more toward autonomous intelligent vehicles rather than building a specialized infrastructure. The automated highway system places sensory technology in cars that can read passive road markings, and use radar and inter-car communications to make the cars organize themselves without the intervention of drivers.
The automated highway system is defined as "a lane or set of lanes where specially equipped cars, trucks and buses could travel together under computer control." This system utilizes control technology, which was developed for the aviation industry and space programs.
Automated highway systems combine magnetic sensors, computers, digital radio, forward-looking sensors, video cameras, and display technologies. Magnetic sensors would be imbedded along the highway lanes. Magnetometers under the car's bumpers would sense the magnets and automatically keep the cars in the center of the lane.
Instead of a central control computer, networks of small computers would be installed in vehicles and along the sides of roadways to coordinate the flow of traffic. Digital radio equipment in each car would allow the computer on board to communicate with other vehicles in the vicinity with supervisory computers monitoring the roadway. Using radar or an infrared laser, these sensors would detect dangerous obstacles and other vehicles ahead.
Video cameras that are linked to the computers could also be utilized to detect dangerous obstacles and other vehicles ahead, and be used along with or instead of magnets to track lane boundaries. Visual displays, mounted on the dashboard or projected onto the windshield, would give the driver information about the operation of the vehicle.
Assisted driving is increasingly common in today's cars. Car manufacturers have introduced automatic emergency braking, lane departure warning systems, anti-lock braking, traction control, night vision, rear view alarms and automatic parking. These technologies have made driving safer.
In the future cars will be able to "speak" to each other, notifying the other car that they are on a collision course and both must take action to avoid a serious accident. The present problem is that the integrated systems that allow cars to communicate seamlessly with each other and the surrounding environment are not yet in place. Vehicle infrastructure wireless protocols will allow cars to communicate with each other and with traffic signals while government agencies and traffic control systems will be able to communicate directly with every vehicle.
The advanced communications networks that form such a system will be able to inform drivers about to make a left turn that oncoming traffic is moving too fast to proceed safely. It could send drivers a warning of an accident or of congestion ahead, or even help drivers circumvent gridlock by suggesting an alternate route. Wouldn't it be great if the system could notify the driver of an available parking spot at the mall during the holiday season and save the spot?

How many times have you stopped for a red light only to see no other traffic approaching the intersection? Such a system could automatically adjust the timing on traffic signals along your route. Drivers would save time at toll booths, as the system could automatically bill you as you whip by a sensor.
There are 42,000 traffic fatalities that occur every year as well as $230 Billion of financial losses from wasted fuel, emergency response costs, 6 Million insurance claims and medical bills. This could all be reduced by intelligent highways. Google, Cisco and Microsoft are working on advanced transportation communication networks to allow the millions of vehicles on the road to communicate.
As with any technology, there could be un-foreseen problems that cause accidents. The increasing levels of automated controls in-vehicle and along the highway raise crucial questions about who is at fault in the event of an incident. If the driver is no longer driving, can the driver truly cause an accident? Can a driver override the autonomous system, potentially causing an accident? Manufacturers, certification bodies and drivers all face the potential for blame should an incident occur. The legal implications need to be worked-out so that each segment of the system has the necessary knowledge for their position in the blame game.
BMW, General Motors, Mercedes, Nissan, Toyota, and Volvo, have programs for an autonomous car. Volvo has a program where they will have 100 of these cars within the next three years that will be able to drive a 30 mile test route into and out of a congested city center. Nissan expected to have an autonomous Leaf on the road by 2020.
Of course, the biggest hurdle is the acceptance of such a system by the average driver. Will they give up control of their cars? We all have been passengers where we put on the brake in the passenger's seat before the driver of the vehicle. This kind of driver will be a nervous wreck in an autonomous car.
Much of the technology and systems are available today and proven. Trusting the system rather than the driver to control the car will not be easy. However, I think that once the benefits of a safer and faster trip is obvious, the decision to join a smooth intelligent highway system rather than the usual bumper-to-bumper commute will become increasingly appealing. If the system is installed on the Interstate highway system, long trips will be less boring and prevent high-speed accidents, which tend to be more fatal.
There are obviously many outstanding issues to be dealt with, but given the momentum of progress in this area, and the number of vehicles being added to the highways every day, the future might just link us all with intelligent highways.
For further information:
The content & opinions in this article are the author's and do not necessarily represent the views of RoboticsTomorrow
---
Comments (0)
This post does not have any comments. Be the first to leave a comment below.
---
Post A Comment
You must be logged in before you can post a comment. Login now.
Featured Product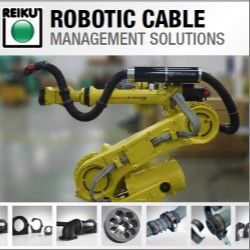 REIKU's Cable Saver™ Solution eliminates downtime, loss of revenue, expensive cable and hose replacement costs, maintenance labor costs. It's available in three sizes 36, 52 and 70 mm. All of the robots cables and hoses are protected when routed through the Cable Saver™ corrugated tubing.The Cable Saver™ uses a spring retraction system housed inside the Energy Tube™ to keep this service loop out of harms way in safe location at the rear of the Robot when not required. The Cable Saver™ is a COMPLETE solution for any make or model of robot. It installs quickly-on either side of the robot and has been tested to resist over 15 million repetitive cycles. REIKU is committed to providing the most modular, effective options for ensuring your robotic components operate without downtime due to cable management. www.CableSaver.com