Since the operator can work in the robots workspace even when the robot is still in motion at full speed, there is much more collaboration between the operator and robot.

Jim Shimano | Precise Automation
Tell us a little bit about Precise Automation and the services you provide.
Precise Automation was founded in 2004 by Brian Carlisle and Bruce Shimano. They were key members of the team that developed the PUMA robot for Unimation and they founded and ran Adept Technology before founding Precise.
Precise's goal is to help our customers "automate with ease". Our founders have been in the robotics industry for over 30 years and have assembled an extremely experienced team of automation experts. Our team has combined our years of experience with advances in modern technology to create products that are easy-to-use and user-friendly. A major goal of our hardware and software architecture is to eliminate the need to bring in an automation expert to set up and run systems developed with our products. Users without a great deal of automation experience can create automation solutions that are powerful, complex and elegant using our products.

Back in 2012 we spoke with you about Cooperative Robotics. What has developed in collaborative robotics since this article?
Collaborative robotics is the hottest topic in the automation industry. When Precise first released our PF400 (the world's first collaborative SCARA robot) in January 2011, there wasn't even a consensus on the name of this new class of automation. Now pretty much every robot manufacturer is exploring collaborative robots.
Collaborative robots open up brand new opportunities for the automation industry and have the potential to drive a lot of growth. Users, who couldn't use traditional robotics due to space and safety concerns, now have an automation solution that fits. Even existing automation users have applications that can benefit from switching from traditional to collaborative robots in certain applications.
Since the success of the PF400, Precise's focus is on developing other collaborative robots using the same control architecture and design philosophies. There are hundreds of PF400's safely working without shields in lab automation, life science and consumer electronic environments. And, our experience in designing and implementing these robots has taught us a lot about what makes a successful collaborative robot. We feel uniquely qualified in to lead the charge in this next generation of table-top robots.
Read the 2012 interview with Jim here.
What advantages do collaborative robots have in traditional robot applications?
Traditional robots require safety shielding and cannot operate without disrupting the process when the user has access to the area within the shielding. With collaborative robots, the safety shielding is removed, thereby significantly increasing the accessibility of the robot's workspace while greatly reducing the floor space requirements and the cost to design and to implement the system. In addition, since the operator can work in the robot's workspace even when the robot is still in motion at full speed, there is much more collaboration between the operator and robot. This allows our customers to create a "mixed manufacturing" environment. In this configuration, people and robots work side by side, with both having available the same parts and equipment without slowing down or altering the processes that are performed by the robot. This allows an automation customer to pick the easy to automate operations and use robots in those cells while still keeping human operators for the hard to automate activities.
What is unique about Precise's approach to collaborative robots?
When we developed the PF400, our focus was not on collaborative robotics specifically. Our goal was to address the needs of the under serviced lab automation market. These users have very different needs than the traditional automation user, yet the only option they had was to use traditional robots and try to adapt them to their applications. Traditional robots are getting bigger, faster and more dangerous, while the laboratory user is interested in safety, floor space requirements and user accessibility. In developing the PF400, Precise's focus was on developing an entirely new class of robot, the collaborative, tabletop robot, from the ground up.
I think this is an important difference between Precise's collaborative robots and most of the other collaborative robots available: the PF400 is designed to be intrinsically safe. There isn't a special collaborative mode that needs to be turned on to momentarily prevent the robot from being as dangerous as any traditional piece of automation. It is designed specifically to limit the forces that the robot can exert in any direction at all times.
In addition its design focuses not only on its safety, but also ease of use and implementation. The controller is imbedded inside the robot's structure, eliminating the need for external harnessing and controller cabinets. It is extremely light. It comes out of the box ready to work, a user just needs to mount it and plug it in. The entire design focuses on a new generation of automation users that have different requirements than the traditional robot customer. Precise isn't just taking a traditional robot and adding a collaborative feature, we are developing a brand new concept in robot manufacturing.

What are the advantages and disadvantages of this approach?
The PF400 is designed for medium speed, medium payload applications. By limiting the forces the robot is able to exert, we had to give up the extremely high payloads and speeds that are available in larger, traditional robots.
But, for many non-traditional robot users, trading speed and payload for safety, accessibility, and floor space is an easy decision. Even in traditional robotic environments, the cost and space saving associated with removing the safety shields is worth it in certain applications. Also the mixed manufacturing environment concept makes it possible to automate certain select operations more quickly and cost effectively than a traditional robot implementation. Collaborative robots are never going to replace the high-speed, high payload robots in heavy duty factory operations, but where medium payloads and speeds are acceptable, collaborative robots are a great alternative.
Robotics and automation innovations seem to be moving at a rapid speed now, how has your business changed over the last 3 or 4 years?
As previously discussed, collaborative robots open up a wide variety of new industries that had not considered automation before. These new markets are growing rapidly and we are seeing new opportunities every month in industries that were not available to us ten years ago.
Also, as the cost of labor increases in places like China and Southeast Asia, manufacturers are increasing interested in exploring automation options. This includes both automating their facilities in Asia and bringing manufacturing back to the US and Europe using a mixed manufacturing environment with both people and robots.
Do you have any other new developments you would like to share with us?
Precise is continuing to expand our collaborative robotics line. In the coming months, we will be officially announcing the release of a collaborative 6 axis articulated robot and a collaborative 4 axis Cartesian robot all based on the same control and design schemes. Our experience and success with the PF400 makes us uniquely positioned to lead the way in this next generation of collaborative robots and we are excited about the opportunity.

About Mr. Jim Shimano
Product Manager at Precise Automation
Mr. Shimano has almost 10 years of experience in product management and operations. Before joining Precise, he was a Professor of Chemistry at Cerritos College and a senior research assistant and lab manager at the University of Pennsylvania. He holds a MBA from the University of California, Irvine and a MS in Chemistry from the University of Pennsylvania.
The content & opinions in this article are the author's and do not necessarily represent the views of RoboticsTomorrow
---
Comments (0)
This post does not have any comments. Be the first to leave a comment below.
---
Post A Comment
You must be logged in before you can post a comment. Login now.
Featured Product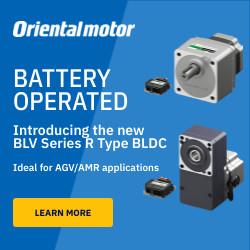 The BLV Series R Type brushless DC motor (BLDC motor) speed control system offers the design of motor and driver significantly reduced in size and weight, yet high-power, and contributes to the battery driven automation. The BLV Series R Type is compatible with the two interfaces of Modbus (RTU) and CANopen communication.