The goal of utilizing RE should be to identify flaws in your version of the product design and figuring out ways to eliminate the errors and bring out a flawless product eventually.

Nikunj Patel | Hi-Tech CADD Services
The utilization of reverse engineering in manufacturing industries is long been in practice despite several criticisms on issues like copyrights, patent infringement and piracy. In general, reverse engineering is a lawful method to acquire knowledge about the manufactured products.
In simple terms, "reverse engineering" is a process to understand how a particular product works, and learn the ideas and technologies used in developing that product.
However, some people misunderstand the nature of reverse engineering and exploit resources to stand ahead in the competitive market. This leads to shaping up of legislations and policies to protect the interest of innovative and genuine manufacturers.
Reverse engineering is undoubtedly an essential tool to fuel innovation and identify design flaws in existing designs. Yet, exploiting its use by unfair means to decode competitor products before being put to the open market might land you into trouble.
Although, the Uniform Trade Secrets Act mentions that acquiring a trade secret is lawful as long as "acquisition of the known product is by a fair and honest means, such as purchase of the item on the open market", the Restatement of Unfair Competition points out that protection is available against wrongful acquisition, use or disclosure of the trade act.
Understanding the legitimate way to apply reverse engineering technique, to bring in innovation in the product design and produce patentable ideas requires engineers to have an ethical mindset. Through a well-defined genuine thought process, reverse engineering can be applied successfully for the purpose of developing a competing product, without hampering the intent of the actual innovation being examined.
Study Products that are Already Open to the Market
If you are much interested in bringing innovation by developing a product useful for mass community, reverse engineering existing products available in the market is certainly a good approach. Try looking for products that somewhere match to your product design intent. Open to market products protects you with owner personal property rights, including the right to take the purchased product apart, measure or perform tests as required. Utilizing such products to understand the behavior, technology and design will assist in improving your product design even further and recognizing important parameters that you might have neglected.
RE to Gain Personal Knowledge on the Product and Its Technology
An ideal way to utilize the reverse engineering approach is to gain knowledge or complete missing information required to help you come out with a better design solution. Rather than simply copying everything about the product, adopting an ethical approach to learn the technology and design to implement on an altogether different product development will complement the use of RE technique and will also inspire innovation.
RE for Product Compatibility with Available Technologies in the Market
In case when you have already developed a product, reverse engineering competitor products meant for the similar function or purpose can be useful in identifying the compatibility. Ensuring that your innovation is compatible with the standard available technologies or platforms helps in better acceptance of your product in the market.
As an example, if you are looking to develop a new brake rotor with better heat dissipation capability, the design must be compatible with the standard wheel and hub assemblies available in the market. Also, compatibility in manufacturing the rotor with existing tools and equipment should be considered to maintain cost effectiveness of the innovation.
RE to Determine Whether the Product Lives up to its Standards as Advertised
Reverse engineering should be utilized to gauge the performance and quality of the competitor products as per the standards marketed and advertised. This helps in identifying voids in the products that can be utilized as an inspiration to develop new ones that meets or exceeds the performance quality.
RE to Determine Flaws in your Product Design Compared to Competitor Ones:
The prime purpose of reverse engineering competitor products is to better understand the design of your product rather than replicating the design completely. The goal of utilizing RE should be to identify flaws in your version of the product design and figuring out ways to eliminate the errors and bring out a flawless product eventually.
About Nikunj Patel
Nikunj Patel is a design engineer working with Hi-Tech CADD Services for the past 4 years. He loves designing specialized industrial equipment and can always be found in the lab discussing, brainstorming & tweaking designs.
The content & opinions in this article are the author's and do not necessarily represent the views of RoboticsTomorrow
---
Comments (0)
This post does not have any comments. Be the first to leave a comment below.
---
Post A Comment
You must be logged in before you can post a comment. Login now.
Featured Product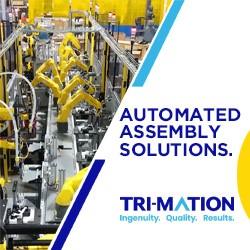 Tri-Mation reduces labor costs, improves accuracy, and production speed. Our integrators specialize in building automated assembly manufacturing systems for part production in any required volume or level of complexity.