Sometimes it is not specific hardware that a consumer may need, but a service of integrating automation tactics from a team of industry experts.

Austin Lawrence for | RoboticsTomorrow
For those of you who may not know, the A3 Automate tradeshow is arguably one of the largest displays of all things autonomy and robotics in the US. Companies represented from all corners of the world converge to showcase their novel solutions, giving consumers the lucrative opportunity to compare and contrast in this extremely competitive environment. Naturally, it can be difficult to differentiate one company from the next, as their product solutions tend to blend together. For me, it was an interest to seek companies that were doing radically different things from the rest.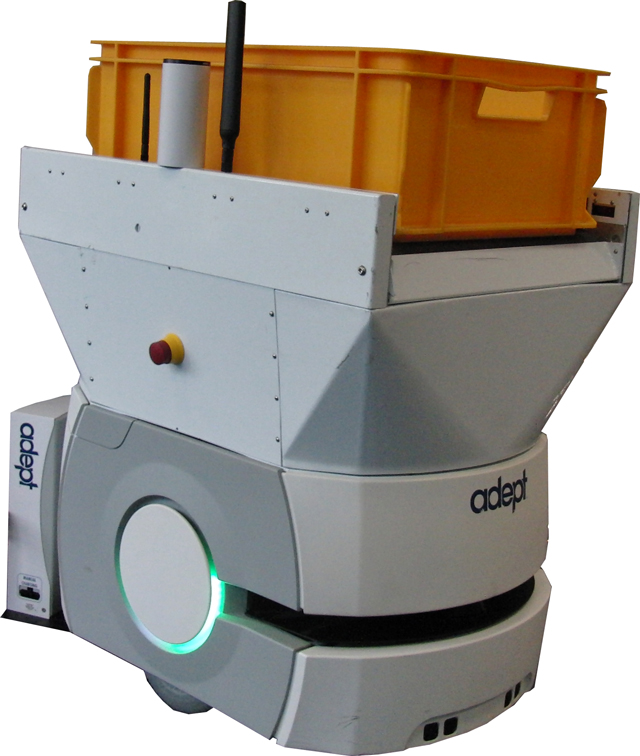 Consider Adept Technology, a company whose specialization revolves solely around vision-guided robotics. In this tradeshow, their mobile robot platform, Adept Lynx, was in the spotlight, displaying the potential of integrating a self- guided driving unit in conjunction with other dynamic areas of a facility. Sporting a 60kg payload, sonar depth sensors, SLAM, and 12+ hour battery life, this machine can work within a safe and relentless manner. This product solves the last-mile issue faced internally within companies; perhaps by moving product between manufacturing cells, or delivering pharmaceuticals within a hospital. The Adept Lynx is meant to solve the burden of in-house logistics so you can devote resources elsewhere.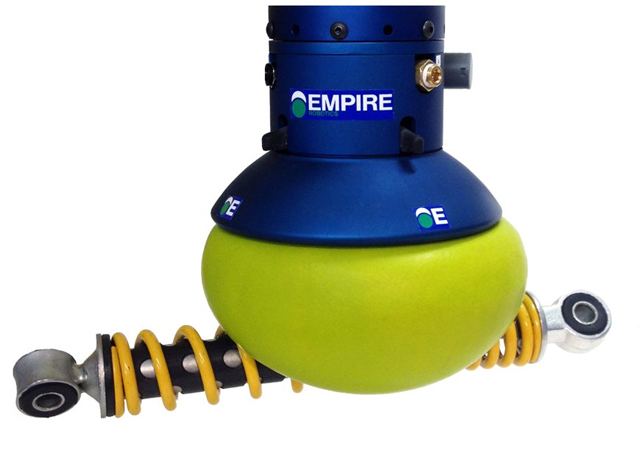 While Adept Technologies is tackling the issue of distribution using pick and place tactics that's most appropriate for simple structures, it's not as effective in handling individual components with complicated geometries. Enter Empire Robotics. This company provides a self-conforming robotic end effector attachment that adapts to nearly any shape you can imagine using a durable synthetic container, a vacuum pump, and a proprietary grain-like filler. Initiated two years ago as the result of a Cornell PhD dissertation, this company has devoted engineering resources in order to ensure their product can withstand nearly 100,000 cycles of repetitive use. It's also thermally resistant, making this product an excellent solution for handling injection molded parts, or consumer electronics. For the interested tinkerer, you can actually make toy version of this product using coffee grounds. Empire Robotics is solving the burden of product manipulation, saving you both engineering and monetary resources.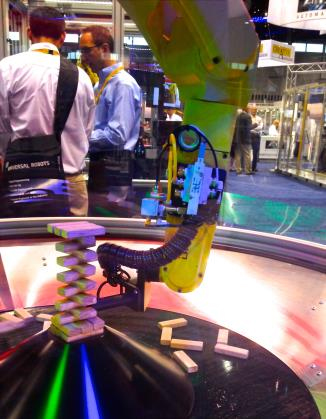 Sometimes it is not specific hardware that a consumer may need, but a service of integrating automation tactics from a team of industry experts. JR Automation Technologies in particular is a leader in this scenario. Upon walking near their booth, I bore witness to what I can only describe as the most intense game of Jenga played by a 7-degree-of-freedom industrial Fanuc arm with a solenoid actuator attachment and monitored by a Cognex machine vision system. Perhaps overkill, yes, but an impressive display of technology elements resonating in harmony. This company identifies as an integrator, utilizing virtually any combination of vision systems, manipulators, tool attachments, and conveyance systems that you can imagine. As is often a common denominator in the automation industry, this company mostly serves the automotive sector, creating package solutions particular to welding and riveting materials together.
Regardless of what your particular automation needs may be, the Automate expo is the place to find a starting point and make some contacts. It's an extremely lively revenue, slightly terrifyingly fast and huge machinery, and all available in one compact location. My recommendation for those of you seeking automation solutions: book your tickets for the next tradeshow and have a look.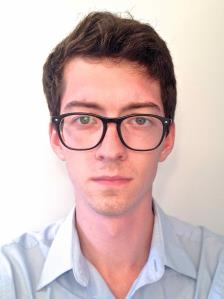 About the Austin Lawrence
Austin Lawrence is a Master of Science in Robotics student at Northwestern University and CTO of Future Tech Farm, a precision hydroponic farming research startup. His areas of research interest include subjects related to swarm robotics, machine learning, mechatronics, and artificial intelligence. Prior to his Master's program, Austin completed his undergraduate in Mechanical Engineering at Kettering University, while conjunctively developing hardware solutions for a lightweight myoelectric prosthesis at the Rehabilitation Institute of Chicago. He has found particular enjoyment in integrating robotics into hydroponic farming and is actively involved in related entrepreneurial pursuits. On his free time, he enjoys beekeeping with his father, design and fabrication, and amateur photography.
The content & opinions in this article are the author's and do not necessarily represent the views of RoboticsTomorrow
---
Comments (0)
This post does not have any comments. Be the first to leave a comment below.
---
Post A Comment
You must be logged in before you can post a comment. Login now.
Featured Product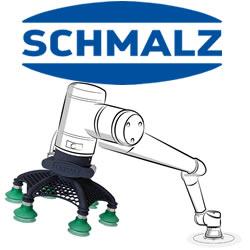 In order to interact with their environment and perform the tasks, lightweight robots, like all industrial robots, depend on tools - and in many cases these are vacuum grippers. These form the interface to the workpiece and are therefore a decisive part of the overall system. With their help, the robots can pick up, move, position, process, sort, stack and deposit a wide variety of goods and components. Vacuum gripping systems allow particularly gentle handling of workpieces, a compact and space-saving system design and gripping from above. Precisely because the object does not have to be gripped, the vacuum suction cupenables gapless positioning next to each other.