The most immediate benefit of cleaning robots is what is called "Daytime cleaning": the fact that there is no need to keep the facility lights on at night for cleaning purposes.
Sealed Air Revolutionizes Cleaning Industry with Robotics Technology
Dr. Ilham Kadri | Sealed Air Corp.
Why did Sealed Air decide to acquire Intellibot Robotics, LLC and how do you see this segment of the business growing? How does Intellibot Robotics fit into the Sealed Air business portfolio?
Sealed Air is transforming from a product-focused company to a knowledge-based provider of business solutions that deliver greater value for our customers by helping them operate more efficiently, sustainably and profitably. The acquisition and integration of Intellibot Robotics into our Diversey Care business will enable us to enhance that transformation by helping us lead the introduction of robotic technology into commercial cleaning and hygiene operations.
From hospitals, to hotels, to restaurants and more, our customers are not only in search of productivity improvements, but also looking for solutions that help them achieve their quality assurance objectives, while facing significant issues like labor scarcity and high staff turnover ratios.
Our TASKI machines, which have a 60-year history of proven performance, are already leading in the market when it comes to total cost of ownership, and provide many significant productivity benefits to our customers. By combining Intellibot's assets with our TASKI machines, we can continue leading the commercial cleaning and hygiene market in reducing the total cost of cleaning for our customers who need advanced floor care solutions.
What sets Intellibot Robotics, LLC apart from other robotics companies?
Intellibot is a pioneer and really the only company currently selling fully-autonomous robotic floor care machines in the commercial market.
Intellibot's capabilities and expertise form the core of Sealed Air's latest program, "The Internet of Clean™", a concept that reflects our way of applying the "Internet of Things" to the cleaning and hygiene industry. With Intellibot's technology, we can help our customers realize greater connectivity with their floor operations to more readily access data and monitor performance in real time – from a remote location – with the goal of improving operational efficiency, cost and quality.
Any idea how many companies/businesses are currently using Intellibot Robotics products? What are your plans to expand the usage of these products?
Intellibot has in excess of 250 machines working at customer sites across the US and Australia. All these machines deliver the quality of work that is expected of them in facilities as different as schools, hotels, hospitals or government buildings.
We are working at full speed to increase capacity and expand international sales in key markets, to meet our global customers' needs wherever they operate
Can the cleaning robots work safely in situations where humans are present? How do they protect the safety of the work environment?
Intellibot's robots are completely safe and can function when humans are present. In fact, they are designed to do just that.
In more than 15 years of commercial use of Intellibot's cleaning machines, not one single human being has been hit or hurt.
Can you offer any other examples, aside from floor cleaning, of ways businesses can eventually utilize these operating systems? Do you foresee usage expanding to the everyday consumer?
Currently, there are only a few robotics floor care machines available to the consumer market, and although we are still at the early stages of robotics and automation in the cleaning and hygiene industry, we are excited to expand the Intellibot product line for our customers.
Our machines are equipped with not only standard motion sensors found in every day floor cleaning machines available to consumers, but our Intellibot products are connected to the cloud for data monitoring, optimization, troubleshooting, servicing and upgrading software. This robotic technology is agnostic to different types of sensors which will enable new features to be seamlessly incorporated into the platform as they come to market.
How do you see robotics making an impact on the industrial cleaning industry? Do you foresee any limitations or backlash on robotic commercial floor cleaning machines?
Sealed Air's robotics systems have been proven to increase efficiency and reduce fleet, cleaning and administrative costs up to 25 percent, and deliver class-leading floorcare performance up to 22 percent higher than comparable models. To date, we've received nothing but excitement from our customers about the possibilities this type of automation can bring to their operations and the challenges they face with staff retention and training.
Is there an environmental impact from the use of robots for industrial cleaning duties?
The most immediate benefit of cleaning robots is what is called "Daytime cleaning": the fact that there is no need to keep the facility lights on at night for cleaning purposes. Besides, expert employees can dedicate their valuable time to other more productive tasks.
Could you explain your "Internet of Clean" program and why is it important?
Succeeding the era of file sharing, e-commerce, and social media, the next Internet generation is concerned with connecting machines and devices – popularly known as the Internet of Things (IoT). Sealed Air's "Internet of Clean" campaign is an early and decisive step forward in making the connected future a reality for the commercial cleaning industry. The purpose of this program is to introduce new technologies, including augmented reality and robotics, to cleaning and hygiene businesses, which will lead to multiple benefits including labor savings and improved productivity.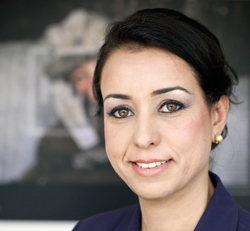 About Dr. Ilham Kadri, President of Diversey Care and Vice President and Officer, Sealed Air Corp.
Dr. Ilham Kadri is the President of the Diversey Care Division of Sealed Air, a global leader in food safety and security, facility hygiene and product protection. With widely recognized brands such as Bubble Wrap®, Cryovac® and Diversey, Sealed Air offers efficient and sustainable solutions that create business value for customers, enhance the quality of life for consumers and provide a cleaner and healthier environment for future generations.
In her role leading the $2.2 billion Diversey Care business, she is responsible for driving the business development and profitability of the division, overseeing innovation pipeline design and developing value propositions with a strong sustainability focus.
Since joining the company in early 2013, Ebitda margins have improved by 160 basis points and global sales have returned to growth after a long period of stagnation.
She has experienced five mergers and acquisitions in the past and is recognized as an agent of change. Under her leadership, Diversey Care is in a journey of transformation to a more customer centric, collaborative and value driven organization with a focus on technology and sustainability.
In her 20 years of experience she has held a variety of global roles in Business Leadership, Sales and Marketing and Research & Development in public and private companies such as Huntsman, UCB-Cytec, Shell Chemicals-Basell and Dow.
Dr. Kadri is a chemical engineer and she has a masters degree in physics and chemistry, and a doctorate in Reactive Extrusion. She is a Board Member of the Clean Energy Business Council in ME and she has been recognized and awarded throughout her career for her commitment to mentoring young women and fighting female illiteracy. She is also one of the international ambassadors of the foundation ASTRAIA (Female Leadership Foundation) and the Chairwoman of The Hygieia Network, a community of leading women in the hygiene sector.
The content & opinions in this article are the author's and do not necessarily represent the views of RoboticsTomorrow
---
Comments (0)
This post does not have any comments. Be the first to leave a comment below.
---
Post A Comment
You must be logged in before you can post a comment. Login now.
Featured Product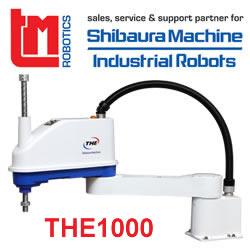 Designed for assembly and inspection applications in the electronics equipment and automobile components industries, the THE600 SCARA is a powerful automation tool. Advancing from the specifications of the existing THE400 SCARA, the THE600 has been developed to meet growing demand for fast-cycle automation. The THE600 model includes improvements in synchronised control and tracking precision. The THE600 is compact in design and offers improved high speed, with 60 per cent higher payload capacity than competing SCARA models in the same price range, making it the price-to-performance leader. Affordable price, impressive performance.