More fascinating bionics projects from Festo.

Contributed by | Festo
Festo has been working intensively on the topic of bionics since the early 90s. In 2006, the Bionic Learning Network was launched – an association of renowned universities, institutes and development companies. Since this time, Festo has been developing and supporting projects and test objects whose basic technical principles are derived from a wide variety of principles found in nature.
Cont'd from part one.

Aqua_ray (2007)
Aqua_ray is a remote-controlled fish driven by water hydraulics, the shape and movements of which have been based on the model of a manta ray.
The central drive and control unit of Aqua_ray takes the form of a fluidic muscle from Festo, in combination with the Fin Ray Effect®. The Fin Ray Effect® is a design based on the functional anatomy of a fish's fin. This makes it possible to imitate the fin propulsion of the natural role model almost perfectly... (more)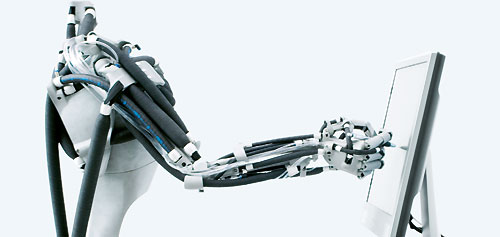 Airic's_arm (2007)
Airic's_arm is inspired by nature. Combining mechatronics and the model of human biology, the robotic arm shows new possibilities in automated motion sequences of the future.
Airic's_arm is equipped with artificial bones and muscles. 30 muscles move the bone structure comprising the ulna and radius, the metacarpal bones and the bones of the fingers as well as the shoulder joint and the shoulder blade; joints that are not found in the world of technology... (more)

Sky_liner (2007)
It takes a fair amount of skill to fly a kite. With its Sky_liner project, Festo has become the first company to demonstrate that fully automated control can be achieved with the aid of mechatronics, thus linking a new development to its core competency of automation using moving air... (more)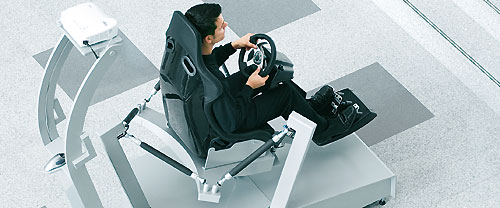 Airmotion_ride (2007)
The interplay of fluidic muscles and mechatronic systems in the Airmotion_ride makes it possible to generate an extraordinary range of driving and flight simulations. A hexapod structure using parallel kinematics, with six Festo fluidic muscles, creates a realistic driving and flying sensation. In this project, leading pneumatics supplier Festo demonstrates an exciting, cost-effective alternative to complicated hydraulic constructions... (more)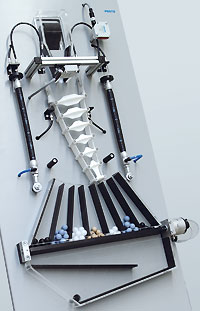 Bionic material sorting gate (2007)
The Fin Ray Effect® can also be used in basic practical applications in automation. Seven parts can be systematically sorted in a single procedure with the bionic material sorting gate from Festo, with Festo fluidic muscles as actuators... (
more
)

Air_ray (2007)
Thanks to its helium-filled lightweight construction and the beating wing propulsion with Fin Ray Effect®, the remote-controlled Air_ray moves through the air like the creature it is modelled on moves through water.
The flow-optimised shape of a ray increases the aerodynamic efficiency, while the active torsion of the wings provides exceptional power. A servo motor pulls on both wings alternately in a longitudinal direction, so that they move up and down. An additional servo motor tilts the wing in a latitudinal direction, which enables the operator to manoeuvre the Air_ray backwards, too. The whole movement is extremely lifelike and enables flying manoeuvres similar to those of a bird... (more)
AirJelly (2008)
AirJelly's environment is the air. Unlike AquaJelly, the remote-controlled jellyfish AirJelly does not swim through water, but instead glides instead through a sea of air thanks to its central electric drive unit and an intelligent, adaptive mechanism. It is able to do so because it consists of a helium-filled ballonett.
AirJelly's sole source of power is two lithium-ion polymer batteries connected to the central electric drive unit. It transmits the force to a bevel gear and from there to a succession of eight spur gears, which move the eight tentacles of the jellyfish via cranks. Each tentacle is designed as a structure with Fin Ray Effect® ... (more)

AquaJelly (2008)
AquaJelly is an artificial autonomous jellyfish in water, a self-controlling system which emulates swarming behaviour. AquaJelly consists of a translucent hemisphere and eight tentacles for propulsion. At the centre of the AquaJelly is a watertight laser-sintered body. It houses a central electric motor, the two lithium-ion polymer batteries, the recharging control unit and the servo motors for the swash plate... (more)

AirArm (2008)
AirArm is biologically inspired by analyses of lobsters' and grasshoppers' legs and by human pointing gestures. It is a two-segmented arm with an external skeleton powered by pneumatic muscles. Intelligent control technology enables AirArm to catch drops of water... (more)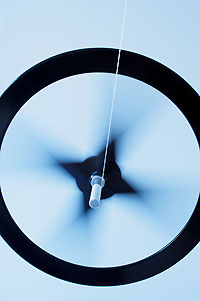 YoYo (2008)
laying with a yo-yo takes skill and patience. With its YoYo, Festo has demonstrated that fully automated control can be achieved with the aid of mechatronics, thus linking with Festo's core competency of automation to using moving air.
The YoYo consists of three independent yo-yos of different sizes, 16", 20" and 24". All the yo-yos take the form of Maxwell wheels of various kinds, with each one being driven by a pneumatic muscle... (more)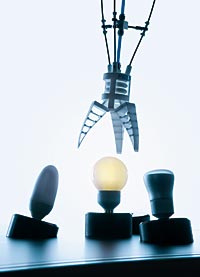 BionicTripod with FinGripper (2009)
The BionicTripod makes use of the bionic Fin Ray® structure, which was transferred to three-dimensional space for the first time in the AirPenguin and AquaPenguin projects for efficient, versatile automation. Three extendible and retractable filigree fibreglass rods reduce the mass to be displaced, while allowing a maximum scope of movement of up to 90 degrees... (more)

AirArm (2009)
With the bionic AirArm, a technology-bearer has been created for the development of assistance systems – for instance for the human-machine interface in workshop manufacture or in rehabilitation. With its bionically inspired pneumatic 4-axis kinematics incorporating inherent flexibility, it combines the advantages of dynamic and flexible human arm movements with state-of-the-art industrial components from the field of automation technology and can be used for example in hazard-free interaction with humans. Further development in the direction of robotics and handling technology will open up new applications... (more)

Molecubes (2009)
Molecubes could play a significant role in technical training in the near future. These cubes, fitted with computer chips, can be successively attached to each other. Each Molecube communicates with all the other cubes; the energy supply and transmission of signals from one Molecube to the next are thereby ensured. Young people can use the Molecubes to build and program their own robots... (more)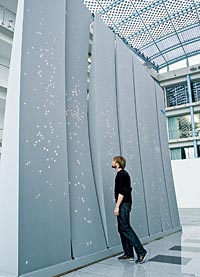 InteractiveWall (2009)
InteractiveWall demonstrates a new form of architecture that is dynamic and interactive. It combines the advantages of the bionic Fin Ray® structure with state-of-the-art automation technology from Festo. InteractiveWall can either follow a predetermined sequence of movements or interact with people in front of it. It transforms the behaviour of trade fair visitors into motion, light and music in real time... (more)

AquaPenguin (2009)
Like its natural archetype, the AquaPenguin from Festo has a hydrodynamic body contour. Its elegant wing propulsion and its head and tail sections, which can be moved in all directions, allow the robotic penguins to manoeuvre in cramped spatial conditions, to turn on the spot when necessary and – unlike their biological counterparts – even to swim backwards... (more)

AirPenguins (2009)
The AirPenguins, which fly as a group, accurately simulate the movements of their natural counterparts: thanks to their 3-D structure with Fin Ray Effect® at the front and back, they glide through the water just like real penguins. Their passively twisting flippers enable the penguins to fly both forwards and backwards. The buoyancy of the ultra-light AirPenguins is assured by way of a helium-filled ballonet... (more)

About Festo, Festo Corporation
Festo is a leading manufacturer of pneumatic and electromechanical systems, components, and controls for process and industrial automation. For more than 40 years, Festo Corporation has continuously elevated the state of manufacturing with innovations and optimized motion control solutions that deliver higher performing, more profitable automated manufacturing and processing equipment.
The content & opinions in this article are the author's and do not necessarily represent the views of RoboticsTomorrow
---
Comments (0)
This post does not have any comments. Be the first to leave a comment below.
---
Post A Comment
You must be logged in before you can post a comment. Login now.
Featured Product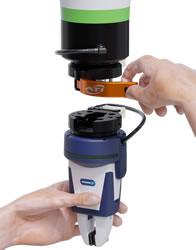 Simpler, stronger, and more precise. ATI Industrial Automation has developed a series of Manual Tool Changers that provides a cost-effective solution for quickly changing tools by hand. They feature a unique design that combines high strength, excellent repeatability, and a patent-pending screw-cam locking mechanism with multiple fail-safe features, which resists vibration and prevents loosening. These robust and compact Manual Tool Changers can handle payloads up to 80 pounds (36 kg) and pass pneumatics and electrical signals.