When it comes to addressing manufacturing labor challenges, companies shouldnt be quick to assume that job opportunities will decrease as a result of an increase in automated systems.
Myth Busting: Greater Manufacturing Automation Doesn't Mean Fewer Jobs
Scott Stone for | Seegrid
Myth: A myth is an "idea or story that is believed by many but is not true." So why is it, then, that we're quick to assume that ideas without any factual basis are, in fact, true?
Perhaps it's because opinions tend to spread like wildfire.
In the manufacturing space, for example, many fear that technological innovations will eventually automate jobs away. Much has been written about how advancements in robotics and artificial intelligence are destroying jobs, creating new positions in their wake that require an educational background and skill level many workers simply don't have.
But, as with most commonly held beliefs, the proof is in the pudding. Let's dispel the myth that manufacturing automation destroys jobs and take a look at how it can, in fact, lead to greater workplace opportunities:
Address Shifting Workforce Demographics
According to a recent study from the U.S. Census Bureau, more than 20% of Americans are projected to be ages 65 and over by the year 2030. As noted in a Supply Chain 24/7 article, 74% of manufacturers have concerns about attracting, retaining, and motivating talent in the midst of these shifting workforce demographics—up from 69% in 2014 and 62% in 2013.
In an effort to combat the growing manufacturing labor shortage, Rick Schreiber, partner at BDO USA, says that more and more manufacturers are "launching or expanding apprenticeship programs, partnering with community and technical colleges, or working on grassroots efforts to support science, technology, engineering and mathematics (STEM) education."
As the younger generation of workers increasingly replaces those leaving the workforce, organizations that have invested in talent will reap the rewards of a more efficient workforce. With some of the more repetitive, mundane, or dangerous work being automated, highly skilled and well-educated younger workers can then focus on more value-added work for the warehouse facility.
"The jobs will change," notes Milwaukee business leader Keith Nosbusch, "but the opportunities will expand."
Free Up Human Workers for More Innovative Jobs
Fact: It's physically impossible for human workers to compete with the productivity and efficiency provided by machines—assuming the task is suited for automation. Robots offer accuracy, incredible consistency, and unlimited performance unmatched by their human counterparts.
While many fear automation may replace jobs now and in the future, the opposite is actually true. Automating laborious, repetitive warehouse work frees up employees to pursue jobs that require imagination, adaptability, and decision-making skills.
As noted in an Apple Rubber blog on the productivity benefits of robotics, a new generation of smarter, more adaptive industrial robots is being developed to work seamlessly alongside human coworkers. In that sense, robotics ultimately works to drive efficiency—not replace workers
Compete in a Technologically Advanced Market
According to a new study from McKinsey & Company, the Internet of Things will infiltrate the industrial sector over the next decade in what's to be known as the "fourth industrial revolution." The research shows 40–50% of current manufacturing equipment is expected to be replaced over the next 10 years, in addition to the 80–90% of equipment replaced during the third industrial revolution (industrial automation).
What this means is that there is a strategic imperative for companies to introduce technological innovations into the warehouse. No longer can organizations rely on human labor alone to compete in a technologically advanced market.
"With the rebirth of manufacturing in the U.S.," notes Seegrid Marketing Manager Dori Kozak, "there is pressure to be more competitive in the global scale, which means companies need to be innovative to solve labor challenges and to grow business." She adds that "automation is an effective tool for saving on expensive labor costs, and addressing other factors, including labor shortages and lack of qualified workers."
Final Thoughts
Myths often exist for one very simple reason: Because people perpetuate them.
When it comes to addressing manufacturing labor challenges, companies shouldn't be quick to assume that job opportunities will decrease as a result of an increase in automated systems. In fact, there are a number of reasons why technological innovations such as automation can lead to professional growth opportunities and more efficient warehouse operations overall.
About Scott Stone
Scott Stone is the Director of Marketing for Cisco-Eagle, Inc., a provider of integrated material handling and storage systems for industrial operations. Scott has 25 years of experience in industrial operations and marketing.
Republished with permission from Seegrid.
The content & opinions in this article are the author's and do not necessarily represent the views of RoboticsTomorrow
---
Comments (0)
This post does not have any comments. Be the first to leave a comment below.
---
Post A Comment
You must be logged in before you can post a comment. Login now.
Featured Product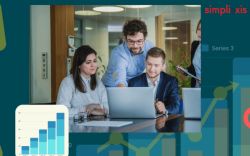 Warehouse automation solutions from Honeywell Robotics deliver the speed, accuracy and efficiency to satisfy a broad and growing range of operational requirements for high-performance distribution, fulfillment and manufacturing operations. Honeywell Robotics provides the smart flexible depalletizer as a complete turnkey system, which can also work in conjunction with autonomous mobile robots (AMRs), enabling maximum flexibility in the smallest possible footprint.