If youre considering a robot, you probably have a good sense of the process that youd like to automate. With that information, an integrator can get the process started, determining the clients needs and the best type of robot for the job.

Tracy Bithell | OCTOPUZ
Let's face it — robots can be intimidating. Blame it on I, Robot or Transformers or even the Star Wars franchise. Even when they're designed not to be unnerving (who didn't have a soft spot for small but mighty R2-D2?), they're still alien with mechanisms and processes that seem to have a mind of their own.
So it's no surprise that, for a whole host of reasons, many businesses have yet to jump on the robotic bandwagon. For some, it's a perceived cost issue. Others feel that they don't have staff with programming capabilities. And then there are the safety concerns because, as Hollywood likes to tell us, robots are destined to rule the universe whether we like it or not.
Warren Reynolds, General Manager for I-Cubed, has some simple advice: "You can't be scared."
I-Cubed, located in Hamilton, Ontario, designs, integrates and installs innovative robotic systems for all sizes of clients, from owner-operated job shops to large corporations. Their designs are often fuelled by the unique challenges presented by their customers, and they'll develop systems that set new standards for specific industries. They've been approached by many clients who were initially leery of the technology, but were sold as soon as they saw how simple the transition to robotics could be.
"The learning curve on the first one, people think it can be daunting … but once they get it in and realize it's just another tool, people turn around and buy another one," Warren said. In other words, after that first robot is up and running, expect to be hooked.
The first step in adopting robotic automation is finding a qualified and reliable robot integrator who will be there to support and service their equipment. Interview them, learn about their past projects and talk to some of their previous clients. Your integrator is the person who will guide you through the process, from choosing a robot to post-sales service, and can make or break that initial experience.
"There are a lot of companies out there that integrate robots into applications, whether it's manufacturing or assembly," Warren explained. "Some robot integrators tend to focus more on the bigger customers — the Fords, the GMCs, the Chryslers, while there are some integrators like ourselves who will do the big guys and somebody who just wants a one-off robot."
Whether they're experienced in single cells for a number of customers or multiple cells for one client, it's important to learn about an integrator's strengths and weaknesses and then choose the company that feels comfortable, stands behind the product they're recommending and can fulfill the application.
While some integrators deal in one brand of robot, others have experience with various brands and understand which would be best suited to a particular application. If you're considering a robot, you probably have a good sense of the process that you'd like to automate. With that information, an integrator can get the process started, determining the client's needs and the best type of robot for the job.
As the use of robots in manufacturing continues to rise, it just makes sense to give them a chance. You'll be surprised by what can be accomplished, given the right combination of integrator and technology.

About OCTOPUZ
OCTOPUZ is an intelligent offline robot programming and simulation software ideal for any path-sensitive application. Created by In-House Solutions, the company took a revolutionary approach by combining the offline programming of robots with a manufacturing process simulation. Today, OCTOPUZ provides a mainstream, versatile, powerful and effective solution for any robotic challenge.
About In-House Solutions
More than 27 years ago, In-House Solutions began reselling and developing powerful software tools accessible to small- and medium-sized manufacturers. Today, the company provides CAD/CAM, DNC, PCMM and OCTOPUZ robotic programming software solutions to organizations of all sizes. The In-House Solutions team of experts, with offices in the U.S., Canada and Germany, are dedicated to selling, supporting, developing and implementing a full spectrum of software tools, particularly those specializing in NC programming and optimization, shop floor DNC communications and offline programming of industrial robots. In-House Solutions is the Canadian Mastercam distributor, and OCTOPUZ completes the company's software solutions for manufacturing.
The content & opinions in this article are the author's and do not necessarily represent the views of RoboticsTomorrow
---
Comments (0)
This post does not have any comments. Be the first to leave a comment below.
---
Post A Comment
You must be logged in before you can post a comment. Login now.
Featured Product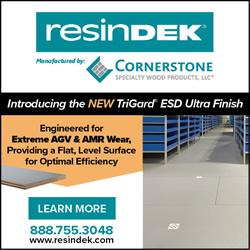 We know that the durability and condition of floors are important for optimal performance of AGV's and AMR's. Coefficient of friction, surface roughness, floor flatness, gloss, and wear can all affect the ability of robots to run at their peak performance. That's why we go to great lengths to extensively test internally and send our products to be evaluated by independent laboratories as well as the robotic manufacturers. In addition, we can customize the finish for any specification required.