As companies continue to rely on automation to remain competitive, employees will have the benefit of working in safer environments. In the years to come, the question wont be "Is your company automating?" but instead "How is your company automating?"

Jennie Dannecker for | Seegrid
Reprinted with permission from Seegrid:
With an aging workforce, injuries are expected to increase in the labor force. Therefore, leveraging technology to automate difficult or repetitive tasks will positively impact concerns over safety and ergonomic issues, and other labor challenges experienced by many organizations. According to the U.S. Bureau of Labor Statistics data, "more than 3.0 million nonfatal workplace injuries and illnesses were reported by private industry employers in 2013."
Additionally, reported in a USA Today article, research from the Boston Consulting Group (BCG) shows manufacturers will significantly accelerate their use of robots in the U.S. over the next decade. In fact, BCG predicts 1.2 million additional robots to be deployed across the U.S. by the year 2025. From the same article, "Within two years, the number of advanced industrial robots in the U.S. will begin to grow by 10% a year." These statements show that companies realize the importance of automation for remaining competitive.
Staying competitive often brings an increased pressure on workers to be more productive, which has been faulted as a driver of employee injuries.
Let's take a look at 3 key ways automation can reduce safety and ergonomic concerns in the warehouse:
Redeploy Workers to Safer Areas of the Warehouse
Given the alarming BLS statistics about workplace injuries and illnesses, it's critical for organizations to consider the various ways they can make employee safety a priority. By automating manual repetitive tasks, warehouse personnel can redeploy workers to areas where they will not only be safer, but also more engaged in their work.
As noted by Amanda Merrell, Marketing Director for Seegrid, in a previous interview about the benefits of automation, "[In recent years] safety has drastically increased because automation is reliable and it's consistent. Overall, facility safety increases when you take the operator out of the picture and redeploy them to an area where they provide more value to the facility."
With the addition of automation and industrial robots, workers can have the opportunity to focus on jobs that require imagination, adaptability, and decision-making skills, as opposed to repetitive, manual work.
Reduce the Risk of Injury from Physical Strain and/or Repetitive Motions
In the workplace, ergonomic concerns (i.e., undue physical stress, strain, overexertion, repetitive motion, awkward postures, heavy lifting, etc.) can lead to intractable pain, inability to work, time off for the affected employee, and higher costs for the employer. As a result, many organizations are increasingly prioritizing workplace ergonomics in an effort to reduce physical stress on a worker's body, as well as the risk of disabling work-related musculoskeletal disorders.
With innovative, automated solutions such as vision guided vehicles (VGVs), which follow a trained route without the need for a driver, organizations can promote a healthier, more ergonomically-friendly workplace. These types of automated vehicle solutions improve workplace safety while optimizing workflow processes, increasing accuracy and throughput, and reducing labor and operating costs.
Automating Processes to Be More Efficient
Automating the most physically-demanding and/or dangerous work in the warehouse drives processes to be more productive and efficient. We're only human, after all! Is it reasonable to expect a worker to maintain the same pace of repetitive work as a robot for long periods of time?
Of course not.
For example, with an automated storage and retrieval system, warehouses can maximize employee efficiency while minimizing reaching, bending, or searching. The end result? Faster part and tool retrieval, increased picking accuracy, and minimal strain on the operator.
Final Thoughts
Ensuring employee safety and protecting workers is as important as maximizing efficiency and productivity in the warehouse. As companies continue to rely on automation to remain competitive, employees will have the benefit of working in safer environments. In the years to come, the question won't be "Is your company automating?" but instead "How is your company automating?"
The content & opinions in this article are the author's and do not necessarily represent the views of RoboticsTomorrow
---
Comments (0)
This post does not have any comments. Be the first to leave a comment below.
---
Post A Comment
You must be logged in before you can post a comment. Login now.
Featured Product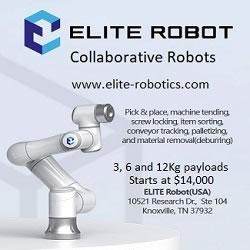 ELITE ROBOT lightweight 6-axis collaborative robots have payloads of (3kg, 6kg, and 12kg cobots). Elite cobots have gained a positive reputation among users in the Automotive, Electronics, Packaging Logistics, Metal Processing, Rubber & Plastics, chemicals, and other industries. The EC series robots start at $14,000 USD making it one of the fastest ROI in the industry. The EC robots come complete with 6 DOF arm, control box, teach pendant and software.