Part 3 includes more bionic robots like the smartbird and a handler modeled after an elephant trunk.

Contributed by | Festo
Festo has been working intensively on the topic of bionics since the early 90s. In 2006, the Bionic Learning Network was launched – an association of renowned universities, institutes and development companies. Since this time, Festo has been developing and supporting projects and test objects whose basic technical principles are derived from a wide variety of principles found in nature.
Cont'd from part one and part two.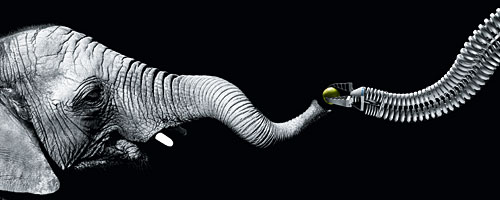 Bionic Handling Assistant (2010)
A freely movable handling system .
The Bionic Handling Assistant comprises three basic elements for spatial movement, along with a hand axis and a gripper with adaptive fingers.

Its eleven degrees of freedom allow a wide variety of task-specific travel paths, which unlike conventional handling systems are not purely linear... (more)

Bionic Tripod 2.0 (2010)
This horizontal tripod is rotated at 90 degrees from the conventional configuration and can be displaced by up to 90 degrees in any direction within a large working space. The bionic principle of the fish's tail fin is used here in several ways as a three-dimensionally adapted FinRay® structure in energy-efficient lightweight design.

The resulting flexibility and pliability make it ideal for tasks involving human-machine interaction, such as sorting fruit and vegetables in agriculture, sorting materials for recycling in industry or as a "third hand" and an ideal helper for all kinds of installation jobs... (more)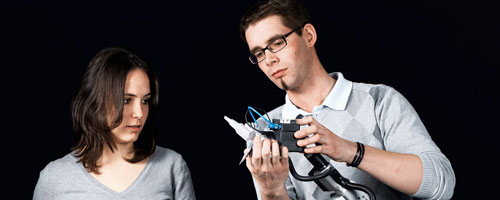 Modular Lightweight Handling (2010)
As a learning system, Modular Lightweight Handling is extending the scope of the multiple-axis construction kit system; in combination with the range of products from Festo, it allows the construction of units ranging from an angle picker, via a tripod, up to six-axis articulated-arm kinematics. Schools can variably configure the handling system and thus convey knowledge for practical applications on the basis of real industrial components... (more)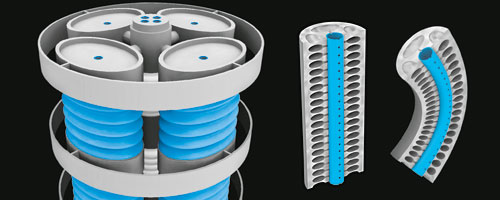 Pneumatic lightweight structures (2010)
The development cooperation between the Institute for Technology-Oriented Design Innovations (ITD) at the Offenbach Academy of Art and Design and Festo AG & Co. KG is integrated into Festo's Bionic Learning Network. The basis of this cooperation are the concepts developed by Professor Dieter Mankau for pneumatic lightweight structures, along with bionic robotic and automation systems. The focus here is on examining appropriate application-oriented implementation of the basic phenomena, along with elaboration and implementation options with a view to possible practical usage... (more)

CyberKite (2010)
Controlling the forces of nature has been a dream of humankind since time immemorial. With the CyberKite, Festo is meeting this challenge as part of the Bionic Learning Network and is developing a kite system with a cybernetic control unit. The engineers have set themselves the task of taming the wind, an unpredictable factor, and permanently maintaining in flight a steerable kite with a ram pressure wing. The CyberKite is a biomechatronic overall concept that can autonomously control a ram pressure wing measuring up to 24 m2 independently of energy sources. The performance of the electric drive mechanism and of the overall system is impressively demonstrated... (more)

PlusMinus (2010)
The gridshell is regarded as one of the most efficient load bearing structures. The latticework of linear, rod-like elements can span large areas with a minimum of material.
PlusMinus combines efficiency and aesthetics. The latticework is formed by inflated film tubes which are flexibly connected with each other via the joints. By inflating the tubes, the structure erects itself – thereby doing away with the need for time-intensive auxiliary constructions.

Building with positive and negative pressures
In order to preserve the structure's stability, the tubes must be continually supplied with an air pressure of approx. 0.5 – 0.7 bar. In order to achieve the reinforcement effect, two shell films are vacuum sealed above and below the tube latticework and press the air-filled tubes to the joints... (more)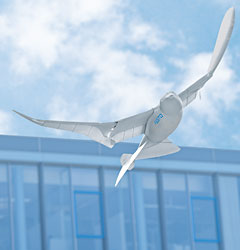 SmartBird (2011)
For the SmartBird, Festo was inspired by the herring gull. The ultralight flying model impresses with its outstanding aerodynamics and maximum agility and is able to take off, fly and land without an additional drive. In doing so, its wings not only beat up and down, but twist in a specific manner. This is done using an active articulated torsion drive, which provides both lift and propulsion. With this functional integration, Festo has technically deciphered bird flight... (more)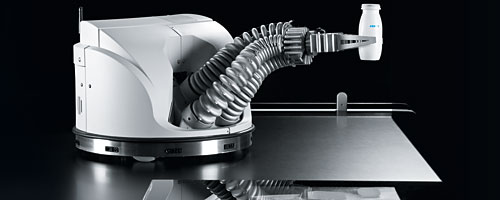 Robotino® XT (2011)
The Robotino® XT combines the mobile Robotino® learning system with a portable version of the Bionic Handling Assistant. Just like its successor, the Robotino® XXT, it acts as a research platform for developing new methods and tools for service robots and the production assistants of the future.
Free moving and precisely controllable
Not only can the system manoeuvre in the tightest space; with a total of twelve degrees of freedom, the robot can be flexibly controlled and the pliable gripper arm precisely aligned. This is made possible by the mobile energy supply and an integrated piezo valve terminal on board: it already has its own pressure regulator on board and doses the compressed air exactly in the air chambers in the pneumatic arm... (more)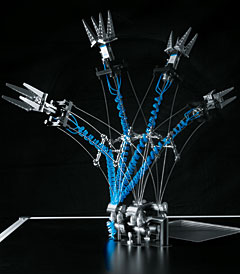 Bionic Tripod 3.0 (2011)
With the Bionic Tripod, Festo is adopting a new approach in handling technology as an alternative to the portal systems that are predominant in mechanical engineering. Unlike these designs, with Bionic Tripod 3.0 the drive unit and the handling system are entirely independent of each other.
The working and drive levels are spatially separated by the work surface. The system's drive unit is safely located and protected beneath the work surface, while the controllable pyramid of rods is mounted vertically on top of it... (more)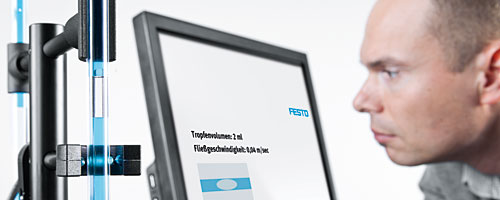 OptoFluidic (2011)
This technology provides diagnostic and analytical methods in which certain characteristics, components or parameters of moving fluids such as density, volume, colour, or the content of harmful substances are detected and evaluated.
Optofluidics The fluid is charged with information that can be subsequently read by optical components. It thus becomes a medium that carries in itself the code for optical analysis. Devices such as cameras and sensors visualise the diagnosis in real time, without the process flow having to be interrupted.
In future, optofluidic analysis methods could replace time-consuming sampling and stabilize process flow, while reducing the number of components required and maintenance costs... (more)

About Festo, Festo Corporation
Festo is a leading manufacturer of pneumatic and electromechanical systems, components, and controls for process and industrial automation. For more than 40 years, Festo Corporation has continuously elevated the state of manufacturing with innovations and optimized motion control solutions that deliver higher performing, more profitable automated manufacturing and processing equipment.
The content & opinions in this article are the author's and do not necessarily represent the views of RoboticsTomorrow
---
Comments (0)
This post does not have any comments. Be the first to leave a comment below.
---
Post A Comment
You must be logged in before you can post a comment. Login now.
Featured Product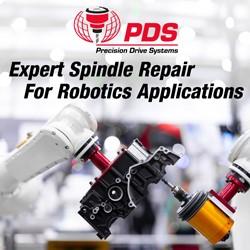 Precision components machined by CNC robot machining systems require compact, lightweight, and high-speed motorized spindles capable of delivering higher efficiency, performance, and reliability than those used in many other industries. That's why manufacturers of milling, cutting, trimming, grinding, polishing, and deburring trust Precision Drive Systems (PDS) to provide accurate and dependable spindle repair to perform to the most exacting standards.