Whether there is a necessity to pull someone from a collapsed building, find a survivor trapped in a pile of debris, locate a lost child, or save victims by putting out a fire, robots will be an intrinsic member of the first responders in the future.

Len Calderone for | RoboticsTomorrow
Robots used for search-and-rescue (SAR) missions will go places humans can't. These robots will collect and report rescue information back to human operators, which will assist the operators to locate victims and avoid dangerous situations. These rescue robots will be equipped with communications capabilities, cameras, and multiple sensing options. While some of them will be remote controlled, a number of them will be configured for autonomous operation.
Designers are trying to make rescue robots appear friendly by designing them to look more human like, while, at the same time, build them to be big and strong enough to carry victims for long distances. The Army had a robot designed to do just this, called BEAR, or Battlefield Extraction Assist Robot, which Is an all-terrain, search-and-rescue, humanoid robot that can locate, lift, and rescue people up to 500 pounds, while grasping fragile objects without damaging them.
The powerful torso and arms are controlled by hydraulics, and its mobility platform has two independent sets of tracked legs. The robot balances itself on the balls of its ankles, and it can remain upright while balancing on its knees or hips. Aside from search and rescue, it can be used for handling hazardous materials, surveillance and reconnaissance, mine inspection, and heavy lifting.
Emergency services often have difficulties effectively managing crises, such as earthquakes and flooding. The European ICARUS project is working to better respond to a major crisis by equipping first responders with a comprehensive and integrated set of unmanned search and rescue tools so that more rescue work can be done in a shorter amount of time.
In the event of a large crisis, the task of searching for human survivors is a complex and dangerous task, which often leads to loss of lives among the human responders. This is where unmanned SAR robots are an invaluable tool.
The primary task for first responders after a large disaster is the search for human survivors. Therefore, the objective is to develop a small light-weight camera system capable of detecting human survivors. For human survivor detection, an infrared sensor with an ultra-high sensitivity in the mid-IR wavelength range will be needed with image and video processing algorithms that can detect human survivors.
Have you ever watched a sidewinder rattle snake move up a hill of sand without sliding back down? Well scientists are using this snake's design to build a robotic snake, which won't get stuck in ruts or stopped by bumps in the terrain. They can be used to access areas that other robots can't get to, or to explore places that aren't safe for humans.
A robotic snake can fit through and move within tight spaces that may be encountered in a collapsed building or a pile of rubble. It can fit through small openings and then travel through the variety of environments it comes across. The snake is equipped with a camera to help locate victims, and can be outfitted with a speaker and microphone so that rescuers can communicate with the victims.
Unmanned SAR devices are crucial for maritime incidents where survival times are short and SAR teams can be exposed to considerable risks. For rescues at sea, Unmanned Surface Vehicles (USVs) need to be capable of transporting SAR equipment and deploying first aid devices. Existing technologies are being improved to reinforce flexibility, while new developments include robotic vehicles that can deploy autonomous life saving capsules, using mission planning software, new sensors and new data acquisition capabilities to detect and track survivors.
Unmanned Aerial Rescue Systems (UARS) are important in SAR operations by providing continuous support to coordinators and operators in the field for the mapping of topography and ground circumstances. This information would be used for situation awareness and the planning of both unmanned and manned operations. UARS will be used for target observation, allowing the operator to quickly send a camera to an exact position as remote eyes in the sky, including the tracking of a moving person. What's more, it will have a search light for night operations. Once a lost person is located within an acceptable range of precision, navigation and a first aid kit can be delivered.
UARS can provide real-time visual information and data in the aftermath of an earthquake or hurricane, or help to find a lost child or hiker. When a disaster or event threatens lives, emergency responders require information and real-time imagery in order to make good decisions. UARS can provide situational awareness over a large area quickly, thereby reducing the time and the number of searchers required to locate and rescue an injured or lost person, greatly reducing the cost of search and rescue operations.
The ANDROS Wolverine Robot can travel through an underground mine in conditions that might be unsafe for miners. It is approximately 50 inches tall and weighs over 1200 pounds. It is propelled by explosion-proof motors that drive rubber tracks similar to a military tank. It is equipped with navigation and surveillance cameras, lighting, atmospheric detectors, night vision capability, two way voice communications, and a manipulator arm.
The Wolverine is operated remotely from a safe location and has the ability to explore up to 5000 feet in a mine shaft, communicating vital information about the conditions in the mine over a fiber optic cable. The operator can view real time information, as well as detect concentrations of combustible and toxic gasses. During mine rescue or recovery operations, mine rescue teams are presented with many challenges that impact their ability to respond effectively without jeopardizing their own safety and health. Explosions, fires, flooding, and accumulations of methane and toxic gas all present significant risk when exploring a mine.
UARS can provide firefighters with an eye in the sky to help them see where a fire is headed, hotspots behind the fire front and structures that might be in danger. UARS can also provide communications between the field command center and fire fighters combating the fire, supplying information for resourcing and support while significantly reducing the risk to life and property.
Smoke and darkness are often an impediment to fighting a fire. Therefore, infrared (IR) thermal imaging increases responders' situational awareness, enhancing safety and the capability to make the proper decisions.
There are approximately 1.9 firefighters killed each year in the U.S., per 100,000 structure fires. There are many causes for Line of Duty Deaths, such as smoke inhalation, burns, crushing injuries and related trauma.
As a result of this, research and development on firefighting technology is extensively made around the world. The emphasis is on a robot to replace the fire fighter in dangerous situations, which would reduce the risk to the fire fighter. The robots help the fire fighter by using an extinguishing agent such as water or foam without the fire fighter having to set up or operate directly in dangerous situations.
Robotic Firefighting System sprays water canon
Whether there is a necessity to pull someone from a collapsed building, find a survivor trapped in a pile of debris, locate a lost child, or save victims by putting out a fire, robots will be an intrinsic member of the first responders in the future.
For further information:
The content & opinions in this article are the author's and do not necessarily represent the views of RoboticsTomorrow
---
Comments (0)
This post does not have any comments. Be the first to leave a comment below.
---
Post A Comment
You must be logged in before you can post a comment. Login now.
Featured Product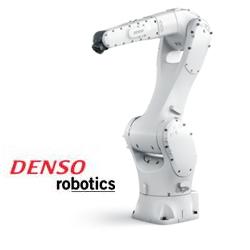 The new VMB series represent some of the newest members to our 6-axis family of robots. These high-performance, versatile units offer a longer arm reach and a higher load capacity than traditional models which make VMB an excellent solution for palletizing, packaging, and material handling. New features include greater air piping, valve and signal line options, as well as new programming options with state-of-the-art functions using our new WINCAPS Plus software. VMB offers an IP67 protection grade along with meeting ISO Class 5, which makes them suitable for electric parts, food manufacturing processes, and pharmaceutical and medical devices. With the addition of the new VMB large robots, all manufacturing processes can now be automated by DENSO Robotics.