Bomb disposal robots will have immeasurable impact on saving innocent lives.
Five Bomb Disposal Robots
Contributed by | Demnag
Here are 5 bomb disposal robot projects by companies & research organizations to accelerate the saving of lives.

DRAGON RUNNER is a lightweight, back-packable, multi-terrain robot capable of detecting a variety of devices without putting the operator in harm's way, which helps bomb disposal experts find and deactivate improvised explosive devices (IEDs). It has been acquired as part of the UK Army's Urgent Operational Requirements and deployed to Afghanistan in support of Explosive Ordnance disposal (EOD) activity. It is highly maneuverable, and when configured with a manipulator arm can dig around suspicious objects as well as pick them up and move them. It also has the ability to place small charges to disrupt suspect devices, and further enhancements, including the incorporation of wire-cutters, have been implemented. DRAGON RUNNER has the ability to send video footage back to the operator at a safe distance thereby enabling troops to assess a situation prior to moving forward or entering a structure, potentially safeguarding lives. With twin tracks rather than wheels it has a cross-country capability well suited to life in Afghanistan.
From Wikipedia
The MarkV-A1 is a bomb disposal robot designed by Northrop Grumman. It is part of the Remotec ANDROS line, which includes other robotic EODs. MarkV weighs 800 pounds and is about the size of a riding lawn mower. With its manipulator arm fully extended, the robot's height is 8 feet. The tread system is designed to traverse difficult terrain. The MarkV-A1 can be armed with high pressure water disruptors, for disabling bombs, or if necessary, a shotgun. In total, the MarkV-A1 has four color video cameras, including a camera mounted on one of the poles protruding from the top of the robot. It also features several microphones, lights, and an array of other sensors.
Daksh is a battery-operated remote-controlled robot on wheels and its primary role is to recover bombs. Developed by Defence Research and Development Organisation in India, it is fully automated. It can climb staircases, negotiate steep slopes, navigate narrow corridors and tow vehicles to reach hazardous materials. Using its robotized arm, it can lift a suspect object and scan it using its portable X-Ray device. If the object is a bomb, Daksh can defuse it with its water jet disrupter.[2] It has a shotgun, which can break open locked doors, and it can scan cars for explosives.[3] With a master control station (MCS), it can be remotely controlled over a range of 500 m in line of sight or within buildings. Ninety per cent of the robot's components are indigenous. The Army has also placed limited series production orders for 20 Dakshs.[4] The first batch of five units was handed over to General Combat Engineers, on 19 December 2011. The technology has been transferred for production to three firms, Dynalog, Theta Controls and Bharat Electronics Ltd.
Modular, adaptable and expandable, the iRobot 510 PackBot can perform bomb disposal, surveillance and reconnaissance, CBRN detection and HazMat handling operations. Quickly configured based on mission needs, PackBot easily climbs stairs and navigates narrow passages with sure-footed efficiency, relaying real-time video, audio and sensor data while the operator stays at a safer, standoff distance.
A bomb disposal robot developed at the Johns Hopkins University Applied Physics Laboratory (APL) is blurring the line between advanced prosthetics and robotics. Rather than building arms and hands from scratch specifically for the robot, the Bimanual Dexterous Robotics Platform (BDRP) is equipped with artificial limbs designed for amputees. The BDRP (aka Robo Sally) has always been equipped with a pair of cameras for a head and prosthetic arms, but it has gone through a number of changes since it was first unveiled in 2008. Originally balancing on a Segway-like mobile platform with just two wheels, it now motors around on four wheels to better tackle uneven terrain. The bulk of its electronics have also been moved to the back seat, considerably slimming its figure.
About Demnag
Demnag analyses the numbers behind complex decisions to help organizations make better choices.
The content & opinions in this article are the author's and do not necessarily represent the views of RoboticsTomorrow
---
Comments (0)
This post does not have any comments. Be the first to leave a comment below.
---
Post A Comment
You must be logged in before you can post a comment. Login now.
Featured Product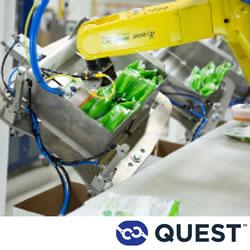 Quest is a leading manufacturer of industrial automation equipment focusing on robotics and vision-guidance. With expertise in the food, beverage, and dairy, Quest optimizes floor space for customers experiencing growing demand and helps improve their overall production line flexibility and efficiency. Quest offers application-specific software on their robotic products, including pick and place, case packing, and palletizing systems to simplify system setup and streamline configurability. Quest is a product brand of ProMach, a global leader in packaging line solutions.