Here are three examples where Robots are beginning to take over in the restaurant.
Robots in Restaurants
Nikhilesh Rao | Gridlex
It has long been speculated that front line restaurant jobs will be taken over by robots. In the US, minimum wage legislation increases to $15/hour will give further impetus to move to a largely robotic model. The Washington Post Recently reported on robots being increasingly considered as alternatives to humans because of these legislations:
The industry could be ready for another jolt as a ballot initiative to raise the minimum wage to $15 an hour nears in the District and as other campaigns to boost wages gain traction around the country. About 30 percent of the restaurant industry's costs come from salaries, so burger-flipping robots — or at least super-fast ovens that expedite the process — become that much more cost-competitive if the current federal minimum wage of $7.25 an hour is doubled. "The problem with the minimum-wage offensive is that it throws the accounting of the restaurant industry totally upside down," said Harold Miller, vice president of franchise development for Persona Pizzeria, who also consults for other chains. "My position is: Pay your people properly, keep them longer, treat them right, and robots are going to be helpful in doing that, because it will help the restaurateur survive." Many chains are already at work looking for ingenious ways to take humans out of the picture, threatening workers in an industry that employs 2.4 million wait staffers, nearly 3 million cooks and food preparers and many of the nation's 3.3 million cashiers.
Here are three examples where Robots are beginning to take over in the restaurant.
Eatsa is a quinoa based fast food restaurant that opened its first location in San Franscisco. San Francisco Chronicle described the restaurant opening:
"... it's fully automated, with all meal ordering done via in-store iPads. Not a human in sight, though there is a team of about five or six back-of-house kitchen staff (or as I like to imagine, magical elves) who are hidden from view and prepare the food. There's also one attendant on hand to help the tech challenged. "When your meal is ready — in just a few short minutes — it appears in small glass compartments, in a manner that's reminiscent of the classic mid-20th century automats."


Café in Ningbo, China
A café in Ningbo china bought robot waiters for $9000 apiece and has them waiting tables. The bots navigate their way around the restaurant using advanced optical sensing systems. The robots are popular among diners, especially children, who want to be served by them. They can also speak up to 40 phrases in Mandarin Chinese, such as 'enjoy your meal'.
Sushi Bot
Suzumo has been making Sushi bots for the past several decades but over the past few years have made dramatic increases in capacity. Their latest models can produce 3600 sushi pieces per hour! While these bots may not be able to compete with Jiro Ono, the rest of run of the mill sushi chefs may have to be careful.
The content & opinions in this article are the author's and do not necessarily represent the views of RoboticsTomorrow
---
Comments (0)
This post does not have any comments. Be the first to leave a comment below.
---
Post A Comment
You must be logged in before you can post a comment. Login now.
Featured Product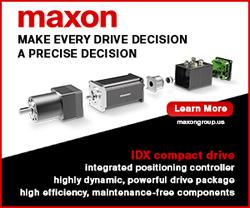 The compact brushless EC-i motor combined with an EPOS4 positioning controller delivers a highly dynamic, powerful drive package with field-oriented control (FOC), high efficiency, and maintenance-free components in a high-quality industrial housing. The maxon IDX drives are suitable for use across the entire speed range (from standstill to maximum speed) and have an extremely high overload capability. Together with a positioning controller, the integrated sensor (single turn) enables absolute positioning.