There is research going on at the University of New South Wales in Australia, to determine the behavior of humans, as they interact with Geminoids—the name given these life-like robots because of their similarity to humans. The next step is to study whether a human being can get used to interacting with Geminoids.

Len Calderone for | RoboticsTomorrow
Engineers are mastering the art of combining a human appearance with the technical features of a robot. The result is an uncanny human looking robot. Because of the attention to detail, the exterior of the robot is so real that you want to approach it and carry on a conversation. Even the hair on its head and its eyebrows are made of human hair, and is meticulously applied by hand. The elastic exterior of the android is made of silicone and feels almost like human skin. Data, move over.
The Chinese company, Xi'an Chaoren Robots, won the "Robot of the year" award from Time Magazine. Each of their robots is unique. At present, the robot needs to learn to walk, as its movements are still limited to basic functions. It can move its head in all directions; and it has the capability to blink and look around. Movements of the arms, wrists, legs and feet are also possible. Its mouth can move and talk by means of a remote control.
Small, powerful motors are important to allow the robot to blink and move its eyes. Xi'an Chaoren Robots chose motors manufactured by maxon motor ag, Switzerland, as the drive technology, because they are small yet highly efficient. In even the most extreme conditions, maxon drives can be relied on to perform their functions. NASA depends on maxon motors for the rover Opportunity on Mars. They function perfectly even with temperature fluctuations -184°F to +77°F.
More than 50 brushless dc motors, gearheads and controllers from maxon motor are responsible for Roboy's precision movements. Roboy is the pioneer project of the Artificial Intelligence Laboratory of the University of Zurich.
Now, life-like robots can mimic human expressions, such as laughing and smiling as it copies a person's expressions. Using a motion-capture system, the robot, called Geminoid TMF, created by Japanese robotist, Hiroshi Ishiguro, can move its rubber face to imitate a smile, a toothy grin, and a grim look with furrowed brows. The robot is equipped with 12 actuators, powered by air pressure, and her motion can be synched to imitate that of a real human being. It was modeled after a young Japanese woman.

"I felt like I had a twin sister," said the woman that the robot was simulating. The developers said they expected the robot to be eventually used in real-life situations, such as in hospitals. In a hospital setting, such a robot could give patients psychological security by nodding and smiling at them.
She can smile, she can sing and this robot receptionist is working in Tokyo at Mitsukoshi, Japan's oldest department store chain. She never gets tired of greeting customers.
"My name is ChihiraAico. How do you do?" she says in Japanese, blinking and nodding to customers. Clad in an elegant traditional kimono, ChihiraAico—a name that sounds similar to a regular Japanese woman's name—breaks into a rosy-lipped smile as would-be shoppers approach.
Unlike a real receptionist, who welcomes customers to stores like Mitsukoshi, ChihiraAico cannot answer questions, but simply runs through a pre-recorded speech. The android, with life-like skin and nearly natural-looking movements, was developed by the conglomerate, Toshiba.
Pepper, the four-foot tall white machine-on-wheels, offers ardent attention, cool dance moves, and small talk. Pepper has cameras, lasers and infrared in its hairless head so it can detect human faces.
Pepper has a repertoire of small talk, which is constantly updated through a WiFi connection. It says such things as, "You look a bit thin; you should watch what you eat," in a soft childlike voice, which is free of any mechanical accent.
The telecom giant, SoftBank, has come up with the world's first humanoid robot with emotions. 61 pounds of adorable humanoid robot recognizes tones of voice and facial expressions in order to interact with humans and tries to raise their spirits.
Pepper is equipped with artificial intelligence to interpret and even react to anger, happiness, nervousness, and sorrow in humans by recognizing their voice tones, facial expressions, and language. Pepper is designed for all household activities like serving as a nurse, babysitter, and gardener; and it can even make sandwiches. It is highly curious and tries to talk to you, learn about you and adapt accordingly. Also, it can speak 17 languages and is backed by 12 hours of battery.
Hanson Robotics makes life-like robots, which gather attention because of their perfect aesthetics. Their robots have the ability to answer questions, interact with people and identify facial expressions.
Their robots exhibit the highest quality expressions and interactivity, fusing their advances in walking, talking robots, who maintain eye contact, recognize faces and understand speech, hold conversations, and even simulate a real person's personality.
News at eleven! Instead of good looking, overpaid news announcers, we might just be watching an android and not know it. The world's first robotic broadcasters are so lifelike it will be hard to tell them from the real announcers and they can read reports without stumbling.
Kodomoroid and Otonaroid
The Kodomoroid and Otonaroid droids were revealed in Tokyo by Hiroshi Ishiguro. Both droids have silicone skin, artificial muscles and are remote-controlled. They speak so fluently they appear eerily lifelike. The robots can read the news while interacting with the audience. Kodomoroid can recite news and weather reports from around the world in a variety of voices and languages, while, Otonaroid is controlled by a nearby human.
The creepiest aspect of the Simroid dental patient simulator is probably the fact that the 'skin' around its mouth is so stretchy, it can be manipulated far beyond what humans would be okay with, but won't tear. That doesn't mean that the so-called patient won't complain if the touch is painful, because her mouth is equipped with sensors, so the robot can react if something hurts or feels unpleasant. She'll even scold the dentist if he accidentally elbows her in an inappropriate place.
Geminoid DK is the first Geminoid based on a non-Japanese person, and also the first bearded one. When you look at this android, your first thought is that it is a real person pretending to be a robot.
Can you guess which one is real?
Okay, I admit it... I can't tell which one is the real associate professor Henrik Scharfe of Aalborg University in Denmark, and which one is the android.
Can you imagine being in front of an android and a human and not able to identify which one is real? There is research going on at the University of New South Wales in Australia, to determine the behavior of humans, as they interact with Geminoids—the name given these life-like robots because of their similarity to humans. The next step is to study whether a human being can get used to interacting with Geminoids.
The content & opinions in this article are the author's and do not necessarily represent the views of RoboticsTomorrow
---
Comments (0)
This post does not have any comments. Be the first to leave a comment below.
---
Post A Comment
You must be logged in before you can post a comment. Login now.
Featured Product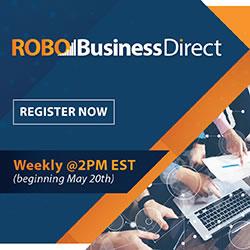 RoboBusiness Direct is built to foster robotics innovation in all its forms, expand robotics business opportunities, and build a community of like-minded problem solvers with the goal of driving the growth of robotics businesses. More than a webinar or virtual event, RoboBusiness Direct is an ongoing, integrated series of presentations and media coverage delivered by brightest minds from the leading robotics and automation companies from around the world - Nuro, FedEx, Lockheed Martin, Samsung, Siemens and more.