If you really want to see what imagination and a bit of opportunity can do for an industry I urge you to attend one of these Expos. You won't regret it and you might even come away with a new and unique solution to something you need.
RoboUniverse San Diego 2015
Bob Hetherington for | RoboticsTomorrow
I had the opportunity to drop in on the RoboUniverse 2015 Conference and Expo in San Diego yesterday and had a great time talking to some of the young and enthusiastic engineers that are shaping the future of this industry. The expo is not huge, but to be honest that worked our better for me. As I said, mostly young engineers talking about their wares and robotics in general.
What excited me the most was the atmosphere. After 20 years of attending various tradeshows from Comdex to CES, Earthday to Solar Power International I know the trends and can feel the vibe. Robotics is in a young and exciting stage of development where folks like me can learn and watch connections and exchanges of technology taking place. Soon enough the shows will be overrun with PR agents and Investment Bankers (the suits). For now, innocence and purity reign.
A few highlights:
Met an engineer from a large robotics company who was drooling over an arm built by a start-up with kickstarter funding. Bottom line, the big guys have no hope of developing sleek new technology in a timely fashion --- and they will soon be on the hunt to buy it from these small guys --- we are still in the early days --- terrific.

Qualcomm was showing of a circuit board the just finished for drone control. The size of a business card with tons of sensors built in including camera, ultrasound, gps --- you name it. Linux OS. Just bolt onto your drone and go for it. The thing can focus on a spot on the ground and no matter what you do it will always come back to the same spot --- and you can treat it like a piñata only you will never hit it because it avoids solid objects you throw at it. This is another sign that the big guys are paying attention and spending cash on research and taking the market as a serious cash generator in the future.

And then there was Overthrow Robotics with the boxing robot :-) --- self funded and just trying to meet somebody to help him go further --- have a look at the photo --- we had a few rounds with this robot --- hilarious. His head sort of falls off from time to time. But the developer is passionate and wants to get this thing built so it can go into video game venues --- I love where he is coming from. He may be right when he says that kids will fall in love with this robot.
If you really want to see what imagination and a bit of opportunity can do for an industry I urge you to attend one of these Expos. You won't regret it and you might even come away with a new and unique solution to something you need.
This just in:
The RoboUniverse conference and expo (produced by Mecklermedia) held its 2nd RoboGameChanger Startup Competition yesterday at the San Diego Convention Center, where 11 hopeful startups had 3 minutes to pitch their technologies and business models, followed by 3 minutes for questions from the judges, who included:

Tyler Benster, Technology Evangelist, Asimov Ventures
Ellen Chang, Managing Partner, LightSpeed Innovation
Rick Dalton, Managing Director, Mooreland Partners
Houman Haghighi, Staff Manager of Business Operations, Qualcomm Ventures
Dr. Ping Wang (Moderator)- Director of Qualcomm Robotics Accelerator

The eleven hopefuls were:

* Asalyon: Field-deployable battery swap stations for the the drone industry.
http://flyasylon.com

* Carbon Robotics: Creators of Katia, a trainable intelligent robotic arm.
http://www.carbon.ai

* CleverPet: Robot that keeps the family dog entertained when home alone.
http://getcleverpet.com

* Emoters: Intelligent robotic pet that interacts and plays games with its owners.
http://emoterbots.com

* GeoVisual Analytics: Creates detailed drone photos of crops to assess quality, health and quantity.
http://www.geovisual-analytics.com

* Haddington Dynamics: Makes low-cost, precise, multi-sensor robotic arms for manufacturing.
http://hdrobotic.com

* Muse Robotics: Scalable hardware platform for construction and manufacture of robots.
http://www.muserobotics.com

* Overthrow Robotics: Full-sized, boxing robot for use in training, gyms and arcades.
http://overthrowrobotics.com

* Qelzal: Next-generation sensor-based obstacle and aircraft avoidance system for commercial drones.
http://www.qelzal.com

* Robolink: System to teach students how to write computer code, and makes it fun to learn.
http://robolink.com

* Transcend Robots: System that enables robots to properly and safetly travel up and down stairs.
http://www.transcendrobotics.com

And the winner, who was announced this morning, is....CleverPet, who was awarded a $10,000 uncapped convertible note, courtesy of Asimov Ventures.

In discussing their decision for selecting the winner, Tyler Benster of Asimov Ventures commented, "Following the success of the inaugural RoboGameChanger competition, Asimov Ventures is proud to award the winner of this second pitch event a $10,000 uncapped convertible note. We were impressed by the strength and diversity of the teams, who presented breakthroughs in Drones, Robotic Arms, and Vision Recognition among other fields. Today's winner is CleverPet, a San Diego startup whose "Dog Game Console" engages dogs for automatic all-day play. Many of us who have a dog have little choice but to leave the pet alone for hours at a time. CleverPet's creative and polished robot appeals to dog owners everywhere."

In accepting their award, Leo Trottier, CEO of CleverPet, Inc., said, "We are humbled to have won this award, as there was a strong group of other companies that we were competing against. I was certainly impressed with the other participants, and was not expecting this great honor. We're very happy to accept this investment from Asimov Ventures."

Here is a photo of the $10,000 check award being presented - pictured are (left to right): Richard Erb (Executive Director, RoboUniverse Conference & Expo), Tyler Benster (Asimov Ventures), and Leo Trottier (CEO, CleverPet).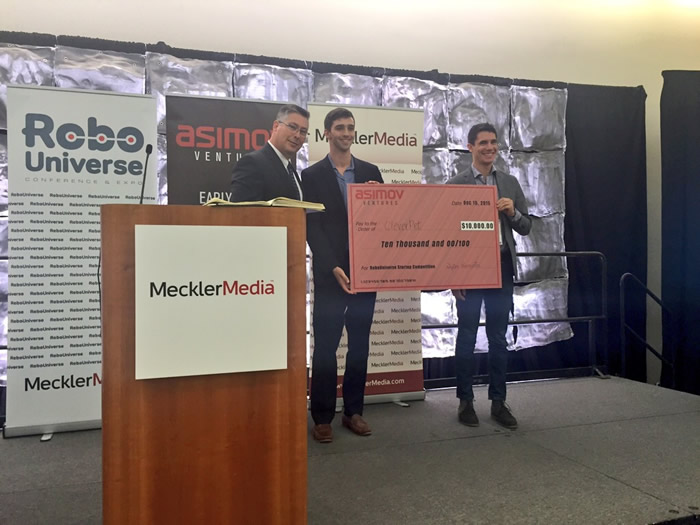 3rd place was awarded to Carbon Robotics, with 2nd place going to GeoVisual Analytics. Winner of the previous competition was Voxel8 (RoboUniverse NY, 2015).
The content & opinions in this article are the author's and do not necessarily represent the views of RoboticsTomorrow
---
Comments (0)
This post does not have any comments. Be the first to leave a comment below.
---
Post A Comment
You must be logged in before you can post a comment. Login now.
Featured Product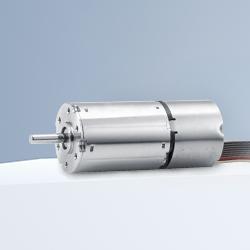 FAULHABER MICROMO launches the new MC3/MCS motion control family. The new high performance, intelligent controllers are optimized for use with FAULHABER motors, offer electronics for simple operation with state-of-the-art interfaces for multi-axis applications, and provide a motion control system solution with the most compact integration into industrial grade housing.