Well over a million dollars pledged for these projects.
Three Heavily Funded Robotic Arms Projects on Kickstarter
Contributed by | TechRoba
Pledged Amount: $435,000
Makerarm is a multi-purpose robotic arm that works with interchangeable heads for countless applications.
It 3D prints: Makerarm is not confined to a box and can 3D print with both filament and resin.

It carves and mills: Makerarm includes high-speed desktop milling (light duty) and carving. You can mill on a variety of materials including plastics, wood, and soft metals right on your desktop. You can even hook up heavy duty flex shaft tools such as the Dremel Fortiflex to Makerarm for power-carving, grinding, or shaping applications (with speeds up to 23,000 RPM!).

It laser engraves: Makerarm's high power 500mW laser head (405nm) engraves and etches on plastics, wood, leather, cardboard, and more.

It picks and places: Choose from vacuum pump coupled suction cups, electromagnetic heads, or grippers to carry out pick and place operations.

It assembles: With the assembly heads, you can automatically place and fasten screws, carry out gluing, and perform pick and place functions.

It's a PCB fab: PCB milling, drilling, solder-paste dispensing, pick and place assembly (PCBA), and automated soldering take the hassle out of prototyping.

You can also add custom tool heads: A special hardware development kit (HDK) will allow owners to create their own custom tool heads for an unlimited number of projects!
Pledged Amount: $251,000
uArm is a 4-axis parallel-mechanism robot arm, inspired by the ABB PalletPack industrial robot arm IRB460. It is made up of laser cut acrylic or wood parts, powered by standard RC hobby servos, and controlled by an Arduino-compatible board. In parallel-mechanism robot arm, most of the masses concentrate on the base, making the robot much more stable and allows the upper Arm to react really fast.
Pledged Amount: $615,000
Our dream is to bring the industrial robot arm to daily life, let everyone can enjoy the joy of it and simplify the life from doing repetitive tasks. So we tried to creat a high repeat precision (up to 0.2mm), stepper motor, Arduino-based, easy to control, low-cost desktop robotic arm.
About TechRoba:
TechRoba researches technology & robotics topics
---
Comments (0)
This post does not have any comments. Be the first to leave a comment below.
---
Post A Comment
You must be logged in before you can post a comment. Login now.
Featured Product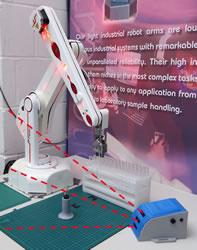 The 6-axis version of the R17HS high speed variant of the R17 robot is now available. As is our policy the 6th axis is an optional bolt-on module. At the same time we have made it even faster and new software eliminates shake and greatly improves repeatability as this video shows. Please see https://www.youtube.com/watch?v=3wG0MeiJ-yE. The video would seem to imply a repeatability of 0.01mm but we are sticking with 0.2mm in the spec. The motor specialist was able to tune the motors from the other side of the pond. My first reaction when we put power on and entered the first commands was to jump back in amazement (and maybe an expletive). Tip speed is now 3m/s; that's 3 times as fast as its nearest competitor yet costs half the price. I love it when a plan comes together.