Two existing bakery facilities were successfully integrated into one and finished goods capacity nearly doubled from 6,500 lbs. /hour to 12,000 lbs. /hour.
Robotics 2016: Doubling Throughput in Distribution and Factory Operations
Thomas R. Cutler | TR Cutler, Inc.
The value of robotics in manufacturing and distribution is improved throughput. Few systems integrators have the robotics expertise to implement improved process solutions that drive both labor optimization and significant production throughput. Bastian Robotics, a division of Bastian Solutions, is a leading integrator of industrial robotics systems which automates factory operations with custom, innovative technology, increasing throughput productivity while reducing costs, and protecting employees with improved ergonomics.
Bastian Solutions' thought leaders Bill Bastian II (CEO) and Aaron Jones (President) shared several examples of successful robotics automation.
For its Torrance, California facility, King's Hawaiian turned to Bastian Solutions to help them automate their case palletizing and handling process. The bakery doubled throughput with robotic palletizing and AS/RS. Two existing bakery facilities were successfully integrated into one and finished goods capacity nearly doubled from 6,500 lbs. /hour to 12,000 lbs. /hour. The damage to the freezer from fork truck activity was eliminated.
Chelsea Milling implemented robotic palletizing and shipping orders in a "Jiffy" with an automated distribution system to support the distribution of their "Jiffy" Mixes product line. Key technologies utilized included:
Computer controlled 5-camera Cognex Vision System for product verification and quality control

2 Fanuc M-410 Palletizing Robots complete with pallet de-stacking and perimeter guarding

Zero Pressure Accumulation Conveyor (Hytrol ABEZ), minimum pressure (Hytrol ACC) and Gapper Belt Conveyors

Chain Driven Live Roller Pallet Conveyor

Minimum pressure conveyor (Hytrol ACC)

Hytrol MRT bi-directional strand sorter
The results of this robotic automation were significant and met the design goal of 55 cartons per minute, successfully positioning Chelsea Milling to meet future projected growth demands. The new system reduced the number of operators needed for each shift. The Cognex Vision System has increased the quality control and case inspecting capabilities. Overall, this state-of-the-art system helped Chelsea Milling meet the demands of their valued customers with greater accuracy, exceptional quality, and in a manner that protects esteemed employees.
2016 Robotics Growth both in Distribution Centers and Manufacturing Plants
Bastian and Jones also detailed some of the specific robotics applications in which growth could be anticipated in 2016.
Pick and Place Robots
High-speed pick and place robots take product from one location to another with pinpoint accuracy. Human pick and place applications can require repetitive motion over a long duration resulting in possible ergonomic issues. High-speed pick and place robots can provide increased efficiency as well as decreased production costs and ergonomic issues.
Robotic End of Arm Tooling
The key to every successful robotic work cell implementation is the robust and functional design of the end-of-arm tool. Placing a strong focus on end-of-arm tool designs is paramount according to Bill Bastian II, who is proud to have implemented some of the most innovative and reliable end-of-arm tools in the industry.
Robotic Machine Tending
Machine Tending can be dangerous work and requires the consistency that a robotic solution can provide. Robots replace human interaction to move product from a supply position, transport it to a machine, orient it, and then interact with the machine. Robotic designs must be capable of handling items as small as a dime and as large as a refrigerator – in turnkey solutions.
Robotic Palletizing
Robotic palletizing provides a highly customized solution by implementing leading edge technologies. Palletizing robots can also handle pallets, slip sheets, and tier sheets for completely automatic pallet building and de-palletizing operations.
Robotic Case Palletizing

Robotic Bag Palletizing

Robotic De-palletizing

Robotic Scrap Metal Palletizing

Robotic Mixed Load Palletizing

Robotic Battery Palletizing
Robotic Case Packer
Robots can pick single or multiple items to pack single or multiple cases per cycle. Quick change end-of-arm tooling can prepare the same robot to handle products of varying sizes or shapes. Improved throughput is achieved with powerfully designed robotic case packers that enable manufacturers to reduce labor and safety costs while increasing throughput, reliability, and accuracy of orders.
About Thomas R. Cutler
Thomas R. Cutler is the President & CEO of Fort Lauderdale, Florida-based, TR Cutler, Inc., Cutler is the founder of the Manufacturing Media Consortium including more than 6000 journalists, editors, and economists writing about trends in manufacturing, industry, material handling, and process improvement. Cutler authors more than 500 feature articles annually regarding the manufacturing sector. Cutler is the most published freelance industrial journalist worldwide and is now the host of Kanbanversation, a weekly episodic video discussion. Cutler can be contacted at trcutler@trcutlerinc.com and can be followed on Twitter @ThomasRCutler.
The content & opinions in this article are the author's and do not necessarily represent the views of RoboticsTomorrow
---
Comments (0)
This post does not have any comments. Be the first to leave a comment below.
---
Post A Comment
You must be logged in before you can post a comment. Login now.
Featured Product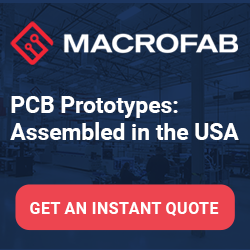 At MacroFab, we understand the challenges engineers face when searching for the perfect partner to bring their visions to life. Traditional overseas prototype factories may offer low-cost solutions but often have hidden compromises. Say goodbye to subpar quality, communication barriers, and frustrating delays - choose MacroFab for a stress-free, reliable, and professional prototyping experience.