As they watch fellow companies successfully use robotics, see what it takes to switch to a fully or semi-automated system and be reassured by a human back-up system, it seems inevitable that more folding carton manufacturers will soon be adopting robotics.

Contributed by | Axium
The folding carton industry, the people who manufacture and print packages for our products and make the boxes that ship our goods, is a sector that uses a lot of automation. It's easy to see how robots could fit right in.
In a packaging plant, robots place heavy stacks of boxes on conveyor belts, square them and then palletize them. Many large manufacturers have recognized the efficiency that robotics bring to their operations and the health and safety risks they lessen.
Some of the big manufacturers, including Graphic Packaging, WestRock (formally MeadWestvaco), Master Packaging and Malnove, have adopted robotics, but there are many companies who remain sceptical about going robotic.
Some of their fears have to do with breakdowns. Many think that once robots have been installed there's no going back, and if the robotics fail there will be no humans to rescue the operation.
But robotics integrators like Axium, ironically enough, think a lot about how people can fill in for robots.
They prepare for the possibility of breakdowns. Like their client, they know that a downed production line is unacceptable. So they build contingency plans.
"With any robots, you have to plan for a back-up situation," says Luc Vanden-Abeele, Marketing Research Advisor at Axium Solutions.
These back-up systems are insurance policies that will rarely be used, since the robotics sector sees low rates of failure. According to the major robot manufacturers, the Mean Time Before Failure (MTBF) is between 80,000 to 100,000 hours.. This means that if a robot runs for two shifts per day, a failure will happen on average every 20 to 25 years.
Mike McGuinness, who represents Axium in the US and who has been in the folding carton and printing business for over three decades, says he comes across customers who often worry about going fully robotic. "They ask 'What do we do if it breaks? Does it stop our whole production?'"
McGuinness, who is also President of PacSys, reassures them that they can always go back to the old system temporarily. They simply need to make sure there are enough people at the ready that can be borrowed from other departments or operations.
"You always have to build into your design a contingency for the what-ifs," he says. "If the robotics fails, you always have to have the capability of working the system manually."
Going fully automatic is not the only option. Vanden-Abeele says some companies go semi-automatic, using a combination of people and machines to get the job done. For example, they might install an air table, which shoots small streams of air upward much like an air hockey game, to allow a person to move a heavy pile of boxes where it needs to go without causing any undue strain. This approach can also be used when manual back-up is needed for the robotic system.
There are still other hurdles to clear before robotics become commonplace in the folding carton sector, according to Mario Beaufort, Application Engineer at Axium.
He says many operate in old buildings that lack adequate floor space for bringing in this kind of equipment. "The robots need more square footage than humans."
"It's easier when the company plans an expansion or builds a new plant. In those cases, they can plan the layout to accommodate future robotics projects."
Cost is also a challenge for many manufacturers. For example, automating and robotizing the end-of-press stacking and palletizing is a significant investment but does provide greater productivity.
As they watch fellow companies successfully use robotics, see what it takes to switch to a fully or semi-automated system and be reassured by a human back-up system, it seems inevitable that more folding carton manufacturers will soon be adopting robotics.

About Axium
Axium is a leading provider of factory and warehouse automation solutions in a wide variety of industries. Recognized throughout the industry for its innovative designs and expertise, Axium is proud to deliver integrated solutions that yield performance, efficiency and reliability.
Axium's strength is its people. Having installed more than 500 robotic assembly and material handling projects throughout North America and around the world over the last 20 years, Axium's team has acquired the knowledge and experience necessary to engineer and deliver complex turnkey automation projects.
The content & opinions in this article are the author's and do not necessarily represent the views of RoboticsTomorrow
---
Comments (0)
This post does not have any comments. Be the first to leave a comment below.
---
Post A Comment
You must be logged in before you can post a comment. Login now.
Featured Product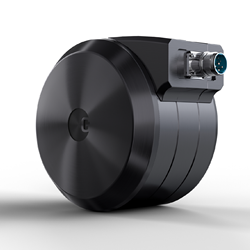 Welcome to the next generation of robotics and machinery. LiveDrive LDD is a unique direct drive motor that overcomes almost every limitation of servo geared solutions. A 50% reduction in length from typical geared motor is possible with Genesis direct drive motors. Choose to simplify machine designs and have a shorter footprint while having high performance, accuracy, and efficiency.