Here is a summary of what Tradeshows, Conferences & Exhibitions to look forward to in the coming months.

Brandon Hetherington for | RoboticsTomorrow
Here is a summary of what Tradeshows, Conferences & Exhibitions to look forward to in the coming months.
---
February:
TUSEXPO 2016 (THE UNMANNED SYSTEMS EXPO)
FEB 02 - 04 2016, THE HAGUE, THE NETHERLANDS
The Unmanned Systems Expo (TUSExpo) is a dedicated and focused business platform, unique in bringing together European and global companies from the entire Unmanned Systems supply chain with customers and end-users. This event provided opportunities for new international cooperation in the Unmanned Systems industry.
AERODEF MANUFACTURING SUMMIT & EXPOSITION
FEB 08 - 10 2016, LONG BEACH, CA
AeroDef® Manufacturing is the leading technical summit and exposition for the aerospace and defense manufacturing industry. Produced by SME, in partnership with industry OEMs, our mission is to foster innovation across the extended enterprise to reduce costs, expedite production times and maintain manufacturing competitiveness in the global economy.
FEB 09 - 11 2016, ANAHEIM, CA
We have entered a new stage in industry that some are calling Industry 4.0, where customization, seamless communication, and flexibility are the name of the game. You can get the latest information on top-level developments in industry in one to three days of conference sessions, with authoritative presentations, as well as an increased number of panel discussions. You'll hear from people with a wide range of experience talking about overcoming challenges you face in the real world. Check out our Special ATX West Tradeshow Coverage:
---
March:
CIRE 2016---CHINA (TIANJIN) INTERNATIONAL INDUSTRIAL ROBOT EXHIBITION 2016
MAR 09 - 12 2016, TIANJIN, CHINA
China (Tianjin) International Industrial Robot Exhibition 2016 (CIRE 2016) is an B2B show specialized in industrial robot. CIRE 2016 will cover an area of 30,000 sqm and serve as an excellent platform for all players in industrial robot and automation sectors.
THE SOUTH BY SOUTHWEST® (SXSW®) CONFERENCES & FESTIVALS
MAR 11 - 15 2016, AUSTIN, TX
The South by Southwest® (SXSW®) Conferences & Festivals offer the unique convergence of original music, independent films, and emerging technologies. Fostering creative and professional growth alike, SXSW® is the premier destination for discovery.
AUVSI'S UNMANNED SYSTEMS EUROPE 2016
MAR 22 - 23 2016, BRUSSELS, BELGIUM
Unmanned Systems Europe is the industry's premier RPAS event – bringing together a mix of industry representatives, regulatory officials, technology researchers and systems operators. Learn about the latest trends and challenges shaping the industry over two days of interactive programmes featuring panel discussions and insightful presentations.
---
April:
APR 02 - 10 2016, NORTH AMERICA
Are you ready for National Robotics Week 2016? The seventh annual National Robotics Week event will be held April 2-10, 2016. RoboWeek 2015 was awesome and 2016 promises to be even better! Activities can be small, large, and everything in between. Check out our activity ideas below, think about what your group might like to do and help make 2016 our best year ever.
---
May:
MAY 02 - 05 2016, NEW ORLEANS, LA
AUVSI has been the industry's go-to organization for over 40 years. We are at an exciting inflection point today, where advancements in technology are allowing us to build upon our noble heritage of protecting citizens around the world. XPONENTIAL captures the potential of this industry, and defines AUVSI's commitment to you – now and into the future. Serving as the intersection for commercial and defense applications, and advancing all domains, XPONENTIAL is committed to serving as your ultimate industry brand experience. Join us in celebrating our exponential future. A future where XPONENTIAL will mark milestones. A collective moment in time where we collaborate, innovate and forge new paths together.
MFG4 - MANUFACTURING FOR THE FUTURE
MAY 03 - 05 2016, HARTFORD, CT
Mfg4 surpasses the traditional manufacturing technology event by delivering content and suppliers mandated by industry. Mfg4 is an event for industry developed by industry, with an emphasis on industry-specific solutions with attention to cross-collaboration.
MAY 05 - 07 2016, LAS VEGAS, NV
Robo Expos is the all inclusive trade-show for Robots, Robotics, Drones, Automation and associated products. Held May 5 - 7 , 2016 in Las Vegas! Huge crowds expected. This mega-trade show brings the future all together and allows for the opportunity of expanding one's business base exponentially. The Robo Expos trade show will be a milestone, marking an important next stage in development and progress; an advance that will bring your company business advantages.
MAY 16 - 19 2016, ORLANDO, FL
RAPID is your destination for learning, networking, and growing your business in 3D manufacturing. No other event provides you with the opportunity to visit hundreds of 3D technology manufacturers in one room and network with thousands of attendees.
MAY 24 - 26 2016, PARIS, FRANCE
Innorobo presents the state of the art of world robotics to a diverse range of markets through an exhibition illustrating the vast array of robotics technologies, conferences with renowned specialists and a host ofworkshops in order to encourage cross-innovation and open up new opportunities for growth and diversification in nearly all sectors. Innorobo : Join us May 24-26 at the Docks de Paris !
---
For our Full Event Calendar click here
The content & opinions in this article are the author's and do not necessarily represent the views of RoboticsTomorrow
---
Comments (0)
This post does not have any comments. Be the first to leave a comment below.
---
Post A Comment
You must be logged in before you can post a comment. Login now.
Featured Product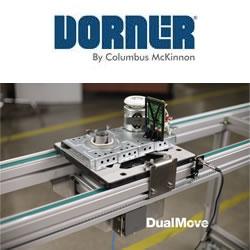 Dorner's 2200 Series Precision Move Pallet Systems are ideal for assembly automation. With features such as an innovative timing belt conveyor design and industry best pallet transfers, they get your product to the exact location, at the exact time and in the exact position it needs to be. They are now available with new options such as heavy load corner modules with 150 lb. capacity and 180 degree tight transfer corners for compact loops.