Even if you are part of management yourself, you will need to justify the integration of the robot with solid arguments. We suggest the "Scotty maneuver": under-promise, over-deliver!
Getting Started with Collaborative Robots - Part 5 - Get Management On Board with Robots
Contributed by | Robotiq
When looking at a specific task that you want to automate, it is really easy to dream about the fully automated solution that would work 24/7 without having anyone interacting with the machines. This is the ideal dream of any automation specialist.
However, to achieve the ultimate automation level, you will most likely need many automation components to be integrated together, some of them being fairly new technologies. Pulling all these applications together is no small feat.
Focusing on such a challenging goal before actually getting started, while it is very attractive to management, can be problematic to say the least. If the project that you sell to your boss is 'The Dream'…
What you will end up delivering is more likely to be half of that dream! Plus, you'll have to manage disappointment; long-winded complicated technology projects; and people who don't want anything to do with robots.
Instead, keeping things simple and setting realistic expectations with yourself, the workforce and management is the key to success. Then, it is possible to work on exceeding your boss' expectations by delivering a solution that works and can be added to in the future. This way, it just might be even better than what was initially presented.
Justify the expense to management
Points are not only scored on the financial side of the argument: it's also about what can be accomplished with the robot, as well as how fast it can be refunded.
Here are a couple of points to help you justify a collaborative robot at your next meeting:
Quality and consistency requirements: If a robot is repetitively loading a part at the very same spot and the very same way each and every time, there is no actual reason for the process to fail.
Throughput: Will you be faster? Not necessarily. Will you be more consistent, YES!
ROI: In our experience, most collaborative cells are refunded within 8 months.
Investment risk: Since collaborative robots are easy to repurpose, you can easily have a plan B (or C, or D) in case your first robotic cell application doesn't meet expectations. This reduces the risk that the investment will fail.
Injury risk reduction: Having a robot perform the repetitive processes reduces the risk of severe injuries due to ergonomics stress in the workforce.
Employee retention: Moving employees away from repetitive, tedious jobs and into positions where they are responsible for setting up and maintaining the robot fleet is likely to keep the worker motivated.
Starting with one: Starting small with your first robot can allow you to repurpose this robot for other tasks and test prospective operations before purchasing.
Having a list of all the potential applications for the cobots will also reduce the risk for management to invest in this first robot. To the contrary, dedicated machines that can only be used at one station, do not allow for the flexibility of testing potential applications. Cobots, however, can usually be repurposed if the need evolves in time in the plant or if your production requirements change.
We've also prepared a presentation template for you to use. Download it here. (You're welcome).
Going further: Are you ready to get started with collaborative robots? Schedule a consultation with our experts and we'll help you identify your company's potential applications.
ROBOTIQ MAKES TOOLS FOR AGILE AUTOMATION

Robotiq's mission is to free human hands from tedious tasks so companies and workers can focus where they truly create value.
Our grippers and sensors enhance robot application flexibility and integration simplicity.
Our products are sold and supported in more than 30 countries, through a network of highly capable channel partners.
The content & opinions in this article are the author's and do not necessarily represent the views of RoboticsTomorrow
---
Comments (0)
This post does not have any comments. Be the first to leave a comment below.
---
Post A Comment
You must be logged in before you can post a comment. Login now.
Featured Product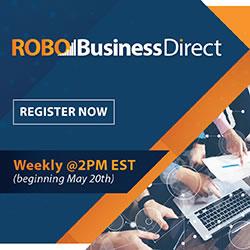 RoboBusiness Direct is built to foster robotics innovation in all its forms, expand robotics business opportunities, and build a community of like-minded problem solvers with the goal of driving the growth of robotics businesses. More than a webinar or virtual event, RoboBusiness Direct is an ongoing, integrated series of presentations and media coverage delivered by brightest minds from the leading robotics and automation companies from around the world - Nuro, FedEx, Lockheed Martin, Samsung, Siemens and more.