START, is a Industry-university cooperation development platform promoting the seeds of technology or robotics ventures in Japan.

Junko Nirmala for | RoboticsTomorrow
START, is a Industry-university cooperation development platform promoting the seeds of technology or robotics ventures in Japan. The START is planned and promoted by Japan National Research and Development Institute of Science and Technology Agency (JST)
Aiming to speed up the practical use or the robotic venture products developed by research projects of young researchers in universities, a team of experts from industry and expert collaboration is formed to provide guidance and advice to the research and development team as mentors. While receiving these mentoring, prototype robots are produced embodying the ideas that embrace the young team of researchers . The technologies and ideas in the form of prototype robot close to the original, is developed. An event was organized by JST to showcase, demonstrate these products in march 2016. Famous venture capitalists and other investors were also invited to take look of the demonstrations, products and analyze the products potential straight from the universities. Following Products were highlighted from the universities participated attracting investors and business leaders of big companies.
University of Electro-Communications:
Telepresence child support robot, is a new communication tool helping infants. Aiming to provide the comfort communication to kids as if a parent/ grandparent is communicating always with kids. This product features safe operation of the robot such as tablet screen and chatting facilities with children, sensor based movements for playing toys that are in place,around the children space.
Tokyo Institute of Technology:
Self-propelled small inspection robot for the social infrastructure construction domain. Self-propelled small inspection robot to perform the inspection in a place where humans can not be approached such as tunnels and bridges, etc., this product will move sticking to the wall or any surface in a difficult narrow portion, ideally aiming to prevent accidents caused by aging of infrastructures.
Tokyo Polytechnic University :
Omnidirectional cleaning and maintenance robots for the new industrial robot sector ; aims to provide an omnidirectional maintenance functions for industrial robots with simple and easy-to-use.
Ritsumeikan University:
Autonomous control and map creation by the pipe inspection robots based on visual information. This is a snake-like robot that can freely taken and can be used Narrow, even surfaces and also bent the pipe robot. Can be switched between autonomous and manual operation, by carrying out the inspection work on behalf of human beings, we aim to degradation point specific efficiency. Also from the same university there was another product displayed - for calibration-free robot motion control by the integration of visual information. Application of this product is the task management from the web interface, providing simple solutions to launch a factory automation and also "remote monitoring service of industrial robots".
Tokyo University of Science:
High-efficiency small hydroelectric generator for water hammer pump to achieve high efficiency in small hydroelectric power generation applicable for renewable energy industries.
Waseda University:
Safe robot arm having soft surface structure for the motion trajectories to prevent the Obstacles while using the robots at the manufacturing site, in addition to safety, this product is structured for tactile sensors so that motion trajectory can easily be observed.
Osaka University:
Robots for suppleness of the integral structure static hybrid actuator providing the flexibility, capable to use in the both heavy although lifting and precise operations , an innovative integral structure static hybrid actuator.
Tokyo Institute of Technology:
Wheelchair tire cleaning machine, Since Japan is an an aging society, the use of wheelchair has been increasing. This product is an automatic washing robot that does not bring the dirt of the tire to the room at the time of returning home. In a compact design that can be placed at the entrance and wheel chair can be cleaned while entering.
University of Tokyo:
Autonomous co-type safety corresponding drone robot platform to prevent drone accidents. This platform aims of collision detection and avoidance, make the decisions such as emergency safe landing functions.
Utsunomiya University:
Quality inspection robot to achieve a high-quality shipment of strawberry with out any wastes. Strawberries are a very delicate fruit, it gets damaged if it is touched hard by human hands while shipment process. This robot performs the inspection of the appearance and quality without touching directly the strawberries, aims to establish a luxury ripe strawberry distribution system.
Chiba Institute of Technology:
This technology development is to add a shock absorbing mechanism in the reduction gear, increasing the resistance to the impact force, aims to lead to the maintenance-free variety of robots. Especially this technology aims to be applicable in humanoid robot of human size . This a built-in shock absorbing mechanism, aims as speed reducer and also be destroyed by the impact, such as falling in the robot can be prevented.
Kagawa National College:
Inspection robot for the power transmission line, Multirotor type inspection robot by hovering. By controlling connect to insulation stick, it is a type of drone use methods to reduce the risks associated in power transmission line.
Waseda University :
Oral care assistance robot to be used in dental care and also another products is an UI (user interface) helps in use of the eyelid opening, it also combines a software that enables the scale, such as the screen of the map app. Eye size calculation uses a new algorithm that automatically corresponding to the individual differences, and proposes a simple and intuitive operations for eye and dental care.
Hosei University:
Sensor based Ultra-lightweight, low mounted easy-fit assist suit for the practical use of caregivers and heavy transport workers and heavy weight lifters.
Kobe University:
Shining sphere robots is a cooperative performance system to increase the performance in cooperation with the people by Movement. The light, and the illusion effect, is produced while humans and robots come in common line ,and prevent damages also this was attractive to the audience in the form of a new generation of entertainment.
Nishimura Nara Institute of Science and Technology:
Pillow-type device with a neck lift actuator in order to prevent the disturbance from the snoring and low respiratory status during sleep, this product is for those who are concerned about the state of sleep, having problems with sleep disturbance due to snoring,this product is a pillow type device Pillojoy that leads to a comfortable sleeping with individual neck lift actuator.

All universities participated demonstrated the prototypes with their research students and professors explaining the queries from audience. Most of the technologies are though in seed stage and or yet to be completed in prototype stage every product ideas were listened carefully and was interesting to commercial owners and promoters. The mentors attached to each one of the products are closely working with all stake holders trying to identify the next level opportunities.
About Junko Nirmala
Junko Nirmala is a Tokyo resident with 17 years of Professional experience in Technology and business consulting services. Her diverse background includes Advisory assignments completed for 70 plus Japanese companies on Globalization, Founder of startup company in Green Technology, conducting Training and seminars for Global Workforce in Japan and so on. Currently she is involved in Promoting Japan Robots Industry. She has authored 3 books and consistently writes for newspapers and magazines in Japan.
The content & opinions in this article are the author's and do not necessarily represent the views of RoboticsTomorrow
---
Comments (0)
This post does not have any comments. Be the first to leave a comment below.
---
Post A Comment
You must be logged in before you can post a comment. Login now.
Featured Product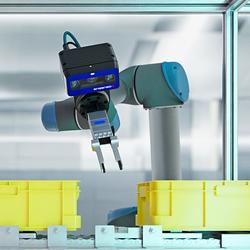 IDS NXT: a platform for a new generation of vision systems for industrial applications. It lays the groundwork to provide easy-to-use yet flexible complete systems that can be used to implement all steps of a vision solution. With IDS NXT ocean, a complete solution especially for AI-based image processing is now available. It allows to solve tasks where classic, rule-based image processing has reached its limits - without any programming effort.