Given the fact that Japanese SME`s have not equipped 100% with advanced technologies especially advanced Robots in their factory automation, the city governments have come forward with funding from Grants to support the SME`s based in their city or jurisdiction area.
City Government Offices In Japan Support SME`s For Enabling Advanced And New Manufacturing Capabilities.
Junko Nirmala for | RoboticsTomorrow
Sagamihara and Kitakyushu and many more city government have various ongoing projects in the city, focusing on support for supporting SME`s to engage and enable new advance manufacturing capabilities. The projects include development and introduction of human resources to obtain robotic technologies and skills , and Global Market information and other research reports circulation for SME`s to gain competences advantages.
City governments in Japan by default have a trade and economy section where the role is to support various programs for developing SME`s. Given the fact that Japanese SME`s have not equipped 100% with advanced technologies especially advanced Robots in their factory automation, the city governments have come forward with funding from Grants to support the SME`s based in their city or jurisdiction area.
Example: Based on the regional trends, the Kitakyushu city promptly formulated the Plan for the Promotion of the Robot Industry in Kitakyushu City. Municipalities are connecting developers and users, creating new markets. Kitakyushu's bold strides forward are sure to continue to gain momentum.
Kitakyushu City Government is actively backing the promotion of the robot industry, including conducting an experiment involving robots traveling on public roads for demonstration purposes, ahead of other regions in Japan. The development of "K-Robot" for manufacturing industries is now under way, following those used for the inspection of sewage pipes and for medical rehabilitation of upper limbs. Further, the city inaugurated "Consulting and training center for industrial robot" in order to support companies. The center offers practical support in such forms as consultation counters and "Robot Dojo " providing training in robot operation . In addition, the Center for Socio Robotic Synthesis was established within Kyushu Institute of Technology.
Sagamihara City government has established Incubation and Show room Demo Lab , where leading companies of robots can demonstrate their products and SME`s can use it hands on before they could implement at their factory. Also Sagamihara City government has been hosting educational programs to on equipping human resources focusing advanced factory automation requirements.
Sagamihara city government also plans to engage system integrator companies and connect them to SME`s in advancement to promotion of products and services by System integrator. The the two pillars of the city governments plan to equip advanced manufacturing among SME`S are subsidy and the installation of the support center.
According to the city Industrial Policy Division, City government also aims the development of suppliers and technology candidates. By stacking the case studies, the accumulated technology and know-how in the city robot-related companies. In addition, to support the universities and technical high schools, the robot research that city companies collaborate together for Strengthening of improvement and competitiveness of productivity, promote and solution of labor shortages.
There are many more city governments has established grants and or projects to support medicare robots and subsidies /grants for installing industrialized robots in their factories.
All these city government grants funding programs, incubation center, support centers are no doubt helping and enabling Japanese SME`s to overcome the hurdles of labor shortages and as well move towards the smart and advanced manufacturing for the changing market needs.
It appears Every City in Japan is aiming at "Robot city" to make their city based companies and entire city as home of a variety of robot development projects. In addition the city governments are creating an industry academia collaborative project with the theme of "Robots developed in 000000000 City." once these Robots are ready for public view, it would be interesting to call a robot with a Prefixed and suffixed city name.
About Junko Nirmala
Junko Nirmala is a Tokyo resident with 17 years of Professional experience in Technology and business consulting services. Her diverse background includes Advisory assignments completed for 70 plus Japanese companies on Globalization, Founder of startup company in Green Technology, conducting Training and seminars for Global Workforce in Japan and so on. Currently she is involved in Promoting Japan Robots Industry. She has authored 3 books and consistently writes for newspapers and magazines in Japan.
The content & opinions in this article are the author's and do not necessarily represent the views of RoboticsTomorrow
---
Comments (0)
This post does not have any comments. Be the first to leave a comment below.
---
Post A Comment
You must be logged in before you can post a comment. Login now.
Featured Product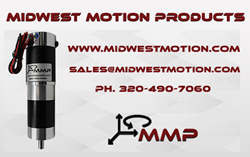 MMP specializes in supplying high-quality Brushed & Brushless DC Motors & Gearmotors for Robotics and Automation Equipment with a wide range of motor windings and gear ratios. With an impressive track record of more than 8,000 released DC Gearmotors designs and over 2,000,000 individual part numbers, we are renowned for our ability to handle large-scale orders. Due to our huge on-hand inventory, we are also well known for lightning-fast delivery of our standard products. We take pride in our dedicated customer service and our team of knowledgeable sales and engineering experts who are ready to assist you with custom design solutions tailored to your specific application. Additionally, we also offer a wide range of complimentary products, such as DC Motor Controls, DC Linear Actuators, AC-DC power Supplies, and DC Servo Amplifiers and others.