By collaborating with WEISS on their intricate medical part subassembly system, Jerit Automation was able to achieve its next-generation octagonal design and performance goals.

Contributed by | WEISS
A pioneer of direct-drive pick & place and multiple-axis modules, industry leading specialist for rotary tables and automation, WEISS (Buchen, Germany), and its subsidiary WEISS North America, Inc. (Willoughby, OH), recently completed two chassis systems featuring a unique, octagon-shaped, 45.68" diameter dial plate. The plate footprint was properly sized to match the WEISS' eight station TC220 rotary index table, and was customized to achieve ergonomic, inertia loading, and index speed requirements for a next-generation medical parts subassembly operation for Jerit Automation, Inc. (Mesa, AZ).
TC220 / OCTAGON CHALLENGE:
With over 18 years of experience manufacturing proprietary and custom automated machinery in the Robotics and Automated Machinery Industry, Jerit has built a reputation as a "one-stop" manufacturer. The demands of the palletizing application chassis system involved two robots−which required more space for the operators to work within it. This compelled Jerit to go "outside-thebox" in seeking out WEISS to collaborate on designing the value-added octagonal dial plate system.
The design incorporates two robots−one SCARA (Selective Compliance Assembly Robot Arm) robot for glue dispensing, and one 6-axis robot for part removal, reject, staging, and placement into preformed trays. This meant that more space would be needed to work within than most stations around the dial.
The semi-automated system involved the intricate process of gluing steel into a small diameter plastic part using UV glue into a subassembly− requiring a tight tolerance of +/- .005". The pallet-based production system held four-up nests that were designed to allow the individual parts to be easily loaded by an operator, while keeping parts confined to hold the tight tolerance addressed above.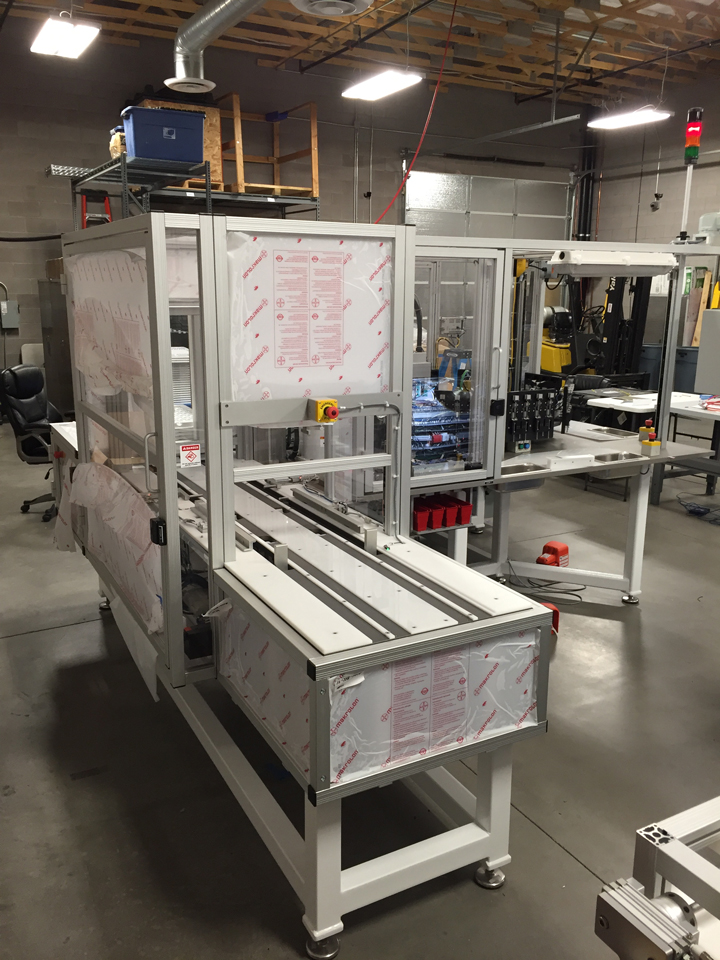 These nests were approximately 12" wide, so the goal was to get the pallets closer to the operators to optimize ergonomics and work space around the dial. Additionally, the pallets were designed with holding clamps, pins, cylinders, etc., that interact with both operators as parts are loaded and indexed to the next station.
The entire system involves a high-level operation sequence including:
▪ Operator 1 loads part A, then part A is clamped.
▪ Dial indexes...Operator 2 loads part B.
▪ Dial indexes...Parts A and B are adjusted to assembly position in pallet.
▪ Dial Indexes...Glue applied by Scara Robot.
▪ Dial Indexes...Glue Drying.
▪ Dial Indexes...Camera inspection of assemblies for PASS/FAIL.
▪ Dial Indexes...Parts Pick and Placed with 6 Axis Robot.
If Fail assembly is present, Robot moves to reject chutes and discards failed parts.
If Less than 4 assemblies are present, Robot moves to staging area and either places or picks parts as needed, to ensure it has 4 assemblies ready for placement into trays.
Once Robot has 4 Passed assemblies, Robot moves parts to trays and places into the next position available.
▪ Dial continues indexing back to Operator 1.
TC220 / OCTAGON SOLTUION:
Now in its 3rd generation, WEISS' TC220 series heavy duty rotary indexing tables feature a robust design combined with impressively fast switching. They also deliver a smooth, jerk and impact-free running and an extremely long service life.
Using this stalwart rotary table as the heart of the system, WEISS took the project manager out of the equation for Jerit in designing the frame, oversized table plate, and its associated machining. The frame work and large top plates were designed by Jerit to support all their automation devices for their specific application. Weiss manufactured the units and shipped them completed.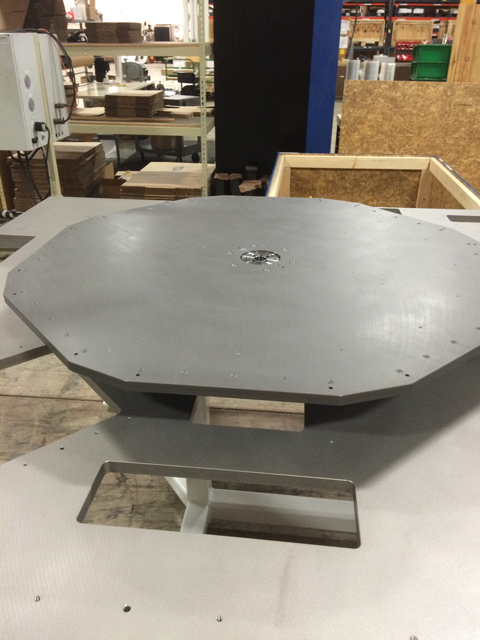 Key TC220 chassis unit system configuration specs:
▪ There are two frames that make up a single chassis.
▪ Each frame is built from structural tubular steel, welded, and powder coat painted white. '
- Frame one supports the Weiss index table and rotating tool plate.
- Frame two supports some automation for loading/unloading stations.
- The two frames connect to each other for alignment reasons.
▪ The top plates are machined from aluminum cast tool and jig plate.
- Frame one top plate = 1.00" thick x 84.65" x 89.25" with a hard coat anodize finish.
- Frame two top plate = ¾" thick x 26" x 118" long with a hard coat anodize finish.
▪ The tool plate is machined from aluminum cast tool and jig plate.
- The tool plate is roughly 45.68" in diameter and features a modified octagon shape. Different than typical round tool plates, this was designed by Jerit to achieve ergonomic efficiencies.
- The tool plate is ¾" thick w/hard coat anodized finish.
TC220 / OCTAGON CONCLUSION:
By collaborating with WEISS on their intricate medical part subassembly system, Jerit Automation was able to achieve its next-generation octagonal design and performance goals.
According to Jerit's President, Jerry Terlaan,"We normally would do these operations in-house, but WEISS provided a one-stop-shop that saved us time on project management. We recently completed the system's final FAT (Factory Accepted Test) and are ready for shipping. We'll use WEISS again for future units."
About WEISS
An integral part of the Weiss global network, Weiss North America (ISO-9001 Certified) leverages over 45 years of reliable world-wide expertise to comprise an integrative, customerspecific approach to its vast array of electromechanical products. Our 100% vertical range of manufacturing ranges from rotary indexing tables, handling systems, and linear assembly systems−providing flexible technology for turnkey solutions that incorporate electronics, mechanical systems, software, and comprehensive engineering support. This enables us to provide pre-installed, intelligent, and highly convenient solutions for the entire field of kinematics.
The content & opinions in this article are the author's and do not necessarily represent the views of RoboticsTomorrow
---
Comments (0)
This post does not have any comments. Be the first to leave a comment below.
---
Post A Comment
You must be logged in before you can post a comment. Login now.
Featured Product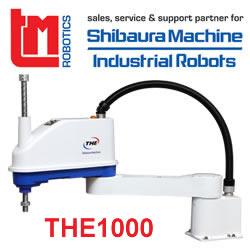 Designed for assembly and inspection applications in the electronics equipment and automobile components industries, the THE600 SCARA is a powerful automation tool. Advancing from the specifications of the existing THE400 SCARA, the THE600 has been developed to meet growing demand for fast-cycle automation. The THE600 model includes improvements in synchronised control and tracking precision. The THE600 is compact in design and offers improved high speed, with 60 per cent higher payload capacity than competing SCARA models in the same price range, making it the price-to-performance leader. Affordable price, impressive performance.