Generation Z is uniquely positioned to take advantage of the surge in the development and implementation of robotic systems that increase productivity and cut costs in a variety of industries.

Danny Kovacs | International Engineering & Technologies, Inc.
Generation Z (those born from mid 90's to early/late 2000's) will be as familiar with robotic automation as Millennials are with computers and the internet. Through our training and career mentorship program, IET is introducing this generation to the wonder of design & engineering so they can be ready to meet the opportunities of this growing market.
Why? Now is the time!
"Gen Z"… is the first truly smartphone-bred generation. They represent the new future (Leslie Gaines-Ross, Gen Z's High Incivility Quotient)."
Digitally speaking, this generation has always been connected. They can pick up quickly when it comes to technology and, when utilized appropriately, have benefited from its advancement.
"Sure, millennials were digital; their teenage years were defined by iPods and MySpace. But Generation Z is the first generation to be raised in the era of smartphones. Many do not remember a time before social media (Alex Williams, NY Times – Move Ove, Millennials, Here Comes Generation Z)."
Generation Z is uniquely positioned to take advantage of this surge in the development and implementation of robotic systems that increase productivity and cut costs in a variety of industries such as automotive, medical device, agriculture, aerospace, distribution, and much more.
Here's why IET is focusing on educating these young adults and developing talent for the robotic automation field:
1) The technology is here to stay
The global market for industrial robotics systems will be worth $45 billion by the end of this decade, according to a new report by Transparency Market Research (TMR). The automation of the fourth industrial revolution is accelerating: By 2018, around 1.3 million industrial robots will be entering service in factories around the world. In the high-revenue automotive sector, global investments in industrial robots increased by a record-breaking 43 percent (2013-2014) within one year (2015 World Robot Statistics, issued by the International Federation of Robotics).
2) Careers in the robotic automation field will continue to diversify
From mechanical designers to controls engineers, maintenance technicians, supply chain analysts and more, this field is and will continue to be in need of talent. At IET, we know this first hand. Our client partners are always willing to look at candidates with industry experience. The earlier they are exposed to this line of work, the better! Additionally, there are many opportunities for robotic process automation (RPA) robots to work alongside human workers as assistants, and knowing this fact will help call for a new work synergy, one between human and robot (Institute for Robotic Process Automation).
3) Global industry leaders are convinced
"The global robot shipments in 2015 confirmed, that these are very exciting times to be in the robotics industry", says Per Vegard Nerseth, Group Senior Vice President ABB. "As we move into 2016, the traditional drivers in our industry are now being complemented by the tremendous demand for solutions related to the Internet of Things, Services and People, all of which lead me to believe that this year will be yet another record year for all concerned (worldrobotics.org)."
"In the age of Industry 4.0, the automotive industry is taking a leading role when it comes to flexible and state-of-the-art automation solutions and the direct collaboration between humans and robots", says Stefan Lampa, President and CEO of KUKA Roboter. "Moreover, the demand for automation solutions is constantly growing in nearly all sectors. New markets are evolving where automation has not been a major topic until now (worldrobotics.org)."
Students – Connect with us! Most employers won't invest time or money to train entry level designers so we created an intensive, paid training platform that equips individuals with real-world project experience and marketable skills.
Parents – Think outside the career box. Encourage your children and teens to explore the world of robotic automation. Have questions? Let's talk.
Educators – Learn about IET's Classroom to Career (C2C) mentorship program that offers a unique collaboration platform to equip students with sought after skills.
The content & opinions in this article are the author's and do not necessarily represent the views of RoboticsTomorrow
---
Comments (0)
This post does not have any comments. Be the first to leave a comment below.
---
Post A Comment
You must be logged in before you can post a comment. Login now.
Featured Product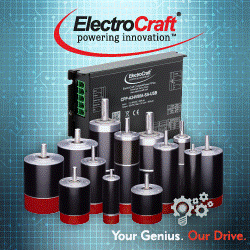 ElectroCraft exhibits its motion control product offer at Robotic related events at trade show and demonstrations across the world. We attend these events and conferences not only to show our motor and drive product offering, but to discuss and learn more about challenges involved with developing commercial robotics across markets.