Bomb robots were designed to help detonate and remove Improvised Explosive Devices (IEDs), not to deliver payloads. But the Dallas police improvised and attached a bomb delivery system to the robot.
The New Police Arsenal – Robots
Len Calderone for | RoboticsTomorrow
On July 7, 2016, an assassin fired at Dallas police officers, killing five and wounding seven, before being contained by the officers in a college parking garage. After a two-hour standoff, the police decided that it was too dangerous for them to assault the shooter. They decided to employ a robot to assist them in removing the shooter. This had never been done before by a police department, although the military had used this technique in Iraq.
The police attached a pound of C4 explosive to an arm of a Northrop Grumman Romotec Andros Mark V-A1 tactical robot using a "claw and arm" extension. An extension arm was damaged by the explosion, but the robot otherwise remains functional.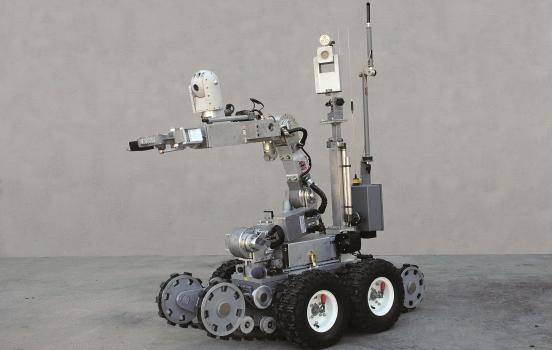 Bomb robots were designed to help detonate and remove Improvised Explosive Devices (IEDs), not to deliver payloads. But the Dallas police improvised and attached a bomb delivery system to the robot.
The pictured robot has a Pan & Tilt camera with LED adjustable white light that can switch to UV. The camera has a 216:1 zoom. The gripper has continuous rotating capability, while the manipulator arm has seven degrees of freedom ensuring optimum dexterity with position feedback. It can climb a 45º incline, or 37º stairs. It has variable speed from 0 to 3+ mph. There is 2-way audio system with weatherproof speaker and microphone.
It's important to understand that the robot was completely under human control. Bomb disposal robots are not autonomous. They need humans to make decisions.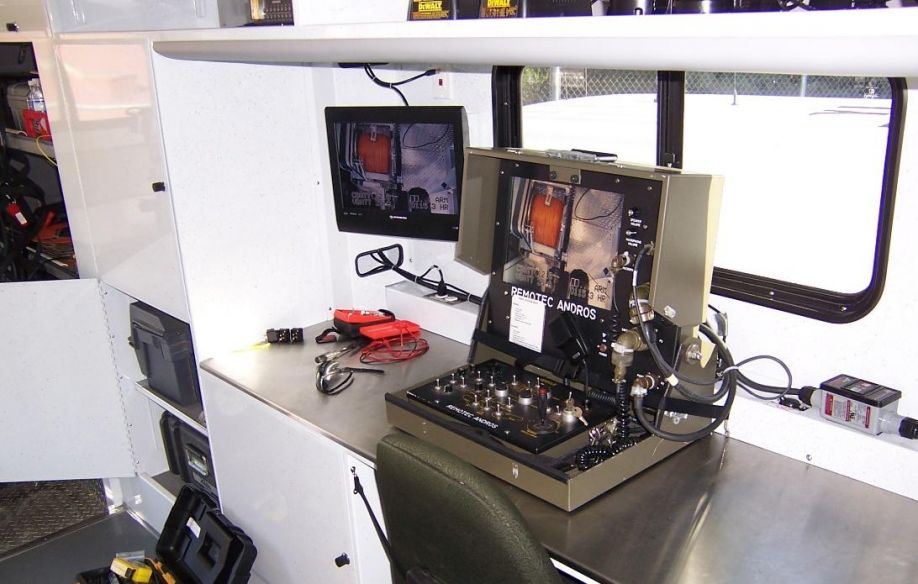 Remotec remote control console
Another very popular robot among the police departments is the Exponent, Inc. MARCbot, which was used by the military in Iraq and Afghanistan. This robot is very popular because of its size, weighing in at 32 pounds. MARCbot stands for multi-functional, agile, remote-controlled robot. It has wheels and is much cheaper than the Romotec ANDROS.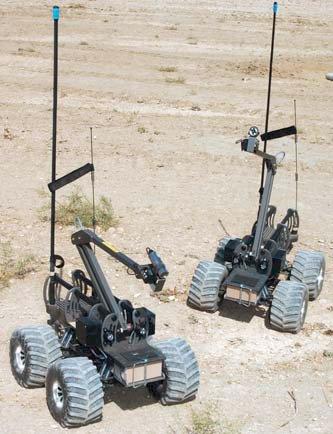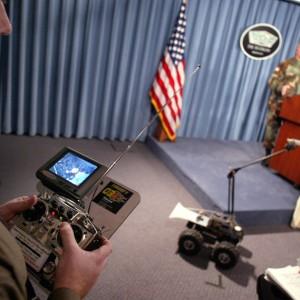 MARCbot in Iraq Remote control system
The MARCbot is 24 in in length with a width of 19.5 in and a height of 13.5 in. Its operational range is up to 980 ft. and it will run for 6 hours on a set of batteries.
Robots in law enforcement are most commonly associated with bomb disposal, but police have also used the robots to handle situations that are too dangerous for officers.
In 2012, the police in Greensboro, North Carolina, used a robot equipped with an audio and video link to communicate with an armed suspect. He was eventually arrested.
Officers in Richland County, Ohio, used a robot to keep track of a robbery suspect during a 9-hour standoff in 2014. They later used the robot to spray the suspect with tear gas, allowing officers to safely enter the building. And during a 2015 standoff in San Jose, California, police used a bomb-disposal robot to deliver a phone and a pizza to a man threatening suicide on a freeway overpass. It must have been good pizza, as the man surrendered.
The next item in the police arsenal is the drone. One of the most significant benefits of a drone is their ability to easily get to places where it would be dangerous for a police officer to go. This includes high buildings and parking structures, as well as active ongoing crime scenes. Attach a camera onto a drone, and the police can get a bird's eye view of the situation without having to rent a helicopter or put themselves at risk.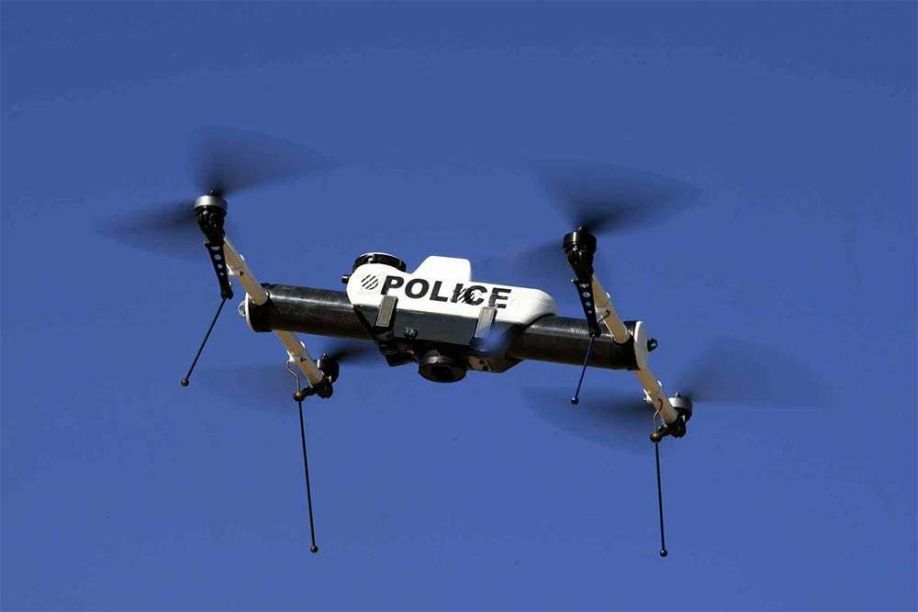 Drones (UAVs) in police work will change the way police officers do their jobs. Drones have been used for surveillance to support missions related to kidnappings, search and rescue operations, drug interdictions, and fugitive investigations.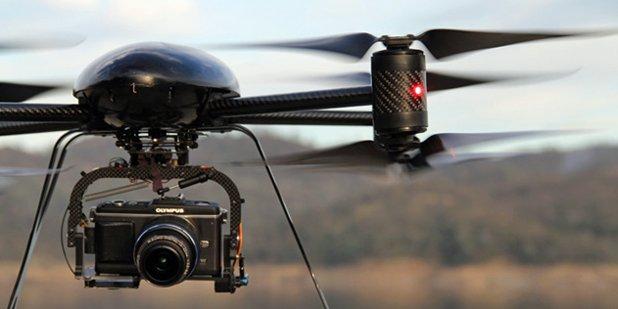 Drones equipped with telepresence technology will enhance hostage negotiations even further. Instead of risking officers' lives by sending a negotiator into a dangerous situation, a drone can be sent with a screen attached to it and still have a face-to-face conversation with the hostage or hostage-taker.
A drone can be used for bomb detection. The drone can find and access potential explosive devices and avoid exposing police bomb squad personnel to possible hazards until the drone can obtain images that would assist the bomb technicians.
With all of the marches that go on today in our cities, a drone would be ideal to maintain order, spot trouble makers and assist people in trouble. Imagine a child missing at a crowded amusement park, a hiker lost in the wilderness, an Alzheimer's patient wandering from home, or a runaway teen hitchhiking her way out of town. Drones equipped with cameras, license-plate readers, and facial-recognition software could one day increase the probability of locating them much faster than ever before. In some cases, time is essential.
Imagine how much crime and killings could be prevented in Chicago if the police used surveillance drones in high crime areas. If drones were outfitted with special spectroscopic sensors, they might even be able to detect meth labs and drug storage sites.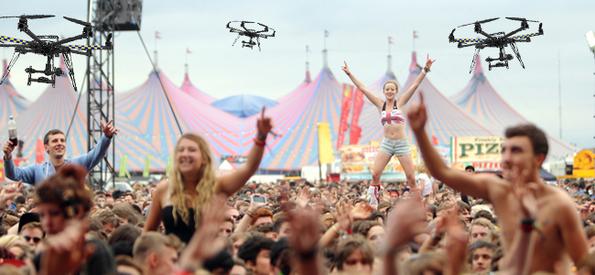 Some officers in law enforcement think there may be a time when drones will need to carry non-lethal weapons, such as tear gas, pepper spray, etc., where a drone will be able to fly into a location where somebody is firing from a concealed position.
As we saw on television nine officers, and at least one civilian, were wounded. Other officers exposed themselves to the gunman when they moved police cars in to protect the downed officers. It is typical for a shooter to wound someone so that he could then shoot those trying to rescue the injured officers.
If the Dallas PD had a Robocue, which can be remote-controlled, they could have used this robot to pull victims inside the robot's body via a conveyor belt and a manipulator arm, while protecting the wounded. The Robocue is equipped with a number of sensors and cameras and can be used as far away as 100 yards from the operator.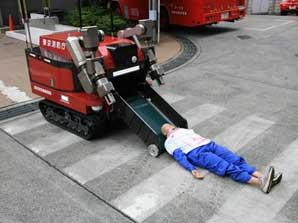 ReconRobotics, Inc. is the world's leader in tactical micro-robots and remotely deployed sensor systems. It has sold its Throwbot® XT and Recon Scout® XL micro-robots to police agencies in Michigan, Texas, Illinois, Georgia, New York, California, the United Kingdom and the Netherlands. It's a simple, personal system that weighs one pound and enables law enforcement to remotely deploy video, infrared and audio sensors to reveal hidden threats.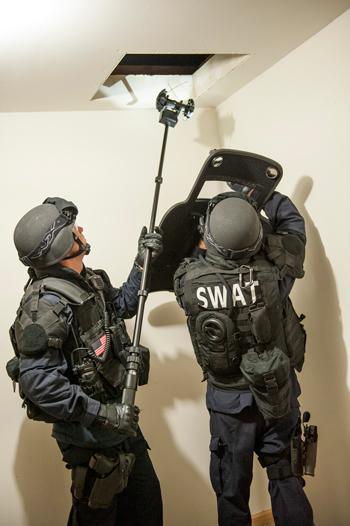 The Throwbot® XT is, pound-for-pound, the most versatile, robust, stealthy and easy-to-deploy tactical robot system in the world. It is water and dust resistant and has a personal sensor system for tactical operators. It weighs just 1.2 lbs. and can be thrown up to 120 feet. The sensor is also exceptionally quiet, operating at just 22 decibels; and it is equipped with an infrared optical system that activates automatically when the ambient light is low, enabling the operator to see in complete darkness.
Once deployed, the micro-robot can be directed by the operator to quietly move through a structure and transmit video and audio to the handheld Operator Control Unit II. These stealth capabilities can be utilized to locate armed subjects, confirm the presence of hostages or innocent civilians, listen in on conversations, and reveal the layout of rooms. This information that can save lives and increase the success of high-risk operations.
A fully autonomous robot officer is already in the works. The Knightscope K5 does not carry weapons but serves as surveillance robot. It has facial recognition and scans 1,500 license plates per minute. It captures audio and 360-degree video, while testing the air for chemicals. It can map its surroundings with 3D radar and laser. Most importantly, it can learn to differentiate suspicious actions from normal activities.
When the K5 sorts all this data and detects what it perceives as trouble, it alerts local authorities.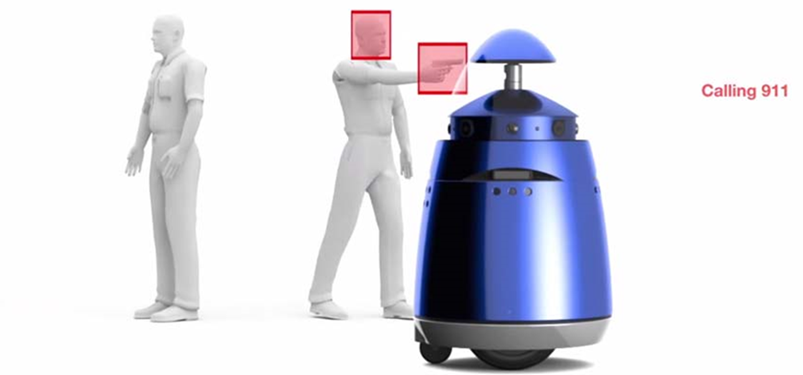 The content & opinions in this article are the author's and do not necessarily represent the views of RoboticsTomorrow
---
Comments (0)
This post does not have any comments. Be the first to leave a comment below.
---
Post A Comment
You must be logged in before you can post a comment. Login now.
Featured Product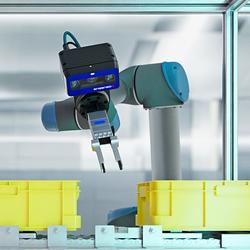 IDS NXT: a platform for a new generation of vision systems for industrial applications. It lays the groundwork to provide easy-to-use yet flexible complete systems that can be used to implement all steps of a vision solution. With IDS NXT ocean, a complete solution especially for AI-based image processing is now available. It allows to solve tasks where classic, rule-based image processing has reached its limits - without any programming effort.