You need an AGV solution that will grow with your company, adapting to your changing industry and taking on the challenges you face as your business grows.
18 Questions to Ask Your AGV (Automated Guided Vehicle) Vendor: Part 1
Lindsay Derda | Seegrid
Reprinted with permission from Seegrid:
Manufacturers are increasingly turning to automation to solve their materials handling challenges. But as many are realizing, not all AGV companies are alike. The various AGV solutions on the market have vastly different degrees of flexibility, scalability, and infrastructure requirements. Before investing in automation, be sure to ask your AGV/AGC vendor these important questions.
Does Your AGV Vendor...
Have evidence of fleets operating in real world facilities?
Step into any manufacturing or distribution trade show, and you'll see AGVs easily navigating around booths using tape, lasers or various other types of infrastructure. While it's certainly an impressive sight, it's a little trickier to navigate a narrow plant aisle packed with humans, forklifts, and other robots.
Before you determine which AGV vendor to partner with, it's important to see the product in action. At Seegrid, we encourage potential customers to visit a reference customer's plant. We appreciate the value in witnessing real life applications of the technology you're thinking about implementing in your own facility. It's important to assess whether your vendor has fleets of vehicles working every day in complicated, real world environments. If your AGV vendor can't prove this real world experience, you take on a significant amount of risk in implementing an unproven product in your facility.
Provide a list of reference customers?
If you've only seen your potential vendor's AGV navigate a trade show booth, there's a chance they're still working off a prototype. Many robotics companies don't have end user customers at all. To mitigate the risk associated with purchasing an untested product, ask your vendor for a list of reference customers. Better yet, ask if you can tour one of their facilities.
Give plant tours where robots are already hard at work?
We'll be the first to admit it—there's nothing like seeing a fleet of our VGVs flawlessly navigating a busy plant floor. By visiting a plant where robots are already hard at work, you'll reap the benefits of speaking to your peers about the specific challenges they've faced, and how they've solved them with autonomous vehicles. You'll gain a better understanding of the applications and workflows that companies similar to yours have deployed, and what exactly that would look like in your own plant. This conversation with your peers provides reassurance and helps to eliminate the risk associated with automation.
Have a team of engineers and roboticists from top universities?
Behind every leading technology is a team of top talent. AGV companies are no exception. It takes the best and the brightest in robotics and engineering to build, support and continuously innovate in the AGV industry. Your AGV vendor should have a solid team behind it to support the implementation, day-to-day running, and future expansion of your fleet. Before investing, check that your AGV vendor has the type of culture that attracts and retains leading roboticists and engineers. At Seegrid, we've found that the opportunity to work with renowned roboticist and Seegrid founder Hans Moravec (father of A.I.) is a large draw for the best of the best from Carnegie Mellon, Stanford, and MIT. And our catered lunches don't hurt!
Provide solutions that scale across applications and facilities?
When selecting an automation vendor, it's important to consider not only your current needs, but future applications as well. You need an AGV solution that will grow with your company, adapting to your changing industry and taking on the challenges you face as your business grows.
If you're considering a solution with lasers, wires, magnets or tape, you can expect to pay a hefty fee for your AGV vendor to retrain the robot any time you want it to follow a new route. Thus, infrastructure-based solutions are unrealistic for the many manufacturers and distributors who routinely experience peak seasons and new product launches. Conversely, vision guided vehicles can be retrained in-house in minutes. Because they are 100% infrastructure-free, VGVs can handle extensive environmental change, allowing them to be moved from one work process to another, or from facility to facility to handle peak seasons or expansions. This type of flexibility saves you from risking time and money—now and a year from now—as your business continues to grow.

About Seegrid
Seegrid, the pioneer and leader in three dimensional vision navigation, provides unique and revolutionary automation technology for materials handling. Engineered with state-of-the-art Seegrid Vision, industrial trucks are transformed into the next generation of AGVs: vision guided vehicles (VGVs).
VGVs navigate without wires, lasers, magnets, or tape, and deliver unmatched flexibility. Designed for simplicity and reliability, the Seegrid flexible automation solution is offered in a line of pallet trucks and tow tractors. Experience the maximum benefits of VGVs with Seegrid Supervisor to manage, monitor, and control a fleet of vehicles in context of your operation.
The content & opinions in this article are the author's and do not necessarily represent the views of RoboticsTomorrow
---
Comments (0)
This post does not have any comments. Be the first to leave a comment below.
---
Post A Comment
You must be logged in before you can post a comment. Login now.
Featured Product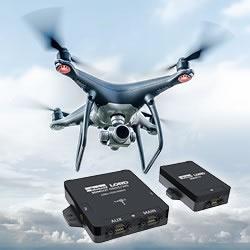 The new complete inertial navigation solution comes with GNSS/INS 3DMGQ7 sensor, 3DMRTK correction modem and real time SensorCloud RTK correction network. The sensor comes with Dual antenna GNSS, tactical grade IMU with centimeter-level accuracy with RTK. Low profile and light weight at 78 grams, this sensor is The sensor is optimized for size and weight in Unmanned Ground Vehicles, mobile robots and autonomous vehicles. The network interface 3DMRTK modem is seamlessly integrated into the 3DMGQ7 sensor supports industry-standard NMEA and RTCM 3.1 protocols. The network RTK support comes with cellular data plan. The SensorCloud RTK is a cloud-based RTK correction system with private encrypted data stream. Check out our G Series and C Series OEM products.