We must educate and evangelize to bust the myths and show what automated business processes can do. The technology is ready – now we have to show the world its value.
The Robotics Industry Must Overcome the Awareness Gap
Neil Kinson | Redwood Software
The robotics industry has come a long way. Where once we thought solely about mimicking human actions with machines, we are now capable of automating entire business processes to drive a business forward. Whether it's a finance department, a HR team or a supply chain, automation can add an unprecedented level of value.
Unfortunately, public perception of this revolution has lagged. In a recent survey Redwood Software research conducted with Shared Services Link, 97% of respondents were confident that robots can automate the mundane stuff – data entry, and other manual tasks. When the level of complexity went up, confidence fell. Only 52% felt that robots could "understand basic finance processes," and less than a third felt it was possible to automate 80% plus of company finance processes.
These stats are a wake-up call for the robotics industry. If we are going to realize the vast value of robotics, we need to address this education gap and overcome a longstanding myth: that robots will always replace people, and so can never move beyond the most basic tasks.
ROBOTICS: WHAT IT IS AND WHAT IT IS NOT
Let's start with the basics: what is robotics? Everyone has an answer, but many are missing the big picture.
The Institute for Robotic Process Automation defines enterprise process robotics as the application of technology that enables employees to configure computer software, a "robot", to catch and analyze existing applications for manipulating data, processing a transaction or triggering responses and communicating with other digital systems.
This definition is the beginning of what robotics can do, not the limit. Enterprise robotics doesn't just switch a human being for a piece of software: it lets us reimagine an entire process. A human being is by definition tied to a user interface. By contrast, the next generation of software robots will communicate directly with applications at the server level and communicate directly with core ERP and other business system. That means that the new generation of software robots are able to see and understand a process from beginning to end, with complete knowledge of finance, supply chain and HR processes from the moment they are turned on.
For a service professional, that means they get a more complete, effective automation of their processes. If they're looking to gain efficiencies, scale or reinvent their entire business, the software robot offers a degree a flexibility and skill that no human being could offer.
So why don't people know about it?
ADDRESSING THE OBJECTIONS
For the services professional, skepticism about the value of process automation boils down to a simple point: they think it's too good to be true. Sure, it's possible that automation will yield great results – but isn't there a massive risk that I'll lose control of my department by incorporating automation? I know how to manage my team – how do I keep control of a faceless piece of software?
This is a natural concern, but it's a misguided one. Automation of processes yields a vast amount of data, and allows the user to intervene at any step throughout the process. In other words, an automated process is significantly easier to control than one run by humans.
To take one example, look at the financial industry. End-to-end process robotics means you can capture all human, robotic and system activity, yielding a comprehensive audit trail, complete with documentation. Furthermore, built in business rules remove the need to micro-manage. Robotized processes are self-managed but users can still monitor progress, as well as review and trigger actions whenever necessary. For anyone who has had to run an accounting team, they know the value process robotics offers them in terms of relief from minor tasks, and lowering compliance risk.
As an illustration, Redwood recently worked with Royal DSM, a Dutch multinational focused on health and nutrition, to improve the efficiency and performance of its finance team. Each month, Royal DSM Financial Shared Services (FSS) team were carrying out a staggering 485,000 manual tasks for monthly close. Royal DSM worked with Redwood, targeting a 60% automation rate. By the end of the project, robotics had exceeded expectation, achieving an 89% automation rate. This not only improved efficiency, but it freed up the finance team for more strategic analysis.
Beyond the practical concern regarding control and efficiency, there is the more existential worry that robots will take away people's jobs, leading to automated offices and legions of unemployed professionals. This techno-anxiety has existed for as long as there has been automation. The fact is that automated processes help drive economic growth and job creation. The economies of the United States and the United Kingdom show zero sign of a surge in unemployment, even as the robotics industry grows ever more sophisticated. Robotics will certainly displace some jobs, but they will create far more, and they may even yield greater job satisfaction, thanks to the move away from dull, repetitive processes.
A NEW DAWN FOR ROBOTICS
Long gone are the days of manual time-consuming labor to ensure efficient core business processes are carried out. Enterprise process robotics provides accuracy, speed and consistency that businesses need in the competitive global marketplace of today, without unnecessary manual intervention. The organizations that will remain competitive in the fourth industrial revolution will be those who welcome the robotic revolution with open arms.
But the robotics industry can't just sit back and wait for the business world to come to us. We must educate and evangelize to bust the myths and show what automated business processes can do. The technology is ready – now we have to show the world its value.
Neil Kinson, Chief of Staff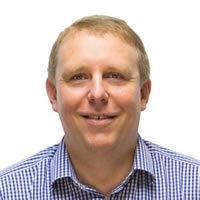 Neil Kinson currently holds the role of Redwood's Chief of Staff where he is tasked with leading a number of the company's global strategic initiatives, as well as the European business. Calling on more than 25 years' of experience building partnerships with clients to accomplish complex business and IT goals, it's a role he is fulfilling with great aplomb.
A long time before joining Redwood, Neil began his management career at Xerox where he worked for 14 years. Next he joined the EMEA leadership team at OpenText where he collaborated at the highest level with some of the largest enterprises in the region including British Telecom (BT), The British Broadcasting Company (BBC) and Barclays in the United Kingdom.
And if all of that wasn't impressive enough, Kinson has also worked closely with The European Aeronautic Defence and Space Company N.V. (EADS), Alcatel Lucent, Telefónica and the Saudi Basic Industries Corporation (SABIC) on high-profile projects.
His goal at Redwood is to ensure the delivery of outstanding business outcomes enabled by Enterprise Process Robotics.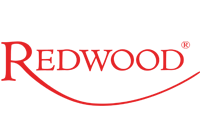 About Redwood Software
We founded Redwood Software in 1993 with a single minded mission - to help organizations eliminate the costs, risks and wasted time associated with manual tasks. We robotize all processes within R2R, O2C, P2P and those within Human Capital and the Supply Chain. Today, more than 3,000 customers worldwide use Redwood's solutions to automate their business processes. Give us a call to find out what we can do for you.
The content & opinions in this article are the author's and do not necessarily represent the views of RoboticsTomorrow
---
Comments (0)
This post does not have any comments. Be the first to leave a comment below.
---
Post A Comment
You must be logged in before you can post a comment. Login now.
Featured Product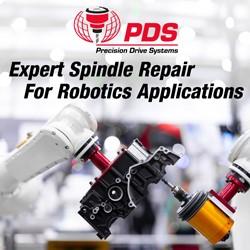 Precision components machined by CNC robot machining systems require compact, lightweight, and high-speed motorized spindles capable of delivering higher efficiency, performance, and reliability than those used in many other industries. That's why manufacturers of milling, cutting, trimming, grinding, polishing, and deburring trust Precision Drive Systems (PDS) to provide accurate and dependable spindle repair to perform to the most exacting standards.