UL and Shell collaborate on a robot that performs inspections in the most challenging environments.
Innovative Robotic Technology Improves Safety in Hazardous Locations
Contributed by | UL LLC
In a concerted effort to make oil exploration safer, Shell designed a robot (video) for use in hazardous locations and collaborated with UL for safety certification. Sensabot, as it's called, monitors equipment, carries out inspections and performs maintenance tasks in potentially explosive atmospheres. The robot was designed to operate remotely in harsh environments, helping workers avoid health, safety and environmental risks.
Sensabot, which is equipped with video cameras, laser scanners, environmental sensors, vibration sensors and more, can operate in extreme temperatures and in potentially explosive and toxic environments. This innovative robot provides a more rapid and effective response for routine maintenance issues and emergencies. Effectively, Sensabot should reduce the downtime needed for inspection and repairs.
Without the creation of the robot, hazardous locations are usually shut down either for an inspection or completion of regular maintenance. And, if something needs to be repaired, additional down time is usually required which equates to loss in profits.
The robot was designed for harsh environments such as those of an oil field, with a high level of hydrogen sulfide, which is highly toxic and flammable. This gas makes the area challenging for on-site oil and gas workers.
Because of UL's extensive knowledge of available materials (tires, paint, etc.) and over 100 years of expertise with hazardous locations, UL joined industry experts to help ensure that the building process was efficient and safe. OEMs (original equipment manufacturers) were asked to design parts, resolve issues with design equipment, and determine how these parts fit into the overall assembly of the robot. Sensabot uses the following hazardous locations methods of protection: flame proof, encapsulation, increased and intrinsic safety.
UL used its expertise to help develop the certification guidelines and the necessary testing for IECEx certification of the robot. IECEx certification is an adherence to the International Electrotechnical Commission requirements, which states that the equipment conforms to the requirements for the various protection techniques in a potentially explosive atmosphere.
The plan for Sensabot: The robot will reside on an unmanned oil platform and will perform routine maintenance checks and inspections. A technician can remotely maneuver Sensabot out of its charging kennel to look at an area causing issues; conduct inspections; or monitor equipment— all in an effort to avoid presenting an unneeded health risk to an employee. The Sensabot can go anywhere at any time without the need for additional protection.
Sensabot will undergo final testing at Shell's Pernis complex in the Netherlands before being available for deployment at several of the company's operated and non-operated ventures. These could include facilities in remote harsh environments, as well as in specific roles in refineries, chemical plants, and LNG terminals.
The content & opinions in this article are the author's and do not necessarily represent the views of RoboticsTomorrow
---
Comments (1)
Now doesn't this make sense! I mean, I'm pretty sure that if the situation called for it, someone would physically have to get themselves into that dangerous situation to handle the problem, but as a first arriver and a scout, a robot could easily diagnose the issues and help people to figure out what's going on and get a better angle on the situation!
Post A Comment
You must be logged in before you can post a comment. Login now.
Featured Product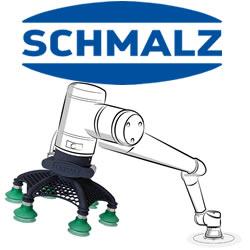 In order to interact with their environment and perform the tasks, lightweight robots, like all industrial robots, depend on tools - and in many cases these are vacuum grippers. These form the interface to the workpiece and are therefore a decisive part of the overall system. With their help, the robots can pick up, move, position, process, sort, stack and deposit a wide variety of goods and components. Vacuum gripping systems allow particularly gentle handling of workpieces, a compact and space-saving system design and gripping from above. Precisely because the object does not have to be gripped, the vacuum suction cupenables gapless positioning next to each other.