Automation in the pharmacy for IV drug compounding is still in its infancy.
Automation in IV Pharmacy Compounding
Marino Kriheli | Equashield
Is automation a common practice in IV pharmacy compounding? Why not?
Automation in IV pharmacy compounding has been around since the 1990s with introduction of the first Syringe filling robots. However, these systems do not provide a comprehensive solution to hazardous drug compounding. They tend to have a large footprint, are often cumbersome while operating, and do not easily integrate into a pharmacy's compounding workflow. Additionally, these systems are better at batch compounding of IV fluids versus patient-specific doses. The majority of these systems do not prevent drug leakage, require time-consuming measuring procedures, rely on cumbersome robotic arms, which further reduces productivity, and are unable to handle a variety of medications in a variety of final dosage forms.
Why are requirements for chemotherapy compounding different than other types of products?
NIOSH – National Institute of Occupational Safety and Health, a division of Center for Disease Control (CDC) issued an alert in 2004 confirming a long standing belief that compounding drugs such as Antineoplastic/chemotherapy can be hazardous to those around them, and exposure to such drugs can lead to a range of complications – from skin complaints and fertility issues, to miscarriages and cancer. NIOSH has since recommended the use of Closed System Transfer Devices (CSTDs), in addition to the use of sterile cabinets and personal protective equipment, when compounding such drugs. NIOSH further defined a CSTD as one that mechanically prohibits the transfer of environmental contaminants into the system and the escape of hazardous drug or vapor concentrations outside the system.
Additionally, US Pharmacopeia has realized the unique hazardous nature of chemotherapy drugs and has released a new chapter for the regulation of engineering and supplemental controls required while handling hazardous drugs. Under the USP 800 regulation that will go into effect in July 2018, facilities are required to use Personal Protective Equipment and use a Closed System Transfer Device (such as Equashield) when delivering drugs to patients.
What is a CSTD robot and how does it work?
A closed system robot is an automated compounding system, specifically designed around Closed System Transfer Devices to provide an additional layer of protection for the healthcare worker. Drug vials are positioned in the insertion compartment, while the Equashield CSTD syringes are placed on a convoy and IV bags are locked into dedicated stands. The dose verification software identifies the correct drug vials for compounding. A syringe pump then collects the corresponding syringe to withdraw the required drug volume for injecting into the final container. The incorporation of Closed System syringes prevents the escape of any drug residue or vapor. Equashield® Pro is currently the only such system on the market.
How is Equashield Pro different than current product offerings on the market?
Current automation systems have a few drawbacks:
Current systems rely on the use of regular needles and syringes to compound chemotherapy doses. Per upcoming US Pharmacopeia (USP) requirements, USP 800, use of CSTDs is required for drug administration. Equashield® Pro is the only robot today that combines CSTD protection and requirements with high speed compounding. The adoption of robots in chemotherapy is fairly low for this reason.

Current systems rely on one or two robotic arms that mimic the motion of human arms. This is highly inefficient as the automation systems can only compound a small number of doses, creating a bottleneck during peak hours. Equashield® Pro on the contrary, uses only x, y and z motions to pick and place drugs and moves them from station to station to allow for an efficient work flow and optimized throughput, much like an assembly line. In fact, the Equashield® Pro can compound eight chemotherapy doses simultaneously requiring a shorter time per dose compared to current systems that rely on traditional compounding arms.

Many systems on the market today require significant renovation to accommodate a robot. The added cost and burden of renovation has made installation of robots less attractive for health care facilities. Equashield® Pro is compact enough to be integrated in existing pharmacies without the costly need of retrofitting compounding rooms.

Current systems on the market range in cost from $500K to up to $2M depending on the machine. Such high acquisition costs, compounded with pricy maintenance contracts have made the uptake of current systems very limiting. Equashield® Pro is aimed at bringing the acquisition cost of robotic capital equipment significantly lower to allow more facilities to transition into the world of automation.

Most Systems on the market today are designed to batch produce the same drug to maximize efficiency. However, chemotherapy doses are highly patient specific and dosage depends on the patient's metrics. The throughput of current systems slows down significantly when compounding patient specific dosing.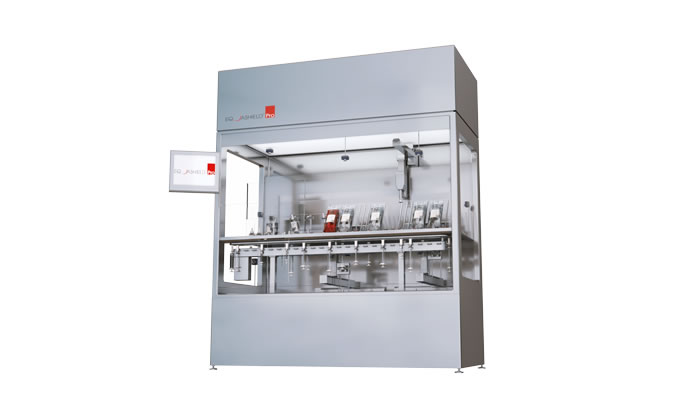 What are the 5 key benefits of this system?
5 Key Benefits include:
Hazardous drug protection with use of Equashield's leading CSTD tested for leak-free connection and fully closed air tight system provides an additional layer of protection for the healthcare worker against hazardous drug leakage.

High throughput to meet a hospital's compounding needs during peak time, enabling them to optimize patient care without sacrificing scarce resources. Equashield® Pro is able to perform the equivalent of an entire day's worth of drug compounding in just one hour.

Medication error protection with use of Equashield's proprietary dose verification and integrated image processing systems to prevent wrong drug, wrong dose and labeling errors throughout the compounding process.

A small footprint to fit into existing pharmacy space. Equashield® Pro is comparable to the size of a standard Biological Safety Cabinet limiting structural investments needed to fit a robot into existing space.

A cost-effective solution to fit into any pharmacy budget, with a low capital acquisition cost. Additional cost avoidance from expensive renovation costs and expensive maintenance
When will this be introduced?
The Equashield® Pro was first introduced at the ASHP (American Society of Health-System Pharmacist) Mid-Year Clinical meeting in Las Vegas, Nevada on December 5th 2016. This is one of the largest gathering of health-system pharmacists in the US with expected attendance of over 20,000 pharmacy professionals from around the globe. The Equashield® Pro will also be showcased at the 22nd Congress of the EAHP (European Association of Hospital Pharmacists) in Cannes, France from March 22nd to 24th, 2017.
Can you educate us about other developments in pharmacy systems that we may see in the near future?
Automation and work flow optimization software will play a key role moving forward. The direct and the larger indirect costs associated with medication error prevention has gained traction. Hospitals and healthcare facilities have transitioned from paper-based records to electronic medical records (EMRs) over the last decade. In the last 5 years, BCMA (Bar Code Medication Administration) and CPOE (Computerized Physician Order Entry) have integrated with these EMR systems to reduce the occurrences of medication errors. Since most drugs are still compounded by pharmacists manually, a large opportunity for medication error remains. Automation, like Equashield® Pro, will help in reducing these opportunities for error. Additionally, dose verification systems for IV Drugs for manual compounding to enhance pharmacy workflow have taken center stage, and will fill the gap between now and when robotics are fully adopted for the pharmacy.
How do you see robotic systems evolving in your industry over the next few years?
Automation in the pharmacy for IV drug compounding is still in its infancy. There have been several robotic armed compounders, but all have proven to be inefficient. Equashield® Pro's novel linear compounding system is an emerging way for compounding IV drugs (especially patient-specific doses). With Equashield® Pro, we are touting the compounding of eight parallel doses, giving us a throughput several fold beyond the current industry average. However, we are just scratching the surface; we believe that with continuous process improvement, the throughput can be significantly expanded. We are the only system on the market that has a working model of such methodology, making us poised for success in the marketplace.
Marino Kriheli, Co-Founder, Equashield
Marino Kriheli has some twenty years' experience in industry project management, in both the industrial engineering and medical device manufacturing spaces.
In 2010, Marino co-founded Equashield, a leading provider of a full range of manual and automated solutions for the compounding and administration of hazardous drugs. Equashield has recently entered the robotics space with Equashield® Pro, the industry's first closed system drug compounding robot.
Prior to founding Equashield, Marino co-founded medical device manufacturer Plastmed, an OEM for Johnson & Johnson.
The content & opinions in this article are the author's and do not necessarily represent the views of RoboticsTomorrow
---
Comments (0)
This post does not have any comments. Be the first to leave a comment below.
---
Post A Comment
You must be logged in before you can post a comment. Login now.
Featured Product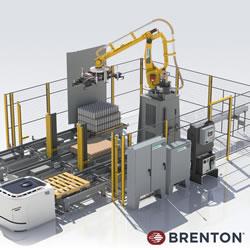 Brenton is a leader in robotic solutions with standard product offerings including palletizing and depalletizing for efficient an option for carrying hard-to-handle products, as well as larger scale systems with an optimized footprint; and case and carton loading solutions for numerous industries. In addition, Brenton works with customers on integrated solutions, offering robotics in a broad spectrum of robotics to fully integrate end of line systems. Brenton helps packaging customers protect their reputation and grow the trust of their consumers.