Although some experts fear that rules and regulations might limit innovation, most see this step by the Federal government as a clear sign of validation for the imminent future of automated automotive transportation.
Rules of the (Driverless) Road: How Federal Guidelines Will Impact Innovation
Jim Rock | Seegrid
Reprinted with permission from Seegrid:
Last year, The US Department of Transportation and the Obama administration unveiled the first-ever Federal guidelines safety checklist for semi and fully autonomous cars, and reactions are flooding in from both Detroit and Silicon Valley as auto manufacturers and tech giants decide what these benchmarks mean for the future of driverless transportation. Although some experts fear that rules and regulations might limit innovation, most see this step by the Federal government as a clear sign of validation for the imminent future of automated automotive transportation. The fact is, the rules had to come at some point. The nature of the administration's announcement, though, should instill optimism in those of us working daily to innovate in autonomous vehicle movement.
ASSESSING THE GUIDELINES
The guidelines afford us a glimpse into the future by clarifying the scope of what will be allowed and what won't. But it's worth asking: now that the government has stepped in, how will these regulations be implemented and to what effect? Those working in the autonomous space (tech companies, suppliers, automotive companies) see the range of feasibility with regards to the federal guidelines. Some of the guidelines will be a challenge to implement; of the fifteen points on the checklist, these are the highlights ranging from most feasible to I'll-believe-it-when-I-see-it:
Those checkpoints that focus on making the autonomous systems safe are the no-brainers. These are the guidelines consumers want and need when it comes to driverless vehicles.
The guidelines regulating data sharing may be difficult to enforce, considering developers may try to limit the information collected, but this open disclosure could help create a more open community of researchers, driving innovation via shared insight.
Then there are guidelines that are less feasible (at least for now). The points on the federal checklist calling for full disclosure of AI systems with regards to decision making: they haven't been developed (yet).
LISTENING TO THE FEEDBACK
Aside from the feasibility of enforcing these regulations, we have to consider how regulation will impact innovation. The hope will be that the guidelines will, for lack of a better word, guide – not prohibit or hinder innovation.
One silver lining to note is that because these are federal guidelines, they will not vary from state to state. This is a gift for automation innovators because it means adhering to just one national standard as opposed to trying to navigate 50 disparate sets of regulations. The major tech and auto players agree that state and local governments should support the federal guidelines:
Google, Uber and Lyft, through a trade association in which they are members, also hailed the guidelines. "State and local governments also have complementary responsibilities and should work with the federal government to achieve and maintain our status as world leaders in innovation," said David Strickland, general counsel for the trade group, Self-Driving Coalition for Safer Streets. –New York Times
Ford, which is targeting fully autonomous vehicles by 2021 for ride-sharing, said in a statement that the guidance "will help establish the basis for a national framework that enables the safe deployment of autonomous vehicles. We also look forward to collaborating with states on areas that complement this national framework." –New York Times
Honda's (HMC) American Honda said it "welcomes NHTSA's leadership in providing federal guidance regarding on-road usage of connected and automated vehicles. Nationwide consideration of this guidance will help avoid a patchwork of differing state regulations and enable all automakers to continue rapid advancement of ongoing research in this area. Ultimately, this will bring these safety and convenience technologies to market more quickly for consumers." –Fox Business
DRIVING INNOVATION FORWARD
Automated, driverless vehicles are the future. But not futuristic. While the general public sees this as cutting-edge technology, the manufacturing and supply chain industry has been working with automated robots and driverless vehicles for many years. Even facing heavy regulation, the mobile robotics and automated machinery industry has advanced exponentially to the point where it is today.
Considering workplace environments are highly regulated – OSHA regulates everything relating to autonomous vehicles in the workplace, from seatbelts on industrial vehicles to restriction for driverless vehicles in human environments – innovation has continued to thrive.
We predict that the same scenario will play out when it comes to regulations for driverless automobiles.
The regulations passed down by the Department of Transportation are a clarion call for the driverless industry. Regulations from the top down aim to ensure safety and not prohibit innovation. Those hoping to lead us into the future have a right to be skeptical of restrictions. But the burden of proof is on developers. Just as regulations adjusted over time within the manufacturing industry so, too, will they develop, evolve and hopefully improve the relationship between automated robot and the humans that create them.
The content & opinions in this article are the author's and do not necessarily represent the views of RoboticsTomorrow
---
Comments (0)
This post does not have any comments. Be the first to leave a comment below.
---
Post A Comment
You must be logged in before you can post a comment. Login now.
Featured Product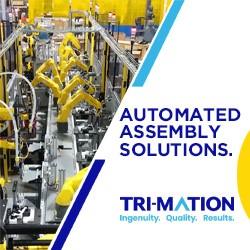 Tri-Mation reduces labor costs, improves accuracy, and production speed. Our integrators specialize in building automated assembly manufacturing systems for part production in any required volume or level of complexity.