The Japan Science and Technology Agency (JST) supports the creation of ventures by young researchers / College students in IOT and Robotics. This year Nine teams with product ideas on IoT and four teams on robotics were selected for 2017 government funding.
9 IoT Robotic Products Are Ready to be Introduced in the Market in Japan
Junko Nirmala for | RoboticsTomorrow
The Japan Science and Technology Agency (JST) supports the creation of ventures by young researchers / College students in IOT and Robotics. This year Nine teams with product ideas on IoT and four teams on robotics were selected for 2017 government funding. Demonstration/ presentation of the prototypes were held on March 9th 2017- in the electronic town of Tokyo; The Akihabara.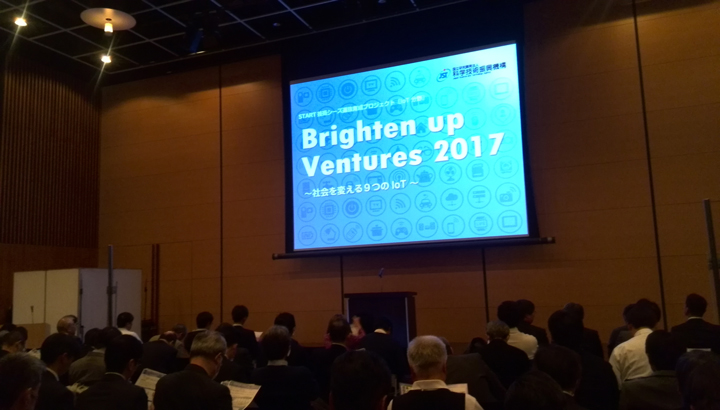 Since 2005 JST has been promoting "Research achievement development projects from universities to create new industries the program is called as (START)" , START program has vigorous selection process and multiple rounds of presentation before a team/researcher or product prototype is selected for funding every year. Post the selection of teams and products each year a public demonstration is held to further raise the awareness and or seek collaborations for commercialization of products, mass productions and other strategies of go to market including raising big investments.
As per the Spokes-person of JST; Last year the aspect of the product "robot" only was the approach. This year not only the product itself, but also for the purpose of expanding the service and the whole business such as connecting data to the network, analyzing and utilizing data were criteria for the selection.
In Japan it is hard to see any robot currently connected to the network and utilize the data in real time , thus expanding the scope , to combine the IOT and Robotics will help much more business-oriented products for future and more consumer -friendly.
The selected products/ideas for this year are:
In the Health care topic; Product called "WAISTON Belt developed by Nara Institute of Science and Technology. The WAISTON BELT provides Health maintenance support IoT device based on automatic abdominal girth measurement and posture / behavior estimation.
In recent years, obesity and its accompanying diseases caused by disorder of people's lifestyle have become more serious. Thus the importance of obesity prevention and improving lifestyle is also increasing. Focusing on the problem and opportunity , this team had developed a belt mounted type IoT device "WAISTON Belt". as people usually wear belts. WAISTON Belt recognizes the user's stomach and daily activities and attitudes, and gives advice such as "Let's walk a little" or "correct posture" from the dedicated smartphone application. This aims to promote a change in behavior such as "people notice their own bad habits and improve their lifestyles with their own hands" to deliver a healthier daily life. The WAISTON Belt team is hoping to strike the collaboration with fitness club chain to introduce the product in the market.
In the same Health Support Service category ; Ochanomizu University Graduate School students had developed IoT type Real-time Walking Monitoring Device that actually goes into shoes and can detect daily walking in real time by mounting a sensor in the insole.
To solve the troubles of those who have problems with foot and walking, those who are struggling to find their postures with shoes. This product mechanism makes it possible to visualize feet evaluation obtained from daily walking data with a smartphone or tablet and to be aware of the walking balance. The team also calls this impact as "walking science" that can be aware of how to carry better feet in daily life for health improvements.
On the topic of Mobility; Osaka University team had developed multi-copter system for long-lasting flight.
The short flight time of the drone due to the short duration of the battery is a major factor impeding the expansion of the drone market. In particular, this task is fatal in observation work at a disaster site where people can not easily approach. Therefore, in order to solve this problem, the team developed an aerial battery exchange system for drone. The replenishment drone is the world's first technology to realize a long and continuous flight of the observation drone by exchanging the exhausted battery and the charged battery of the observing drone in flight in the air. Pass the cable between the two drones and deliver the battery directly via that cable, realizing safe and quick exchange. Industrial drone, which was able to fly for only a short period of time as short as 30 minutes in the past, can realize a long-term and continuous observation work by installing this system and great impact on the market can be expected. Especially in industrial drone operation environment where it is difficult to land such as on a disaster site or on the ocean, or during an inspection work of nuclear power generation facilities, offshore power generation facilities, etc. This type of an aerial battery exchange system for drones will be an added value.
Other products demonstrated during the event were:
"Development of community care system for elderly people and home carers in remote islands" by Kagawa Technical College
"Skin health monitoring ultrathin film" by Waseda University Graduate School
"Development of autonomous information collecting terminal applying flapping flight control technology" by Waseda University Graduate School
"Development of driver status monitoring device using physiological / physical information" By Toyohashi University of Technology
"Smart device location tracking system in large-scale indoor facilities" by Kansai University
"Development of a high resolution scanner that efficiently digitizes small films" by Tokyo University of the Arts.
Along with the demonstration of products ; the event also had presentations and seminars by mentors of the project, investor companies and college professors. The public visitors were huge for the one day event as a matter of fact that Akihabara is electronic town that now a days is home for all sorts of sensor based devices and consumer robotics and so on, perhaps the organizers are eyeing to create a awareness while the product is demonstrated pre-launch.
About Junko Nirmala
Junko Nirmala is a Tokyo resident with 17 years of Professional experience in Technology and business consulting services. Her diverse background includes Advisory assignments completed for 70 plus Japanese companies on Globalization, Founder of startup company in Green Technology, conducting Training and seminars for Global Workforce in Japan and so on. Currently she is involved in Promoting Japan Robots Industry. She has authored 3 books and consistently writes for newspapers and magazines in Japan.
The content & opinions in this article are the author's and do not necessarily represent the views of RoboticsTomorrow
---
Comments (0)
This post does not have any comments. Be the first to leave a comment below.
---
Post A Comment
You must be logged in before you can post a comment. Login now.
Featured Product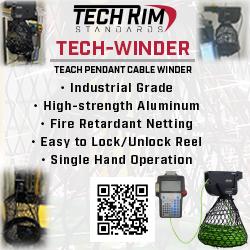 Tech-Winder is a robust solution for industrial cord management. Aluminum body, for hard impact protection. Flame retardant netting, for added protection against any sparks that may land on the cord. This industrial grade cord reel keeps your pendant cords protected and organized. Stores up to 50 meters (164 ft.) of cable in length with a diameter of 4.5 mm to 10.0 mm. Adapts to NAAMS or Modular Fencing when mounting. Help prevent your next $1,200 factory cable incident, by getting organized with Tech-Winder from Tech Rim Standards.